I've been obsessed with zucchini these days, ya'll. I'm all for zoodles and zucchini in everything from bread to soup to pizza. And then, of course, I had that beautiful bounty of veggies that my neighbor gave me, and I've been feeling all spoiled and blessed by it because, hello, neighborly blessings and fresh veggies are things to be grateful for.
What to Do With Zucchini?
When I get a pile of veggies and zucchini like this the first thing I start doing is thinking of all the different ways I can use them. I am someone that uses everything and I never accept things from people and then don't use them. So using it all up is a fun challenge for me.
A few years ago my husband brought home a giant zucchini from one of his friends. It was so big, all I could do was stare at it. He then laughed and walked away, knowing I would be sitting there thinking of ways to use it all up.
And isn't zucchini one of those veggies that is just everywhere right now? I have a Pinterest board for both zucchini and zoodles recipes. I mean, that's how popular it is these days. This trend has gone on quite a few years, so I hope it is one that stays.
In the past, I have made zucchini tots, corn and zucchini soup, and a chicken and zucchini casserole I adapted, which has quickly became a go-to favorite. It's low carb, easy to make, and yummy.
Zucchini Banana Blueberry Muffin Recipe
I had some bananas ready to be used and I always keep frozen blueberries on hand, so I searched for that combination and found this muffin recipe, but of course I can't leave well enough alone and I changed a bunch of stuff. First, I liked the idea of muffins instead of bread, because you can flash freeze them and then just pull them out one by one and defrost whenever you want one. However, these came out fairly small but they were delicious, so in the end I didn't need to freeze them because the family ate them up. (Which is why you cook to begin with, isn't it?)
My version:
Ingredients
1 1/2 c. flour
3/4 t. baking powder
3/4 t. baking soda
1/2 t. salt
1/2 t. cinnamon
3 medium bananas
1/4 sugar
2 eggs
1/3 c. veggie oil
1 t. vanilla
1 cup shredded zucchini (and for me this was one medium sized zucchini and I used a lemon grater or if you want to be fancy you can call it a microplane zester, like Martha Stewart does because, you know…. she's Martha)
Finally, 1 cup frozen blueberries
I always use frozen blueberries for things like this.  The original recipe said to first separate dry ingredients, and normally I do that but this time I just didn't feel like it, so here's what I did instead. Preheat the oven to 350. Then, I grated that zucchini with a fine microplane zester (see, I can be fancy, too) and then wring out that zucchini like your life depends on it. (Which, your life does not depend on, but the consistency of your muffins does.)
Zucchini Grated With a Microplane Zester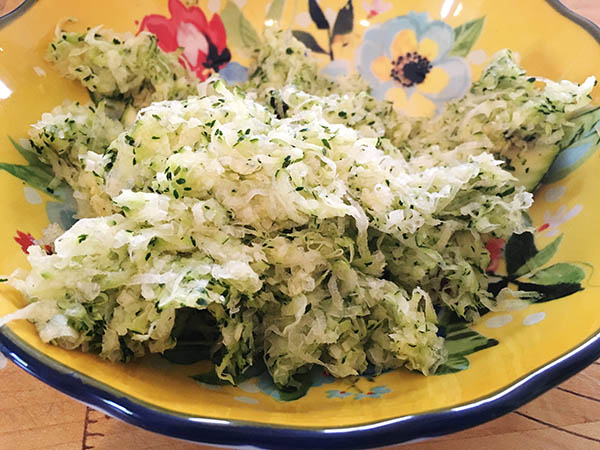 Isn't it pretty? I love the way it turns out after grating like this. It's soft and fine and yet still has the beautiful levels of green and white.
After that, I place the bananas in the mixer and mash them up. Then I add the sugar and vanilla, mix again, and then the eggs. Mix.
Now, because I have squeezed the moisture out of this zucchini, I am confident it has no more water and an additional pummeling in the mixer won't affect it. So after that, I threw in the zucchini. Mix. Then, I add all the dry ingredients at once: flour, salt, baking soda, baking powder. Mix.
Then, I add the blueberries (yep, still with the mixer) and give it quick mix. Zip. Zip. That's it. Don't get carried away. Take the bowl off the mixer and then give it all one final hand mix to make sure it's incorporated.
I filled the cups almost to the top, leaving room for it all to rise a bit, and baked for 23-24 minutes. Remove from oven and let cool.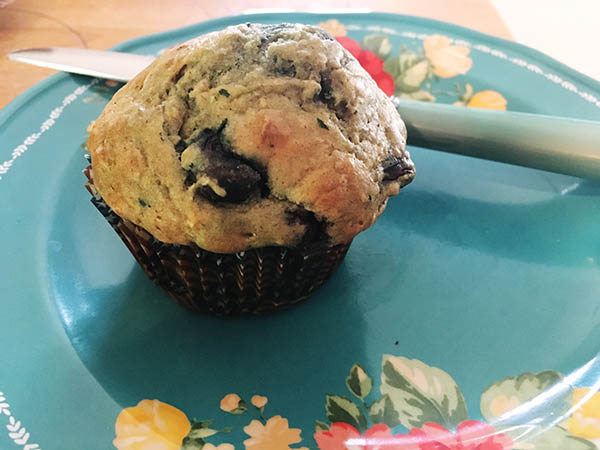 Moist But Not Soggy Zucchini Muffins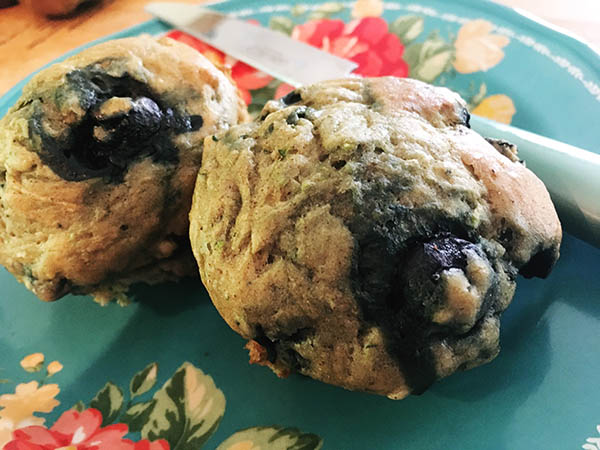 I loved the consistency of these muffins. They were moist but not soggy and went well on their own, or with a little butter. So, if you use these, consider a small grater or microplane zester, which will break down the zucchini well enough that they will essentially disappear into the batter.
I am someone that does not like things too sweet, so you'll notice that I basically cut the sugar of that original recipe in half. I do this with everything I bake. (Try it sometime, I promise you, you won't miss it.) If you do like things sweeter, you could add more sugar to the mix or to the top of the muffins just before baking.