I'm doing a virtual book tour this month for The Space Between Dreaming.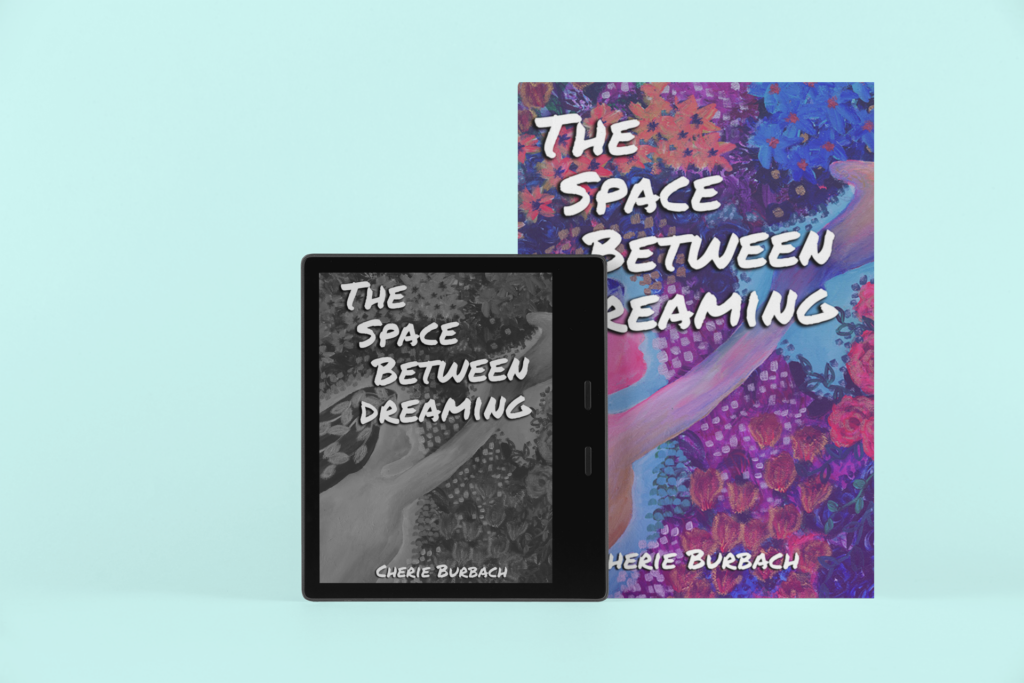 I'll update this space with all the tour stop info and reviews.
Fiction Vixen
"A well written book with well developed characters, a compelling storyline and us full of rich descriptions and vivid imagery.
I thought the idea of healing through art was really interesting and clever and I found myself really thinking about what I was reading.
The writing is almost lyrical in style and it really worked with this book and with the characters within the book too.
A really enjoyable read."
⭐⭐⭐⭐/5

Catreader18
"This is one of the best books I've read this year. Besides the gorgeous cover the story will transport you.
This book is something special. I finished it last night and am still reflecting on the beautiful story and characters. Jane is almost 30 and has been dating Brad for 8 years. She has a job she loves working in an art gallery but she's not happy. 16 years her senior Grace is married to her true love but they have not been blessed with children. While Grace's marriage is strong the missing child has a heavy toll. When Jane and Grace meet at a vendor art show I was not sure how their stories would connect. The book is told from the POV of both women in alternating chapters.
Both women are drawn to Grace's husband's art piece, The Space Between Dreaming. The piece is the cover of the book and it is absolutely gorgeous!!! When I saw the cover I wanted the book if only to display in my house because it is so gorgeous. The story between the covers is one of finding yourself for both Jane and Grace. I fell in love with this book and did not want it to end. I cried and laughed while reading. I can't say enough good things about this book. If you want a story about strength, overcoming loss, inspiration, and beautiful artwork, you will love this book. A lot of the book discusses infertility so it may not be the book for you if that is a trigger."

OLd Bookish Woman
"This is a heartfelt story of two women Jane and Grace who meet through art. They form a close bond over the course of the book. Told through a dual p.o.v we learn about their lives the ups and downs. Their stories of pregnancy, miscarriage and how through friendship, support, art and faith they come to terms with their pasts and their futures.
A rich array of characters alongside Grace and Jane including Jane's 80yr old landlady who helps them to see things in a different light. I wasn't entirely sure what to expect from this book but even though the pace at times is a little off, it still makes for a good read."

Jamie RueG Reads
"I was immediately captivated by this cover and title before even reading a sentence about what the book was about. It did not disappoint.
Covering difficult topics such as miscarriage, infertility and family trauma, Burbach manages to tackle them all with grace and tact. Jane and Grace both struggle with what family should look like and have to overcome their preconceived ideas to move forward and be happy. I adored Mrs. Ferch and how she was able to broaden both of their horizons and push them out of their comfort zones. This is a beautiful story about a painting that brings people together, even in their darkest times, and how those connections ultimately move them into the lives they were meant to be living."
⭐️⭐️⭐️⭐️⭐️

edyta.wozniak
"Beautiful written story about family struggle, love, trauma, miscarriage, and healing through art. It's a story how art and painting brings two people together and help them heal. Connection to each other and the art helps moving the characters into lives they want to live. I fell in love with the book, with the characters, their strengths, healing journey, they way their fall in love with art.
"

Adlyn's reading corner
"The cover immediately grabbed my attention with the colors and painting. The story is told by Grace and Janes POVs. It starts on a normal pace and slows down a bit in the middle. This was definitely different type of story from what I normally read. It was sad and emotional every time Grace thought things were going great with her pregnancy just to have another miscarriage. Her husband was very supportive thru it all and I really liked his character.
It was great seeing both Grace and Jane healing together from different traumas, but through art as a form of therapy. Both were are in different stages of their life and come together and become friends.
If you're a fan of women fiction and healing after traumas this is definitely the story for you."

Bit of a bookworm
"This is a really thoughtful, heartfelt and considered book. It threw me when the prologue was written from the POV of a painting as I'm not a fan of books without human leads, so I wasn't sure where this book was going….but I was relieved when it switched to dual POV between Grace (wife of the painting's artist) and Jane (gallery owner).
The women both share their stories of how friendship, religion and art have all played a part in the support they felt through their experiences of pregnancy and miscarriage. It was really interesting to bring in Jane's landlady too, who at 80 years old brings with her a different perspective, along with her age and wisdom.
I felt this was mostly quite slow paced, its definitely a book where you feel like you sit in the story rather than being pulled through it, but it is well executed and the characters are well fleshed out."

BiblioBerg
"A beautiful emotionally charged story that centers on two women and the painting that happens to bring them together is so real! I adored Grace, Jane and Mrs. Ferch's characters so much that I didn't want this book to end! I loved how much relatable and honest this plot really goes. Go pick it up today! I highly recommend!"

JCPReaders
I truly don't know what to say about this book. Going into it I thought I wasn't going to enjoy it and that it just wasn't my cup of tea but oh man, was I wrong…
It took a bit to win me over (mainly because I'm stubborn) but I found myself loving each character for their own reasons. Mrs. Ferch is probably one of my favorite fictional characters and the love I have for her is unreal.
The dual POV's, artistic insights, and overall storytelling was incredibly well done. This was a book I didn't expect to love but ending up loving anyway.
Highly recommend to anyone who needs a pick me up or is just in the mood for a heartfelt story.

LozzieLoves
I loved this book and enjoyed the switch between the two main character's lives. I'm found myself becoming very invested in Grace and Jane and couldn't wait to read on and see where the rest of the story went.
The book has a great theme which is relevant to all of us and reminds us to go with the flow, don't overthink things and most importantly pay attention to the happiness in your life however small it may seem at times.
On another note the cover is stunning which was what made me want to know more about the book.
I really want Mrs Ferch as a friend, she was such a loveable and wise character.
⭐️⭐️⭐️⭐️/5

Alison.Pashley
This is a bit of a slow burn, but I was intrigued by the two main characters and how their stories would come together. Told from alternating points of view, Grace and Jane have both reached a crossroads in their lives and relationships, and need to find a way to move forward.
All the characters are so well developed, Mrs Ferch was a particular highlight for me. While the story may not be action packed, I found myself emotionally invested in the lives of these women. The concept of healing through art was well thought through and interesting, and the author handles some tough topics in a sensitive manner.
If you enjoy stories of finding strength in hard times, and well written character based books, then I can definitely recommend this one!

Amorina.Leigh.Carlton
⭐⭐⭐⭐⭐
Cherie Burbach's "The Space Between Dreaming" was the best book I've read in awhile, and I've read some pretty amazing books recently. I melted into the world of the book, making it a truly 5-star reading experience.
Reading the blurb, I thought this would be an interesting book, but I never dreamed (pun not intended) that it would be so immersive and beautiful as it was.
The author brought all of her characters alive so well. Following the lives of Jane and Grace, and all their loved one and friends, as they tried to work through complicated times in their lives, was breathtakingly beautiful. The "meddling" landlady, Mrs. Ferch, is one of the best characters – so funny. Watching Jane and Grace, two similar but vastly different women, develop a friendship against all odds, gave me a hope I didn't realize I needed, and healed some things in myself I didn't realize I needed healing.
I don't like to have spoilers in my reviews, so I won't provide much in the way of context here – but both women struggled with big, life-changing decisions. We see their story unfold in alternating point-of-view chapters. We've all been at a great precipice of change in life, and we'll all be there again. The overarching message was a balm for my weary soul, battered by my personal struggles at the moment.
I wouldn't call this Christian fiction, but it is definitely a spiritual book. The main characters struggle with faith, loss of faith, and working to take leaps of faith. The theme of faith – both in God, others, and one's own self – was strong throughout the book. While prayer was a big theme, even those who don't believe in it could easily find so many things to love in this book.
If you enjoy tales of hope, overcoming odds, a bit of romance, and healing, this is a wonderful story for you. The book covers some very serious topics that sensitive readers should be wary of, such as cheating, pregnancy/infertility struggles, child neglect, dysfunctional families, abusive/controlling romantic relationships, and more.
I will absolutely keep an eye out for future works by this author.

paw.read.repeat
Wow! This book is well written and full of vivid descriptions that bring the story to life. The premise of using art to heal has stuck with me. I majored in psychology in college and am a huge fan of art therapy. The storyline is intriguing and hooked me immediately.
The characters are whimsical and the writing style is lyrical which made this very easy to read. I look forward to more from this author!