Gratitude is something I've struggled with from time to time. When I was younger, I struggled a lot with it. When I was in my 20s these "gratitude books" became popular. Do you remember? It was a movement based on thankfulness, where you record daily thoughts of gratitude. It was great, except that… my head was still in the pain of childhood. I was actively living out life choices based on the messed up thoughts that had been drilled into my head since I was a baby. My perspective on gratitude was about dream things happening to ease the pain and if those didn't happen I didn't feel grateful.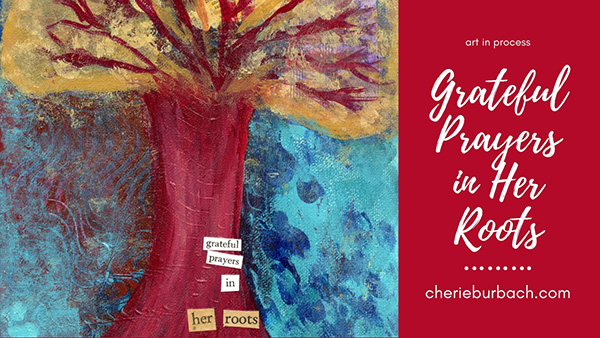 Of course, this thinking, like all thinking based on abuse and self-doubt, was completely flawed. I continued to struggle with gratitude even though my life (and the choices I made) got better. It wasn't until I allowed my heart to fully break open and expose my pain that I could see the blessings in my life. It was then that gratitude could take hold.
In my ecourse Getting Closer to God Through Mixed Media Art, we talk very specifically about gratitude. You can't get closer to God without gratitude, but that is the very thing that often holds us back from embracing Him as fully as we should. In my own experience, I learned about the process of gratitude and why I didn't feel it sometimes and this has helped me develop a practice that allows me to experience thankfulness on a higher level than before.
In the following video, I show you briefly how my painting "Grateful Prayers in Her Roots" came together. This painting helps illustrate some of my feelings about gratitude.
https://cherieburbach.com/product/grateful-prayers-in-her-roots/