You get tons of lovely Christmas cards every year, so why not display them in a way that adds color and style to your home. These ideas for card displays will help you take that pile of greetings and make them a decorating centerpiece.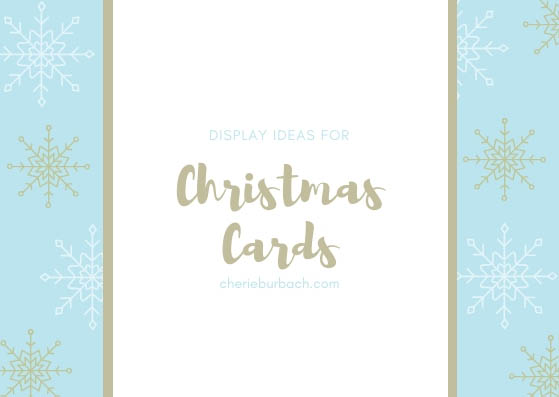 Mount Cards on Ribbon
One of the easiest display ideas is to take cards and attach them to a long, wide ribbon. Doing this allows you to display them in a variety of ways all over your house. You can wrap them around mirrors, place them over armoires or trunks, shelves, doors, cabinets, or even tack them to the wall to create a display.
The ribbons can be straight up and down, or you can fan them out in a snowflake or Christmas tree design.
Decorate the Tree With Them
Take Christmas cards and attach them to your tree using ornament hooks or clothespins. This works well whether it's a big tree in the corner of the room or a tabletop size. You can also achieve this look by placing them in holiday greens or plants.
Coffee Can Holder
An old craft I used to do when I was a kid was take a coffee can and remove the top and bottom, then wind red or green yarn around the can, covering the entire outside.
When you get a new Christmas card, you thread it through, so the spine of the card is against the can, and the edges of the card are out. It allows you see the faces of the cards (especially if you keep them all going in the same direction), and acts as a nice tabletop display.
Centerpiece Using a Vase and Large Forks
One of the most clever ideas I've seen is to take extra large serving forks and use it to hold a couple special cards. Place the forks in a large vase tied with a festive ribbon, and you can have a charming card holder and centerpiece without buying anything fancy from the store.
This type of display reminds us that displays don't need to be complicated or expensive.
Create Garland With Them
Create a festive garland in your home by punching a hole in cards and attaching them to a red or green beaded string, a string of popcorn, cranberries, or even silvery tree garland, and then drape it over a window, door, or chair.
You can also use this effect as a window valance in the kitchen or entryway.
Make a Wreath Out of Them
Wreaths can be created many different ways, including:
Wrapping material or wide ribbon around a wreath form, then pinning cards to the outside.
Gluing clothespins to a wooden circle, then clipping the cards to each pin.
Buying a green wreath and attaching cards around the edge.
You can also use a round circle of cardboard and tape cards around the edge.
Better yet, creating a new display can be a yearly tradition. Get creative and allow those cards to remind you of all the people who cared enough to send you a note.