Ya'll know by now how much I love creating glass sculptures out of old vases, bowls, and ashtrays. Especially ashtrays. I love that they are heavy and always have a funky design to them, and that I'm using them for something other than holding piles of ash from cigarettes. I love creating glass sculptures so much I wrote a book about it!
I've been obsessed with reusing glass in this way for years. I love the beauty of glass, especially the blue glass (as seen on the cover of my book, which is a sculpture I still have in my kitchen).
I love the way the light hits it. I love the peace I find when I'm outside and the birds are chirping and I feel like it is just me and God and this fun creative pursuit.
But the most satisfying piece of a project like this is just giving life to something old and throwaway. An odd glass here, a bowl there, and suddenly you have something new and beautiful. That sculpture you see on the book cover started with a bowl that my mother was going to give to Goodwill. I grabbed it from her! Blue glass! I'll take it. Then I had that random blue drinking glass. It didn't match anything in our house, but it was so pretty, especially when the light hit it. I found a plate at a rummage sale and that awesome blue candy dish at the top at an estate sale. Little by little, I gathered pieces to create this new sculpture.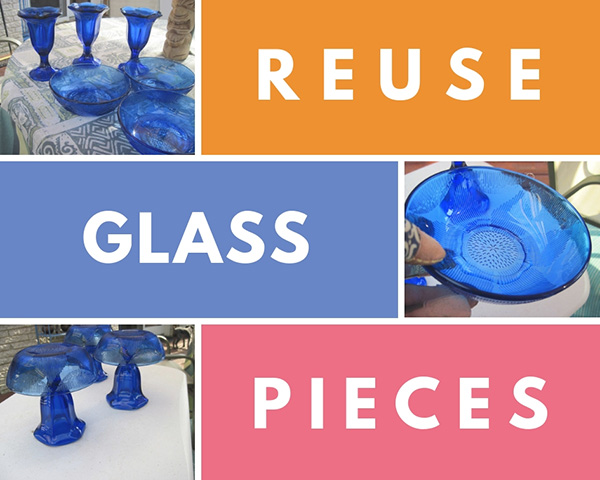 Ways to Reuse Vases and Glasses From Mom or Garage Sales or Thrift Store Finds
You've probably got a couple vases and glasses from your mom that you don't know what to do with and yet don't want to throw out either. They might not be complete as a set or perhaps they don't match your own glassware at all. Yet you keep them, probably because they were your mom's and you feel guilty about throwing them out.
If you're wondering what to do with all those rogue glassware pieces, how about making a glass garden sculpture? It's one way to keep the glasses (and the memory of mom) and still put them to good use. Making them is very simple, even if you aren't a craft goddess. All you need are some glasses and perhaps a vase or two, a glass plate, and some glue that bonds with glass.
Setting Up Your Sculpture
When it comes to building a sculpture, start with larger pieces and work up. You'll need a sturdy base, like a punch bowl or wide plate. If you find that you only have few glasses from mom that you can use, supplement them with a big glass bowl or plates from places like Goodwill or rummage sales.
A glass plate will work to divide the layers and provide a flat surface for things like vases or glasses. While I used a gold plate in the picture above, a clear plate works fine for most colors and can be found just about anywhere. You'll only need one or two plates to make a sculpture steady.
Finally, glasses and vases can be placed upside down or right side up, depending on their visual appeal and how sturdy they are. While the glue will securely keep the sculpture together, you need to be sure the pieces are strong enough to hold the layer on top of it.
Building the Sculpture
Dry fit the pieces before you glue. Play around with the look of things to see what you like best. Maybe you'd like to use a single color in your sculpture, like those shown on the picture above. Or maybe you'd like to mix it up with a variety. Whatever feels right to you. This is one of those projects that you can't do wrong, so even if you aren't confident in your crafting abilities, just go with what you think and don't second guess yourself.
When you know how you'd like to pieces to fit, use a heavy glue that works on glass and also stands up to the elements. You'll need a glue that is good for outdoor use, as your sculpture will sit outside the majority of the year. Glue can be found at any hardware store, and if you're unsure if a product will work, ask someone there for a recommendation. Most glues will require that you spread a thin line on the base and glass, and then wait about five minutes before you press them in place. It's a good idea to wait several minutes between layers to make sure the bottom layer has been fully secured before you add a new layer on.
The best thing about this type of project is that you're re-using materials you either already have (or can get at a thrift store) so finding a new purpose for an existing item. At the same time, it gives you an opportunity to display mom's favorite pieces in a completely new way.