I've been hunting around for a good red beans and rice dish, and with all the Super Bowl recipes floating around on Food Network and online, I've seen a couple of them pop up recently. Well guess what? One of them was really, really good. And easy peasy. It was from Valerie Bertinelli's cooking show. Remember her? From One Day at a Time? She's totally kooky and enjoyable to watch as she blabs away, mispronouncing Italian names for things and offering her twist on various food dishes. One of the ones she had on recently was for red beans and rice you make in the slow cooker.
I liked the thought of having something cooking away all day that we could eat later on while watching The Big Game. And this is what I made.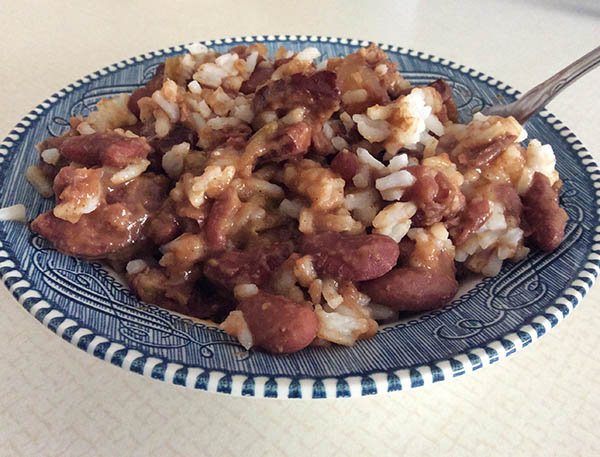 I took her original recipe and tweaked it a little and it turned out great. Here's what I used:
Ingredients
1 pound dried red beans (you DO NOT need to pre-soak)
1 pound kielbasa, sliced and then cut in quarters
5 ribs celery, chopped
ham shank (I used a small piece of one that had been divided in three)
1 onion, chopped
1 large bell pepper, chopped
1 tablespoon chili powder
1 teaspoon ground cumin
1 teaspoon garlic powder
1/2 teaspoon cayenne
1/2 teaspoon onion powder
1/2 teaspoon paprika
1/2 teaspoon brown sugar
Kosher salt
4 cups chicken stock
8 cups instant white rice, cooked separately
Combine everything in the slow cooker and cook on high for 8 hours. At the end, make the instant rice separately and serve. This was even better the next day. (And so easy to make.) I also liked that it used fairly cheap ingredients and you didn't have to soak the beans.