I refuse to think about the lousy horrible awful Packer game yesterday and focus on a better part of the day, the soup I made. It's our tradition to make soup for the games and I tried out a new recipe we really liked. (Incidentally, I still protest the fact that forward progress suddenly had a new definition last night! That when you fight a defender who has tackled you apparently forward progress goes out the window!)
But no… I'm focusing on other things today. That's right. Not the Packer loss (or lousy calls) but the soup. Deep breath. Soup… yes…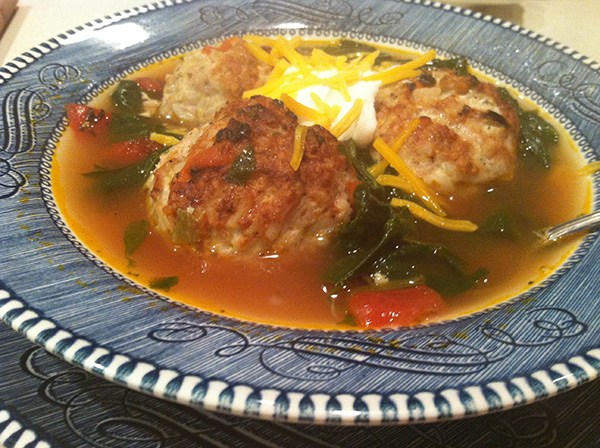 Okay, so the pork and ripe meatball soup was a recipe I found over at Real Simple (my favorite magazine) and it was so quick and easy to make.
You'll need:
1/2 cup cooked white rice
2 large eggs, beaten
1 t. oregano
3 green onions, chopped
3 cloves garlic-ish
1 1/2 t. ground cumin
Kosher salt
black pepper
1 pound ground pork
1 (14.5-ounce) can diced tomatoes
6 c. chicken broth
1 bunch spinach (about 4 cups)
fresh cilantro
grated Cheddar, for serving
sour cream, for serving
What to do:
I'll admit I'm not big on touching raw meat. Luckily, I throw the ingredients in a bowl and my husby mushes it all together to create meatballs. So what I did was take the eggs and beat them in a large bowl, then added the cooked rice, some of the green onions, 1/2 t. cumin, and 1/2 t. salt and pepper and then mixed that with a wisk and then added the pork. (And that's when husby mushed it all together and formed meatballs, about 1 1/2 Tablespoons in size.)
They recommend cooking the meatballs under the broiler for 8-10 minutes. I did this (broiler on low) but not sure I'd cook them again this way. I think I would fry them next time. They came out fine but we really had to watch them.
After husby helped me with the meatballs I finished the rest, but couldn't resist taking a moment to enjoy watching him play outside with the dog.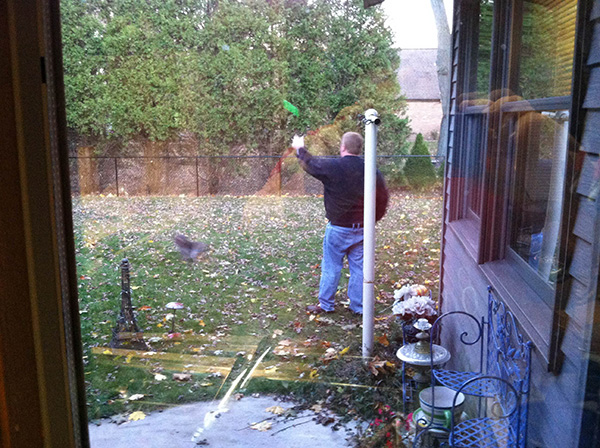 I like that the dog is a total blur in this one. She loves to run and that blurry green thing is her favorite tire to chase.
I kept an eye on the meatballs (no really, I did!) and while they were cooking took some olive oil in a pan and added the rest of the green onions and some more garlic and the rest of the cumin. I cooked them a bit and then added the can of tomatoes and let it all thicken. Then I added the broth, brought it to a boil, and added the spinach and cooked it down for a few minutes.
When the meatballs were finished I added them and the cilantro and warmed it all through. The cilantro smelled so good. I love fresh cilantro. Then I served it with a dollop of sour cream and some cheddar cheese.