I've been digging through old poems, and it's been interesting to see how things have evolved and grown and changed. As you know, I didn't keep my poetry or writing until I was about 30. Every once in a while I'll find a poem from earlier, one that got hidden away in a book or stuffed somewhere and finally found again a quarter century later. But most of the poems I have kept are from after my dad died and I finally just started tossing them on a pile instead of throwing them out.
This one is an oldie, a couple decades old, but as I read it today I see the determination. I wanted to have a whole life, where I loved and worked and prayed with my whole self. I wasn't doing that before, always holding something back from everyone, from God to friends to even myself. And even though I'm miles ahead of the reason I wrote this poem back in the day, it applies today in a different way. As a writer (especially one that writes online) you get negativity. Anonymous comments that aren't so nice, jealousy from other writers, and even jabs from people who should be friends. The line in this poem that really stands out is just this: Yes, you should just go. 

If you're dealing with negativity, forgive and pray. My life is so full these days. I have worked hard to have good people in it. I have worked through forgiveness and allowed God to fill my world with family and friends who love me, and when you have that you don't need to respond to people who are miserable and hate that you aren't. I hear from you all, and feel blessed that you share your stories of triumph and pain and growth with me. I know where you're coming from. I've been there, too, and can tell you that the way out is forgiveness and prayer. Rise above those who aren't true to you, who are preventing you from living a whole life.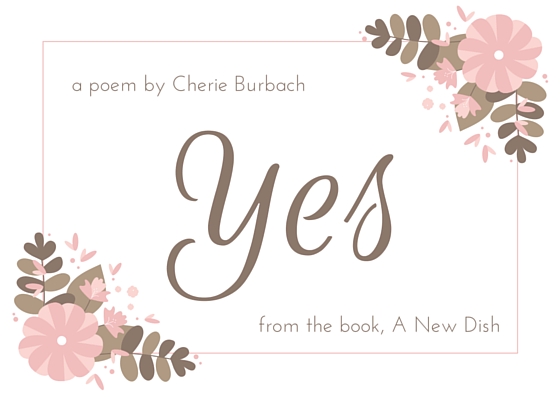 Yes
Yes, I've got charisma.
Yes, I've got the might.
Yes, I will go on and I will not give up the fight.
Yes, you were mistaken.
Yes, you were quite wrong.
Yes, you have misjudged me with it all and for so long.
Yes, I ask forgiveness.
Yes, I kneel to pray.
Yes, I ask His guidance and His grace with every day.
Yes, I know who loves me.
Yes, I am quite blest.
Yes, I am at peace and more than you have ever guessed.
Yes, you should depart now.
Yes, you should just go.
Yes, my life is fine now and just how much you'll never know.
© Cherie Burbach, "Yes," A New Dish, 2005