One of my favorite shows used to be Aarti Party on Food Network. I really enjoyed her take on Indian food with an American twist. She's just super cute and fun and a joy to watch. I made tons of her recipes over the years, and one of them has remained a favorite. It's her "Hot Dogs a la Rose" which she named after her mom, who first made the recipe when she was a kid.
This is a recipe that is unlike any other I've ever made, simply because of the weird list of ingredients. It sounds like it shouldn't all go together, but it does. This recipe is wonderful on its own, but of course I've made a few tweaks to it.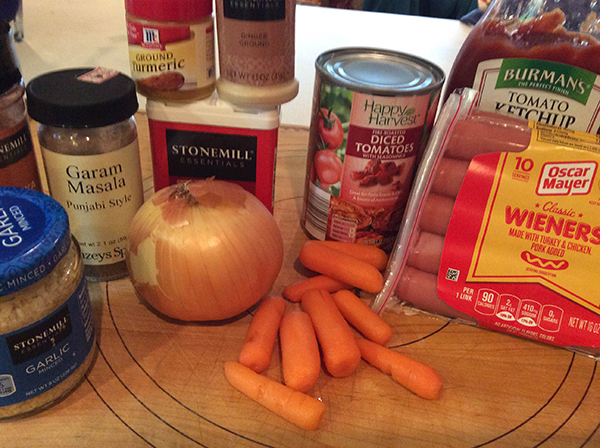 Ingredients:
1 onion
1 1/2 teaspoons garlic
1 T. ginger
10 baby carrots, shredded
1 t. tumeric
1/2 t. garam marsala
3 T. ketchup
1/2 t. paprika
1 can died tomatoes (with liquid)
1 pks hot dogs
1/2 c. water
veg oil
salt and pepper
Is that a crazy list of ingredients or what? I promise you, it's good. First, heat the oil in a pan along with the onions, carrots, ginger, and garlic.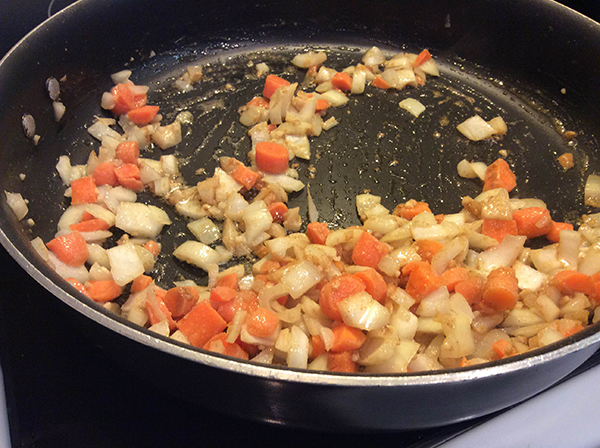 Instantly, your kitchen will smell really wonderful. Cook just until the onions are soft, about 5 minutes. Be gentle with that garlic. Then, add the tumeric, garam marsala, paprika, tomatoes (with liquid), ketchup, and water. You can adjust the water depending on how much liquid is in the pan. I use about 1/2 cup. Cook this for about five more minutes.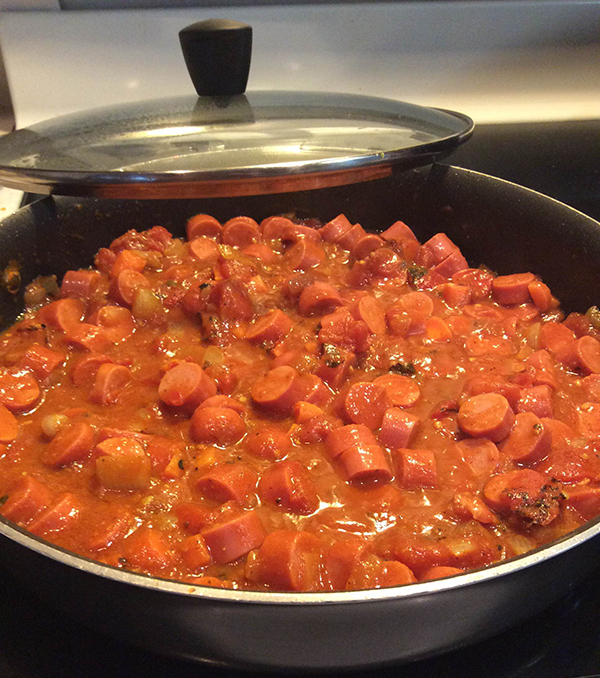 A note about garam marsala. It became my new favorite spice a few years ago. I love the smell of it and have used it in different Indian dishes, but if you don't have a spice store like Penzey's around, you might have trouble finding it.
Add the hot dogs and let the whole thing cook down, about 15-20 minutes. This allows the liquid to burn off and the flavors (and all those spices) really come together. Season with salt and pepper to taste.
The original recipe suggests putting this on pita bread to eat, which would be perfect, but the first time I made it I used up some hot dog buns and the hubs loved it that way so that's how I've made it ever since. Toast the buns for a few minutes to help them hold up against those dogs.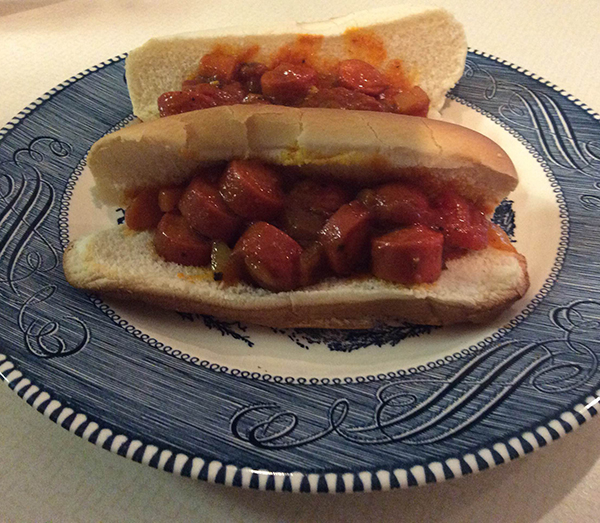 I just noticed Aarti has a cookbook out now, so I'm going to have to check it out.