I'll admit that it's only in the last couple years that I have begun to understand the concept of "Let go and let God." So many people used to say this to me when I was young and when I'd ask, "How do I do that, tho?" they'd say just do it. For someone like me, who craved approval and worked until I couldn't stand anymore, this just didn't cut it. I mean, didn't God want me to give it my all?
Like all things in life, God helped me understand. How patient He has been with me. I'm grateful. And now when I think about letting go, and truly allowing Him to provide the grace I need I picture it something like what I wrote this poem about.
The Basket
She heard someone at the door
and as she answered it
saw a basket on the doorstep.
A baby? She wondered.
She picked up the basket,
light as air,
and as she carried it inside,
noticed it was empty,
except for a note, which read,
"Your problems. Here."
She shook her head.
Read it again.
Folded the paper,
and put it back in the basket.
Problems?
She laughed,
then grabbed
the note again.
It was balled up,
the paper crinkled
from where she had
smashed it in her hand.
She smoothed it out,
read it again.
This time it said:
"Toss them in."
She dropped the paper,
tried to clear her thoughts.
What was this? A joke?
She shook her head again.
But she pictured her problems,
and picking up the paper again,
silently thought of each one.
Then she crumbled the paper
and tossed it into the basket.
She turned to go,
wanted to leave the paper
and the basket behind,
but struggled to walk away.
She reached for the paper again.
This time it read,
"Yes. Right here.
Don't worry.
I can hold them."
She got a little cocky.
Sure, sure, she thought,
I'll give you my problems!
Here!
She tossed the paper in the basket.
"Ready?" She asked sarcastically.
"Okay then, how about this?
My mortgage is overdue.
My husband took off,
and I can't make
ends meet by myself.
And I'm angry!
Is that a problem?
Because if it is,
you can take that, too."
She waited.
Folded her arms and frowned.
Finally she turned,
slammed the door on the basket
and went inside.
That night,
she slept,
fitfully, deeply.
The first time that had
happened in months.
As she woke,
she thought of the basket,
and ran to see
if it was still there.
She opened the door,
and the basket now held
a bouquet of flowers.
She reached down
and smelled their
beautiful fragrance,
and smiled to herself,
and brought the basket
inside.
© Cherie Burbach, "The Basket," My Soul Is From a Different Place, 2014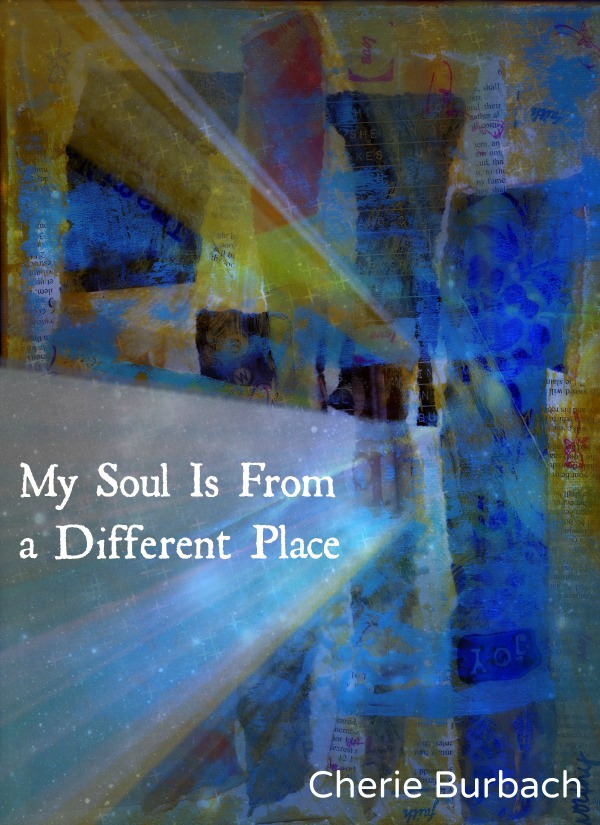 This poem is from my book, My Soul Is From a Different Place and is also included in Poiema.