Pumpkins aren't just for carving. I love 'em for baking, decorating, and jazzing up the house with a little fall color. Here are some ideas on how to get the most of out them.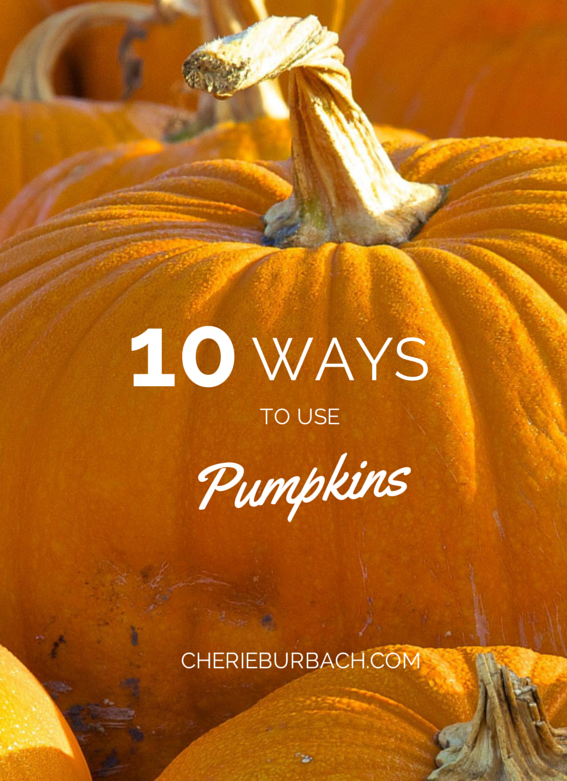 Candle Holders

Use a drill bit or knife to carve out hole large enough to hold votive candles in them. Light for a unique effect on your Thanksgiving table.
Soup Bowls

Carve out Jack-be-Little pumpkins to use as soup bowls for the holiday dinner. This works especially well with pumpkin or squash soup.
Place Settings
Grab a permanent marker pen and write names of every member of the family. Use them from before Halloween until after Thanksgiving on your regular place settings for meals.
Make Stuff With Them!
Perhaps the best way: cook with them. There are great recipes for bread, soup, cookies, and pancakes.
Carve and Place on Your Doorstop
Carve them. (Of course!)
Welcome Sign
Use them in place of a welcome sign for your business. Just write "Welcome" or "Come Right In" and set them at your receptionist's desk.
Don't Forget the Seeds
Make the seeds. Bake on a cookie sheet at 250 degrees for 15 minutes. Sprinkle sea salt on them and you've got a crunchy, salty snack.
Forget Cork! Use Them as Pin Boards
Use pumpkins as temporary pin boards. Write messages using square post it notes and adhere with stickpins or decorative sewing pins.
Candy Dish
Use them as a candy dish. Carve out a hole in a medium sized pumpkin big enough to set glass bowl in. Place candy inside and use as centerpieces.
Autumn Decoration
Select a variety of different sized pumpkins. Write "The Smith's" on the biggest one and set with the others by the front door or out on the porch as a holiday decoration.