Happy St. Patrick's Day! We love this Irish holiday and celebrate every year with a corned beef and cabbage meal, Irish soda bread, and some kind of quirky dessert. One year I made rainbow cupcakes and another I made a pistachio cake (cuz it's green, ya'll) and this year we made Guinness floats.
We celebrated yesterday since it was Sunday and our weather is blech and we just needed a lift. I see my colorful glass mushrooms peeking out from the snow…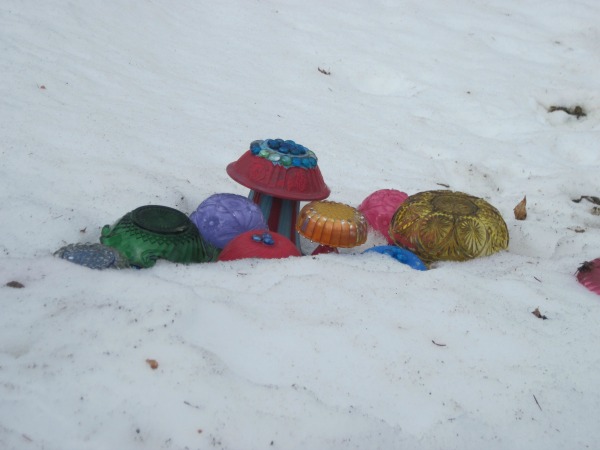 … but at the same time I remember a couple years ago when I was outside working on glass sculptures while the corned beef boiled away on the stove. It was that warm out. In the middle of March.
This year? Not so much.
So we decided to celebrate St. Patty's a day early. No one complained. The corned beef and cabbage dinner was delish and then a couple hours later we finished things off with a Guinness float.
I've never had these before, and upon my first taste said, "Ewww…." but then soon after that I was saying "interesting." And they were. The bitterness of the stout combined with the creaminess of the ice cream was an interesting mix. It was a good way to finish off the meal.