I make empanadas a lot. My family really enjoys them. Most of the time they're made as sort of a pasty with meat, potato and corn, but other times I make them with fruit. If I do the fruity ones, I use a recipe from Melissa D'Arabian where she made applesauce empanadas. I'd like to make them with applesauce, but my family loves berry anything. The dough Melissa D. uses is smooth and silky and very easy to make.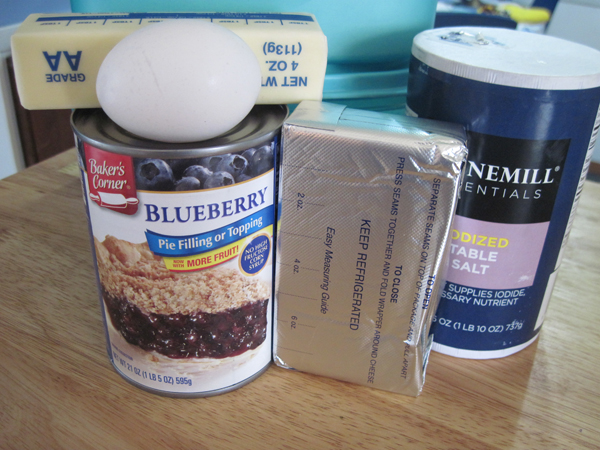 Ingredients:
1 cup all-purpose flour, plus more for dusting

2 teaspoons sugar

1/4 teaspoon salt

6 tablespoons butter, chilled, cut into 1/2-inch cubes

6 ounces cream cheese, chilled, cut into 1/2-inch cubes

1 egg

blueberry pie filling
Put the flour, sugar, and salt in a food processor.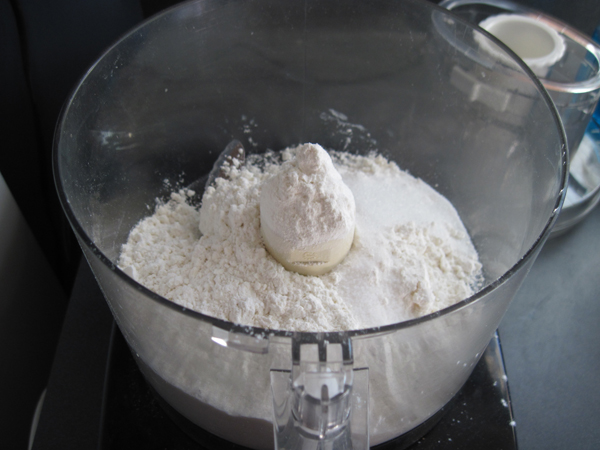 Let me interject on how much I love my food processor. I once had a very bossy friend. We've all had one of these, right? I was filling out my wedding registry and wanted a food processor. She said, "You don't want a food processor. You want a small grinder. A food processor is something you think you want but you really don't." I did as she said, and took the food processor off my registry.
She got me the small grinder, which I do use occasionally. But I still wanted a food processor! I ended up buying one a few years later. I use it all the time.
Anywho, back to the empanadas, which are the perfect thing to make in the food processor. Making dough is just fab in a food processor! So there….. friend who shall not be named…. you were wrong. Okay, seriously, now back to the empanadas.
Put the butter in and mix.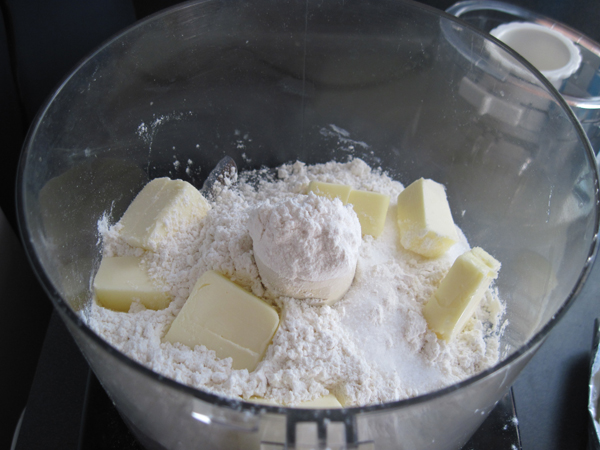 Mix until the mixture "looks like wet sand" according to Melissa D'Arbabian.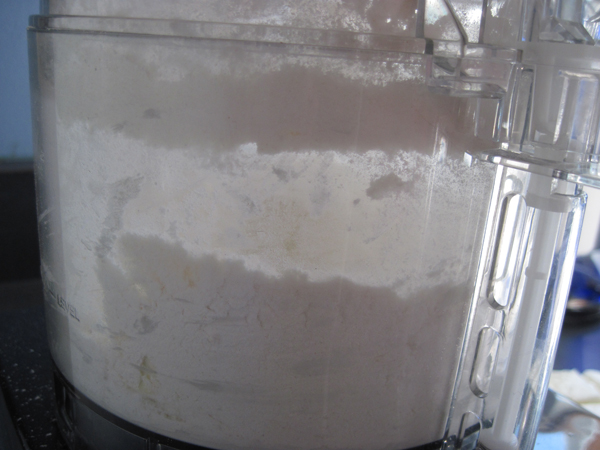 Then add the cream cheese.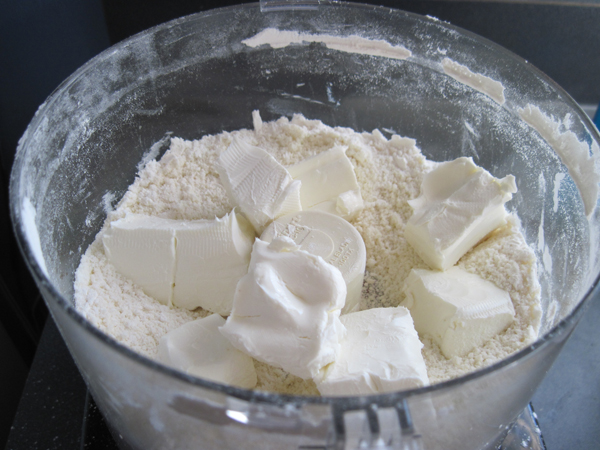 Mix until the dough comes together.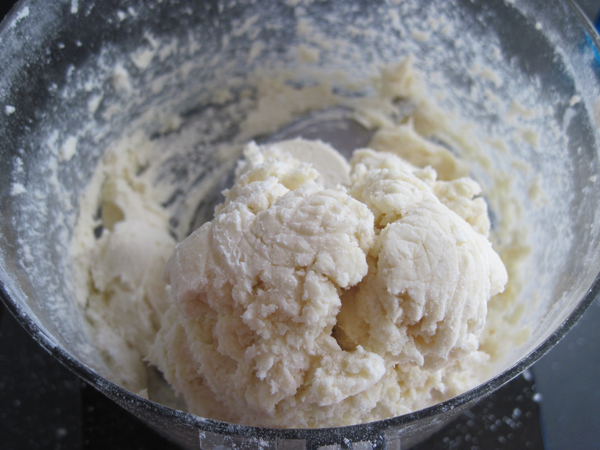 Then, knead for a few rounds, make into a disk, and put into the fridge for about half an hour.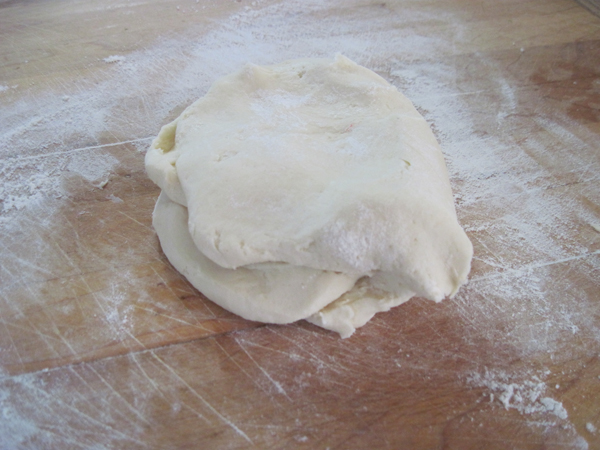 Take it out and roll it out flat, about 10×15 inches.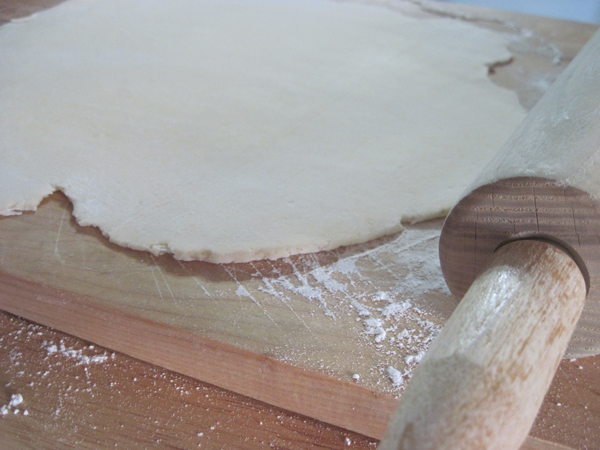 Cut into six pieces.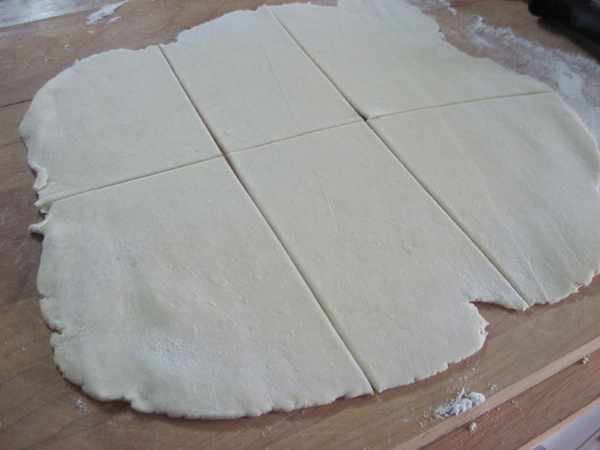 Fill the empanadas with some blueberry mixture (don't overfill!), crimp the edges with a fork, brush the tops with egg and water, and bake.
They come out warm and delish. My family loves them.