When it comes to art, I don't believe you should think about things too much. You just need to do it, and if it feels good in your soul you're on the right track. The same goes with writing.
But then there's growth. Growth doesn't always feel good to your soul. It means God is working on you, and it might hurt temporarily but in the long-run it will feel good eventually. It just doesn't feel good right now.
And if you're like me, you find that you "don't feel good" pretty often! LOL To me that means God is working on me a lot. I rarely feel "done" or take a moment when I think, "I'm good now. I know everything." If life has taught me anything, it's that I know so very little.
Often, change makes me fearful. Not like I'm sitting at home shaking, but more like I feel dread. Like, what is going to come next? How will this new situation change things? That's when I remember to stop myself, pick up my Bible, and get my head out of my own autobiography and into God's word. It's about Him, and I need to remind myself of that because otherwise I'll get caught up in things that are all about me: fear, wondering about the future, wishing things would change, etc.
That's when I pick up the Psalms. The Psalms are so great for when you're fearful, sad, lost… I've found comfort and hope in there many times. This time I picked up one I wanted to include on a picture. This was from Psalm 56:3, "When I'm afraid I will trust in you."
I added this to an older picture that I just wasn't happy with. I suppose continually working on a picture is pretty much the same as what we do everyday on ourselves, right? We're never done, and neither are our mixed media pictures!
But then I painted a new one and added it to that, too. This is like the flip side of feeling fearful, after you read the Psalms and begin to see hope. Recently, I've begun to see just how much God has been working in my life from the very beginning. I might tell you about it one day. For now, I'll share this passage which is a good one to remember: 1 Thessalonians 5:16 which says, "Rejoice evermore."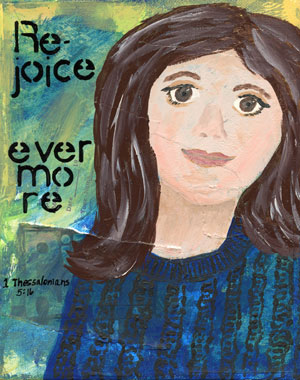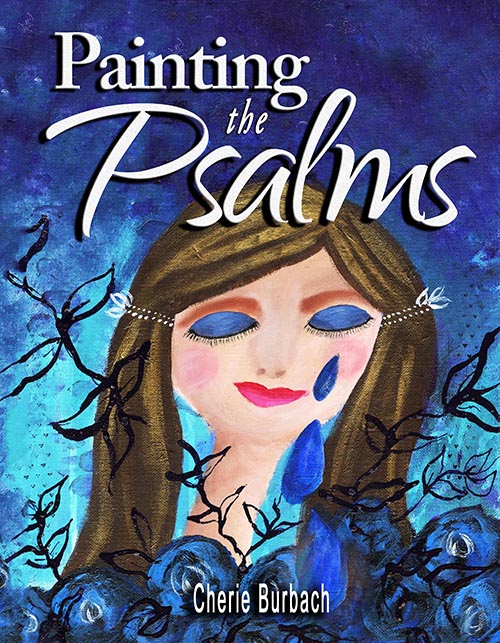 And if you want further inspiration, consider taking one of my Painting the Psalms ecourses. These ecourses are all separate projects where we create a mixed media painting with inspiration from a particular Psalm. It's a great way to get into the beauty of the Psalms in a different way. OR, consider picking up my book, [easyazon_link identifier="B07NHRY8D3″ locale="US" tag="wwwthediffere-20″]Painting the Psalms[/easyazon_link].