Cherie Burbach has been writing poetry since she was a kid. She is grateful for all her readers, but feels a special affinity for those who enjoy her poetry. She writes about faith, overcoming abuse, and discovering hope.

Angel Toughness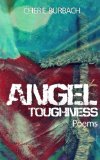 Angel Toughness poetically reflects the desire for faith-filled strength. The poems are about life's challenges, setting boundaries, and enjoying the blessed embrace of a beautiful life.

My Soul Is From a Different Place
The poems in My Soul Is From a Different Place reflect the hope and spirit that have been evident in Cherie Burbach's work for over a decade. Each poem sweetly centering on faith while examining the ups and downs of life.

Yes, You
Yes, you are worthy!  That's the message of this book of poetry by Cherie Burbach. You are special and important, and you deserved to be loved and treated well. Yes, You offers poems of hope and inspiration, ranging in topic from life and faith to honoring other women.

New and Selected Poems
Cherie Burbach's poetry has been described as inspirational, uplifting, lyrical, and diverse. She regularly writes about empowerment, self-esteem, and the power of faith. In New and Selected Poems, she includes several new poems combined with the most popular works from her books The Difference Now, A New Dish, and Father's Eyes. Available in print or ebook form.
Reviews for New and Selected Poems:

Father's Eyes
Father's Eyes poetically chronicles the evolution of a Christian – from a rough start growing up the child of an alcoholic, to struggling with self-destructive patterns, to fully understanding that she is a child of God. Her path will begin with the struggle and search for peace, continue on to the surrender of God's grace, and finally embrace what it truly means to let go of expectations and let God give you the gifts you were meant to receive. Father's Eyes contains over fifty poems, with an autobiographical influence that demonstrates the strength of the human character when combined with God's love. No matter your beliefs, you'll be able to relate to this faithful progression and understanding.

A New Dish
The poetry in A New Dish explores spirituality, relationships, and empowerment with the underlying currents of strength and grace that have become cornerstones of Cherie Burbach's work.
A New Dish will inspire you while urging you to let go of anger, envy and doubts. The poetry in this volume permeates a simplicity while subtlety urging the reader to go forward with determination and achieve the life that is uniquely theirs. The universal themes of faith and self-acceptance are also championed with imagery and beauty of words. Readers will find each poem flow effortlessly to the next, while taking in the growth and maturity of a woman comfortable in her own skin.

The Difference Now
The Difference Now speaks of the struggle for self-acceptance and the ability to let go of the past. Ultimately, it is about learning to make one's own definitions instead of fitting into someone else's idea of what's acceptable. The Difference Now is about gaining the perspective that will allow you to look back over your life with contentment instead of regret. It's about overcoming all the thoughts and emotions you never thought you would, embracing independence, and realizing finally you are more than just the product of a turbulent childhood or a certain amount of success and failure.
Despite its personal nature, The Difference Now is the embodiment of universal struggles, emotions, and fears. The poetry is honest and spiritual, and the words stay with you as you continue on your own life's journey.