Description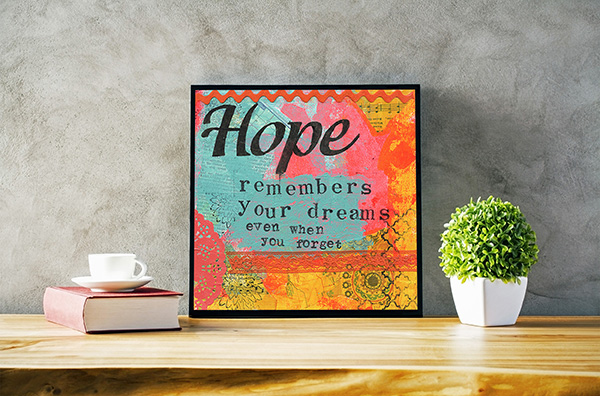 I wrote a poem called "Hope" for my Angel Toughness book, which was the inspiration for this print. (This poem is also available in Poiema.)
Hope

Hope
shines down from Heaven
even through the darkest night.

Hope is
is the secret ingredient
of dreams,

and the one confidant
you can safely share
your secrets with.

Hope whispers
try again, one more time
and see what happens.

It stands before you,
hands on hips,
and asks, "Why not you?"

Hope puts up a billboard
with your picture on it
that says, "Cherished one."

It acts like a pit crew
cleaning your view
when things look cloudy.

Hope shows you a new equation
when everyone says
the odds are against you.

It turns your head
toward the future,
leaving the past behind.

Hope
smooth's out your confidence
so you don't trip,

like a maid of honor
holding the train
of your wedding gown,

and tosses breadcrumbs behind you
when you roam
so you can find your way back.

Hope
reminds us
that everyone's story
is different

and so it will never come
to your pity party
no matter how many times you ask.

Hope remembers
all your dreams
even when you've forgot them.

It runs to you,
breathless,
and says,

"I've been looking for you
everywhere"
when you're trying to hide.

Hope
views failure
as practice,

and says
not now,
but soon.