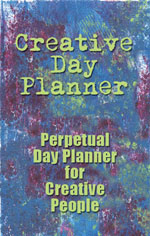 This Creative Day Planner
 is a perpetual day planner and journal specifically designed for creative people. You can start on any day or month. Each week you'll have a spot for notes, daily appointments, and "gifts, gratitude, and goals."
The best way to keep ahead of your dreams is to remember the big goals but break it down week by week into smaller chunks. This planner allows you to write down your progress, whether you're still in the thinking stage of things to the point where you're ready to take the next steps.
"Gifts" in this case refers to your creative talents. This planner provides space to acknowledge these each week, keeping them at the forefront instead of "when you have time." One week you might create something small, and the next week you might be thinking of all you want to make next. You'll have the room to write down your ideas and give yourself a pat on the back as well.
And let's not forget gratitude. You'll have a spot to jot down all the blessings you've noticed in the past week, both big and small.
The planner provides lots of color and style to inspire you, with enough white space to jot down all your thoughts and notes and make it truly your own.