I've been thinking a lot about forgiveness. People misunderstand it sometimes. At least, I used to misunderstand it. I used to think that when I forgave I was letting someone "off the hook." But as I got older, I realized the freeing power of forgiveness and how much it lifts the burdens of anger and resentment.
In him we have redemption through his blood, the forgiveness of sins, in accordance with the riches of God's grace.
Ephesians 1:7 (NIV)
This week I got a note from someone, a family member that I've forgiven but at the same time moved on from. They were a destructive, toxic force in my life, and I felt like I was trying for years to be heard or accepted from this person and the rest of their clan.
But one day, I made a decision to forgive. They weren't sorry. They still don't get the reality of things that happened and they really seem to lack self-awareness. It's frustrating to be with people like this, who try to control situations and put "spin" on everything from family stories to their own faults and manipulations.
Jesus said, "Father, forgive them, for they do not know what they are doing." And they divided up his clothes by casting lots.
Luke 23:34 (NIV)
Very often the people we need to forgive don't have a clue as to what they did. They can't look at their own behavior objectively and can't listen to you. Each time I'd try to bring up the truth, they'd go on the attack. This was a pattern with them. But it didn't have to be a pattern I carried through in my own life.
But with you there is forgiveness, so that we can, with reverence, serve you.
Psalm 130:4 (NIV)
Sometimes you can forgive someone and move forward, with both of you vowing to make your relationship better, and sometimes you forgive someone but move on, because while you love them you can't have them in your life. They're behavior is too nasty or condescending or manipulative, and you can't be around them and maintain a healthy life yourself. So you forgive, and let God work on the rest.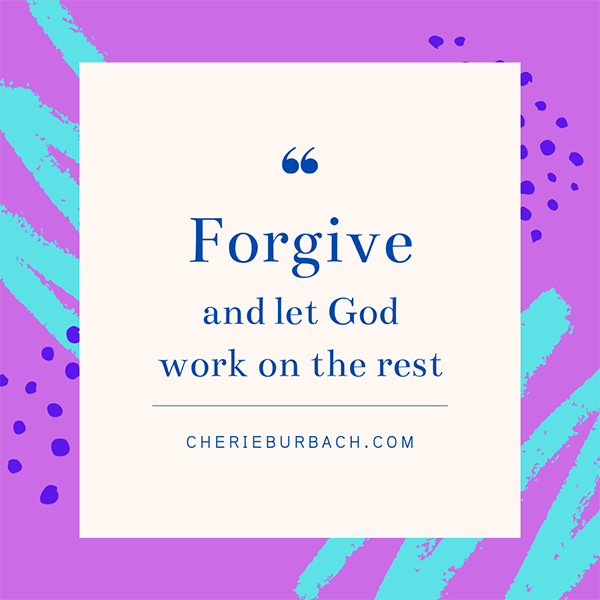 I realized this week how far I'd come, all from the power of forgiveness. It's God's doing! This beautiful gift of forgiveness He has given us. I tried to explain the truth to this person, who once again sent me a note filled with pretty, insincere words mingled with those that "told me what they thought to be true." Clueless words from someone who can't get my situation or the truth because they've never wanted to look, never wanted to see.
Get rid of all bitterness, rage and anger, brawling and slander, along with every form of malice. Be kind and compassionate to one another, forgiving each other, just as in Christ God forgave you.
Ephesians 4:31-32 (NIV)
I prayed for days over how to respond to this person. I didn't want to hurt them but I also knew that sometimes in the Christian life you need to stand up and tell someone the truth. It's amazing how lost people get in lies, even the ones they tell themselves. In writing my response to this person I was able to feel how far away this situation really was for me. I'd moved on, all because of God's gift of forgiveness.