Inspiration can be found everywhere any time of the day or night or year. But in summer, I especially love looking around and seeing the different shapes and colors and artistic endeavors of God in nature.
One place I look is down. Oh sure, looking up is always good when you're trying to find God, but He is everywhere, including the beautiful ground cover you might ignore. I look at the shapes of the leaves, the color of the yellow highlights, and I'm inspired to create something like this in my own art.
The farmer's market is a place for inspiration any time you visit. I've been a fan of visiting my local market for many years.
I love getting fresh flowers there.
Flowers in general are such a great source of inspiration for your art. I use flowers just like these to encourage people to create whimsical, free form flowers (like in my Mixed Media Flowers class on Skillshare) and in the ecourse I teach here on my site that includes different ways to create flowers using things like acrylics, oil sticks, and more.
I also like to just soak up the scenery while I'm there. We usually grab lunch from one of the vendors and then sit at a picnic table and enjoy it. The last time we were there I couldn't help feeling peaceful beneath the trees.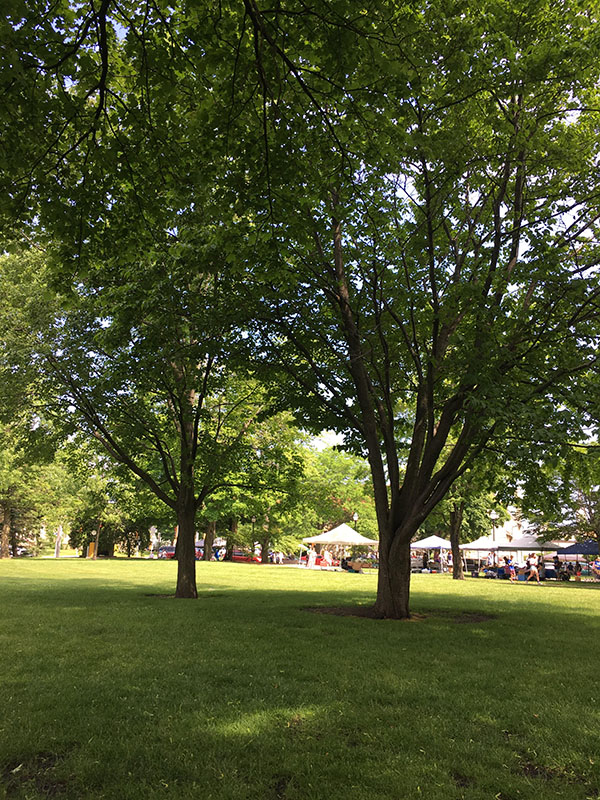 When I looked up, I was even more inspired.
Doesn't that just beg to be painted?
While trees and flowers are inspiring, don't forget to check out the veggies. They have their own kind of beauty.
I see the gorgeous colors and design of those radishes and I can't help thinking of how I would paint them.
I'll ponder that for a while, because for now, I'm making stir fry with a few of the things I picked up at the market.