This post is not only several years old, but it was originally written the week after Thanksgiving. To me, Thanksgiving means food and family and football and being grateful. This post is about taking stock in your gratitude meter after that. Gratitude is a daily practice, and not just something you feel occassionally.
Enjoy this post from the Putting on the New archives.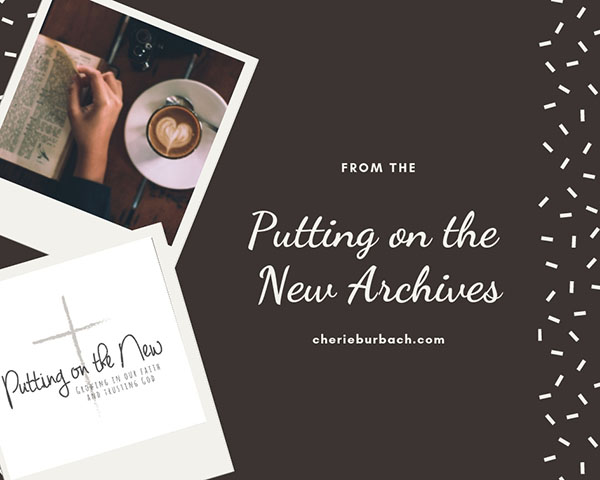 It's about a week after Thanksgiving, which is always a good time to do a "gut check" on the thankfulness factor. I think we always have such good intentions at Thanksgiving. We're surrounded by people we love and cherish and we're sitting in front of a huge feast and feeling every bit of the blessings we've been given.
But then the next week happens. Christmas shopping happens. People pushing and shoving in stores happens. Family dramas happen. And our good intentions are lost among the need to just keep up with the fast-paced nature of the season.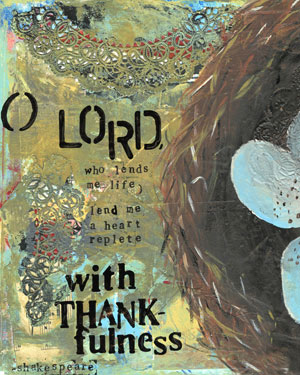 O Lord Who Lends Me Life (print)
One of my favorite quotes about thankfulness is from Shakespeare, in the play Henry VI, of all places. It says:
"O Lord, that lends me life, lend me a heart replete with thankfulness."

~ Shakespeare, Henry VI, part 2
Perhaps it's the word "replete" that gets me in that sentence. It's hundreds of years old, and I love those words that have been around for ages. On Dictionary.com it's defined as:
1. abundantly supplied or provided; filled

2. stuffed or gorged with food and drink.

3. complete
The first and third of these meanings put a smile on my face. Can you imagine abundantly supplied thankfulness? It would be coming out of our mouths every time we opened them to speak. How beautiful.
And "complete"… makes me feel like thankfulness is like the final piece in a puzzle you've been working on. One final "click" into place and you're done. Complete.
Life rarely feels abundantly supplied or complete, though. Our feelings can really make a mess of things at times. We might have dozens of friends but feel lonely, or a wonderful marriage and family and feel unfulfilled. Sometimes I wonder if it isn't so much our feelings as it is our expectations.
But when you feel yourself heading back to the ungrateful side of life, when you know you should feel thankfulness but instead feel bitterness creep its way into your daily life, remember this quote. Lean into it. Wrap yourself in the comfort of this image: a life abundantly supplied with thankfulness.