For my birthday this year, I've got 52 gratitude and encouragement notes I'm sending. One note for every year. I'm excited to share this project with you because I like it when people do things like this and then share their experience. It is inspiring. I hope to inspire you to celebrate all the years you've been given in a positive way.
Here's more about this project.
Choosing the Cover Art for the 52 Notes Project
For the cover of these cards I chose my "Bold As Love" image.
This painting was inspired by the Jimi Hendrix song of the same title. It is a favorite image of mine, one that celebrates community and sharing and pulling people up with you. It celebrates sisterhood, and while I plan to send these cards to men and women alike, I'm always about my soul sisters! I value the women I have in my life.
The Gratitude Message
The inside of these card has a pre-printed message that explains what this project is about.
This saves me from writing this each time and allows me to get right to the individual message of gratitude and encouragement.
As I begin this project, I have some people in mind, but honestly I want this to be organic and I know that in the course of doing this God will nudge me toward certain people, so I also want to pay attention to that.
I'm excited to share this because I think things like this help us balance out the negativity in the world. This is not a huge project, not in the sense of time or money or effort, and yet I feel that any positive thing we do can help another person. Don't you remember the kind words spoken by someone else? The thank you notes you received? All of these things are small and very often people don't even know we are doing them, but they matter.
52 Notes and My Card Ministry
I have for years had an informal card ministry. This project puts something more formal into place and announcing it like this allows me to be accountable to the intention. I think in this world of electronic notes and texts, a handwritten card really goes a long way. As you know, I value these cards when I receive them from someone else. I have turned many cards I've received into mini-pieces of art, adding them to a small canvas and then placing them along the ceiling of my office. I love having these pieces to look at while I am typing or filing. In fact, the time spent in my office is the least favorite of mine (I'm more of a "spend the day in the studio" type of girl) but having these pieces in front of me reminds me of positive things and people who care. This motiviates me. (It also helps when I get rejection letters. Hello reality of being a creative person!) I was featured in an article in Green Craft last year for this very project. I have also taught classes based on this concept and created an ecourse about it.
I know that in a project like this, God is working. He is perhaps working on me (not perhaps, He is) and maybe He is working in other ways, too. So I know doing this will reveal something to me. I can't wait to share my progress.
UPDATE: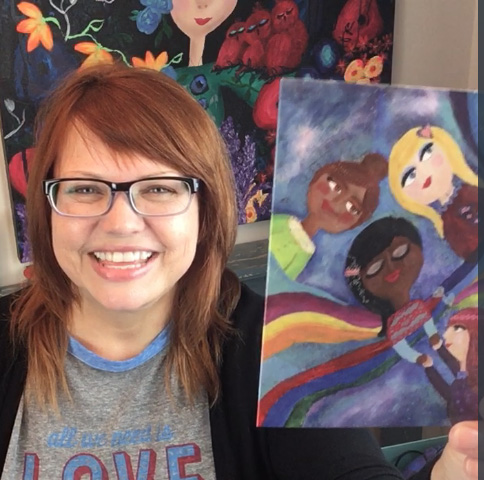 I've finished the project, and have to say that I felt it was a very good experience. It was awesome to focus on other people and to reach out in a way that is meaningful. As I look back at the list of people I wrote to, I am very surprised now. (I'll tell you more in the video on why.)
Here's an update to this project.
The response I received from this was very positive. In fact, I am still doing a regular gratitude note practice, which has been a huge blessing for me.
Many of you have asked me how to go about starting your own card ministry, which fills me with such hope because just when you think the world is so dark you see people desperately wanting to spread some goodness.
Writing cards can seem like such a small thing, but God works in every single thing so I think that is why this type of practice can be so powerful.
Final Update
A couple years later I posted a final update. In it, I talk about how this process has changed me and the surprising way it has changed how I look at some relationships.