Most of us feel a bit stressed out during the holidays, but it really doesn't need to be that way. Here are some ways to lower stress during the holidays and make your holiday much more enjoyable.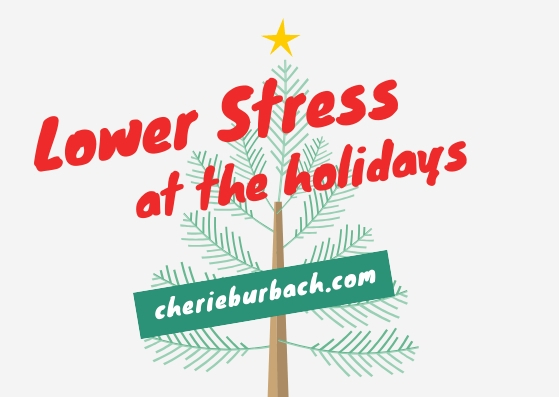 Rethink Tradition
So much of our stress comes from the fact that we try to keep up with our image of what the holidays should be. We feel as if we don't live up to that specific image, our holiday was somehow lackluster. But we need to rethink this.
Watching out for some of these thoughts can add to your stress level and feelings of dissatisfaction:
We should have Thanksgiving dinner here like we always do.
We'll have to squeeze in a visit to my aunt during the holidays, she expects this.
I'll have to find a gift for every one of my sister's kids even though they don't give us anything.
We really can't afford to give to my brother's family, but what would they say if we didn't?
I better send Christmas cards early so I can get them done.
Instead, turn these thoughts around. Do you really need to send Christmas cards at all? And what about changing things up and having Thanksgiving at a friend's house instead? Or skipping the visit to your aunts and doing it another time when you aren't already so stressed out?
You have the power to start a new tradition. If there are certain things you do that cause stress or arguments in your family, think about a new way to do them. Talk to your family members and see what they think. They may be feeling the same way as you.
Put an End to Individual Gifts
Rather than running from store to store for the perfect gift for everyone, talk about drawing names or just giving one big gift to the entire family. If you're afraid to bring this up for fear that your family will balk, tell them the time spent with them is the real gift for you.
The true meaning of the holidays is time spent appreciating what you have, which includes your loving family. Make a pact to revise your holiday in an effort to reduce stress and make it more meaningful for everyone. In the end, it isn't about gifts. Ask anyone who doesn't have a family to go to this holiday season.
Make Gifts or Offer to Do Chores for a Family Member
One year my family gave up on buying gifts and picked names so that we could each make something by hand for whoever we chose. The holiday turned out much more special for everyone as we got to see the creativity from each family member.
If you're not a crafty person, you can still do something like this by offering to do a task for someone in the family that they absolutely hate doing. What about making the bed every day for a year for your wife? Or drying the dishes for your husband. Maybe taking out the trash, cleaning, or walking the dog.
When it comes to really giving a gift, these types of unconventional presents can actually have a greater impact than a plain old tie or jewelry item. Your family member will remember a creative gift like this each time they look at the item you made by hand or think of the tasks you did on their behalf.
Forget Perfect and Pay Attention to Places You Dread Going To
Stress really comes from falling short of an ideal. I have to bake all this stuff, we have to stop in at this person's house, our holiday won't be good if people argue. Let all of that go. Surround yourself with people you enjoy spending time with and just say no to those you worry will be drunk, stuck on politics, in your face about your life, and whatever else. People who love you will value the time you are spending with them and won't feel the need to pick a fight. We sometimes believe that we need to put up with bullies at the holidays, but we don't. It doesn't matter if they are related to us or a stranger. Wish them well, pray for them, but focus your time on what fills your soul.
Don't forget God in all this. He is here to help guide you to the right ways to celebrate, and that is what is most important.