I've been asking you all for your questions and one of the more common ones that has popped up is: "How do you choose color?" Or basically, how do you pick the colors to use in your home or in paintings. This is one of those questions that can seem like a no-brainer, but in reality, I do think color stumps a lot of people. More than that, I think folks fall into this "I should" thinking when it comes to color.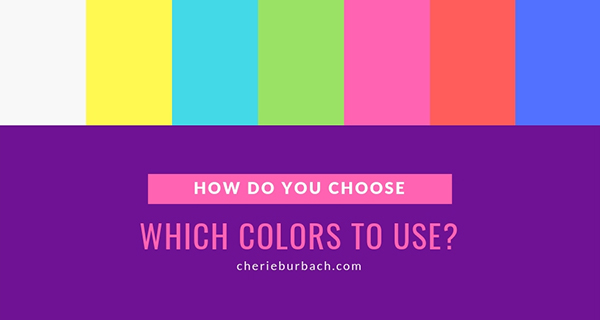 For instance, I hear someone say they'd love to put up a bunch of my prints in their living room, but they are hesitant because "I should just go with something more traditional" or they'd like to paint the bedroom a certain color but then they say, "But I should just go with something more neutral."
Bah! Should! Bleck!
(That is code for me saying "Spit that should out of your mouth! Do what you like with your space.")
Why do we hold ourselves back with color? What happens when we are unsure about color? Here are some of my thoughts.
Okay, let's take it a step further. What is the perfect friend for you based on  your favorite color? The colors we like reflect our personality, and are shown in the the clothes we wear most often or the furniture we choose for our home. Our favorite colors are those we keep near us and those that energize us and make us feel comfortable.
When thinking about your favorite color, determine which one you go to most often for a favorite shirt or accessory. Which color to do you pick when you have a choice of many other colors? Most people like a couple different colors, but lean toward one.
Color Psychology and Friendship
If Red Is Your Favorite Color
There is something about the color red that says strength and passion. People who love this color are action oriented, the kind who are probably organizing a party or get-together when they feel a little lonely. They actively show their friends they care and enjoy activities that stimulate their senses. Interestingly enough, women are more often the ones who choose red (or colors close to red, like purple) than men.
The Perfect Friend for Those Who Like the Color Red
The perfect friend for this group is someone who is easygoing and not worried about being in charge of plans. People who are happy to have someone call them up and say, "Let's go here for vacation."
Friends of this group should be comfortable receiving affection in the form of hugs, and frank discussions that is always meant to make their friendship better. People who like red also do well with friends who are totally opposite from them.
People Who Like the Color Orange
Orange lovers, you are true originals, mostly because this color ranks among the least favorite by people worldwide. (Only yellow falls below it on the appreciation scale.) But that doesn't matter, because the people who like orange are probably the ones who keep all our relationships running smoothly.
These are the folks who are the caregivers and work to have peace in their friendships. They are kind and loyal and best of all, great listeners. People who like orange also enjoy being part of a group.
An interesting side note is that even if you enjoy this color now, you may like it less as the years go on. Both men and women note that they dislike the color orange more and more as they get older.
The Perfect Friend for Those Who Like Orange
This group needs friends who are most like them, enjoying as little drama as possible. They need friends who enjoy doing things as a big group of people and who rally and support each other.
Is Yellow Your Favorite Color?
Just five percent of people choose yellow as their favorite, making it the least likeable color. If you like yellow you're a logical, orderly person. You enjoy learning and sharing interesting facts with others and also figuring out how to solve a problem. Because you like to find out new information, you're a great conversationalist, and also a connector for others. You're the one that says, "You need a plumber? I know someone" or "You're new in town? Let me introduce you to a few of my friends."
The Perfect Friend for Those Who Like the Color Yellow
Variety is best for you when it comes to friends. People who can show you differing opinions and those that are willing to share their struggles will help you feel needed and engaged.
All the People Who Love the Color Blue
Most of you say your favorite color is blue. Over 42% of men and 30% of women prefer blue and is the color least disliked throughout the world. People who like blue are sensitive and thoughtful, and are often the ones buying little gifts for their friends or just doing nice things that don't cost anything at all. They're about intentional nurturing, and will go out of their way to make a friend feel special.
The Perfect Friend for Those Who Like Blue
When talking about those who like the color blue perhaps its best to mention the thing they need to stay away from: toxic friendships. If someone is negative or talks over you, it's best for your personality if you stay away from them. The best friends for this group are people who appreciate harmony as much as they do.
People Who Like the Color Brown
The color brown isn't flashy and doesn't need to stand out, and the people who enjoy this hue are the same. They value support from their closest inner circle. They want to feel secure and have uncomplicated relationships.
The Perfect Friend for Those Who Like the Color Brown
This group needs friends who are steady no matter what is going on in their life. They desire people who feel that when you are someone's friend, you stick up for them and don't play games.
When Your Favorite Color is Purple
Like green, the people who favor purple are a study in contrasts. On one hand, they are artistic, respect people easily, and can be seen helping out their community in various ways. On the other hand, they are driven to perfection and this can make them seem arrogant. Purple has a long history and is sometimes associated with royalty. Twenty percent of men also link this color to bravery and courage.
The Perfect Friend for Those Who Like Purple
If you favor purple, seek out friends who are not judgmental or jealous. While you're striving to be better in all areas of your life, your friend needs to be there to encourage you, so people who constantly question your motives aren't going to work as long-term friends.
Do You Favor the Color Black?
Black is an interesting color because a lot of people prefer black clothes or appliances, and yet it might not be their favorite color overall. So think about the color you're most drawn to outside of any household or personal application.
If you do believe black is your favorite color, then you're probably very artistic and guarded. You notice things about people and you're sensitive to not only what's said but how it is said. You rarely share parts of yourself so people who betray you or gossip about you aren't going to be given a second chance.
The Perfect Friend for Those Who Like the Color Black
Seek out introverts for friends, who can get to know you slowly and are generally good at listening. Rather than group friendships, build your social circle with unique friends you can spend quality time with one-on-one.
Is White Your Favorite Color?
Those who favor the color white like things logical and organized. You don't have time for complications and clutter in your home or relationships. You're probably very independent, which makes you the type of friend who doesn't try and rush a friendship into forming or push someone to be your bestie.
The Perfect Friend for Those Who Like the Color White
Seek out friends who are emotionally stable and self-aware. The best people in your life will be those that are able to address a situation when it happens, then forgive and move on from an argument.
If Your Favorite Color Is Green
The people who like green are a study in contrasts. Maybe it's the combination of sunny yellow and thoughtful blue, but the folks who enjoy green strive for acceptance and praise. They need to feel safe in their relationships and that they belong, but they are also the type that enjoy exploring the things their imaginations can create. They seek out a variety of experiences and enjoy following a hunch.
The Perfect Friend for Those Who Like Green
The perfect friend for this group is someone who will offer kindness and follow the Golden Rule. They need people who will marvel at the things they discover and accept them just as they are.
This insight into color psychology especially as it relates to friendship can help you determine the right friends for you.
Sources: