October 11th is #DayoftheGirl, which is a worldwide movement to bring attention to girls and a reminder for us all on how to treat them better.
Last year on this day I created a meme with a picture of me from when I was eight: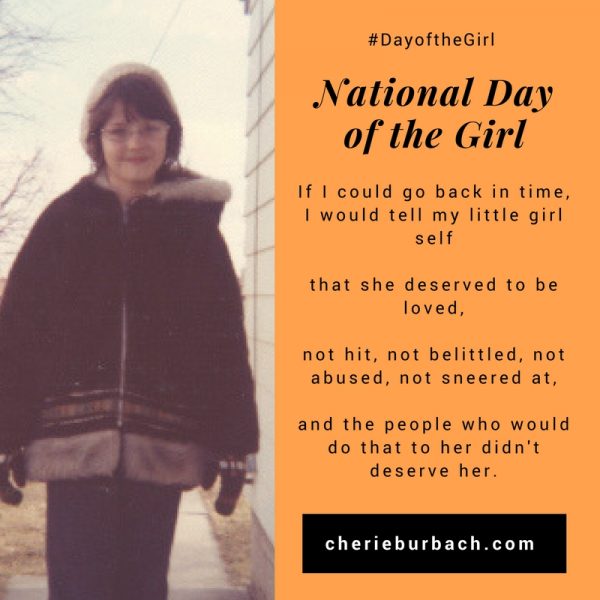 I keep this picture as a reminder to myself, that I was once that small. I once had a little girl face who did not deserve the slaps it endured. I was once a shy spirit in a little girl body who deserved protection and love.
I didn't get it when I was young. It took me a long time to figure out how to be whole and how to accept love because of that. It took me a long time to understand what love really was.
But I did. Long ago. Decades ago.
Still, I keep this picture of myself because there are times when I look at it and it feels like a completely different person. Like I couldn't have been that little, because of everything I went through. The adult me has learned how to have a happy life. The adult me has learned what God has done in my life.
That younger me, though, she didn't know. Underneath that young face is a sad girl who doesn't like herself, because she's being told daily that she is disgusting and ugly. She will be the outlet for people who should know better and yet choose to take it out on her. All of it. She will hate her face and body and way of being. She will feel afraid every day, because there is no safe place in her home. She will wonder why she was even born.
But not forever. And if I could go back in time, I would tell her all of that.
Instead, I have today. I have women sisters in my life of all ages, and I choose to build them up and honor them. I choose to treat myself with respect. I choose to use my voice to make sure women and girls are never treated as I was once.
More About Day of the Girl:
"Empowerment of and investment in girls are key in breaking the cycle of discrimination and violence and in promoting and protecting the full and effective enjoyment of their human rights"
-United Nations Resolution 66/170
In 2011, as the result of youth advocacy around the world, the United Nations declared October 11 as the International Day of the Girl Child. Its mission is "to help galvanize worldwide enthusiasm for goals to better girls' lives, providing an opportunity for them to show leadership and reach their full potential." It's a day when activist groups come together under the same goal to highlight, discuss, and take action to advance rights and opportunities for girls everywhere.
Day of the Girl-US is the United States branch of this global movement. We are an 100% youth-led movement fighting for gender justice and youth rights. Our work to dismantle the patriarchy and fight for social justice is rooted in girl-led activism across the country, using October 11th as a day of national action.
October 11 is not just a day; it's a movement.
A worldwide revolution.
We want ourselves, and girls everywhere, to be seen as equals, in the eyes of others and in our own eyes.