You guys know by now the Psalms are totally and completely my jam. I just love the poetry in them and feel the words so much differently than I do other parts of the Bible. I think God speaks to us in a variety of different ways, which is why some of us are more drawn to certain parts of the Bible than others.
Recently, I read this Psalm and it really seemed to stand out to me, especially the last few words.
Taste and see that the Lord is good;
blessed is the one who takes refuge in him.

Fear the Lord, you his holy people,
for those who fear him lack nothing.

The lions may grow weak and hungry,
but those who seek the Lord lack no good thing.

Come, my children, listen to me;
I will teach you the fear of the Lord.

Whoever of you loves life
and desires to see many good days,
keep your tongue from evil
and your lips from telling lies.

Turn from evil and do good;
seek peace and pursue it.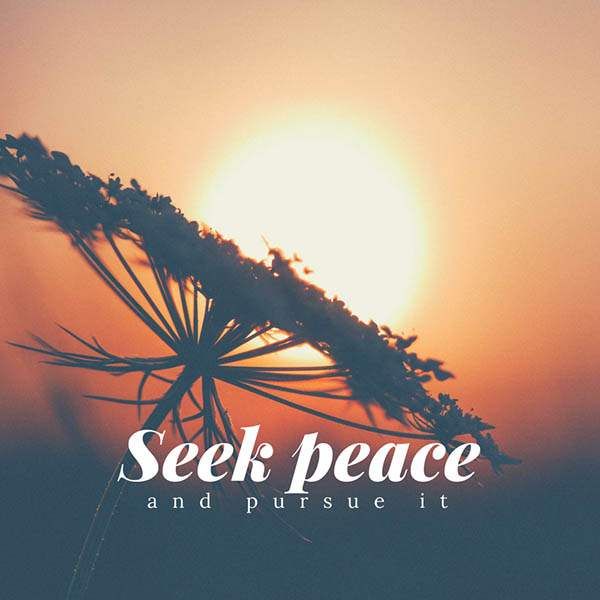 Seek peace. Pursue peace.
What does it mean to pursue peace? My word of the year is peace. I have always tried to have peace with people, but this year, I am actively pursuing it and finding that it takes me to interesting places. For instance, how do you get peace with someone who is constantly doing a push and pull with you, drawing you in and then ignoring you until the next time they feel like being a friend?  How do you have peace with an adult who acts like a child, yelling when they can't have their way. How do you have peace with someone who behaves in unkind ways, belittling you and talking negatively about you behind your back?
These are things I've prayed on for a long time. In some cases, I have been prompted to forgive and take a step back. In other words, sometimes I can only love someone from a distance.
Other times, I have finally asked for a boundary or something I need in a relationship and when that person cannot give me that (or refuses to) I have stepped away. First, take responsibility that you have allowed their boundaries to define your relationship. I just wanted a relationship with someone and allowed every one of their boundaries without ever placing any of my own. When I finally did that (and asked for patience and kindness in one particular area that they knew was a sensitive subject for me) they plowed over me with sarcasm and selfishness and irritation that I was causing them to think about someone else. This person was used to having people who catered to them and their caustic response reminded me that I have been allowing this because I thought making peace was just letting this go by.
I think as Christians we struggle with this. Jesus says turn the other cheek and we must. But he does not want us to be emotionally used and played with. He does not expect us to continually get kicked in the teeth when we are just looking for kindness. In these instances, take responsibility that you allowed this into your life and ask God what you should do. He will help you! Trust me on this one. I know.  In every single case, forgive. Let it all go.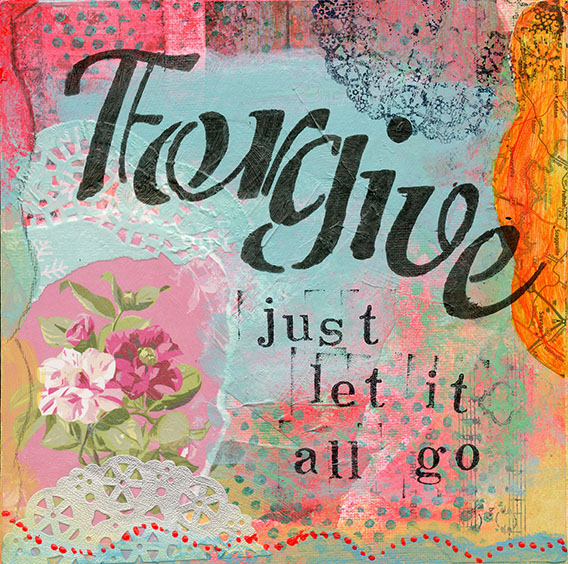 (Forgive. Just Let It All Go.)
Make the choice to forgive even if you do not feel it. Especially then. Then, pray about what to do next. God will help you with this! With some people, you will be able to reconcile. He will work on you both. With others, you might have to set boundaries or love them from a distance. Allow Him to work in your life so you can have peace. Pursue peace, always.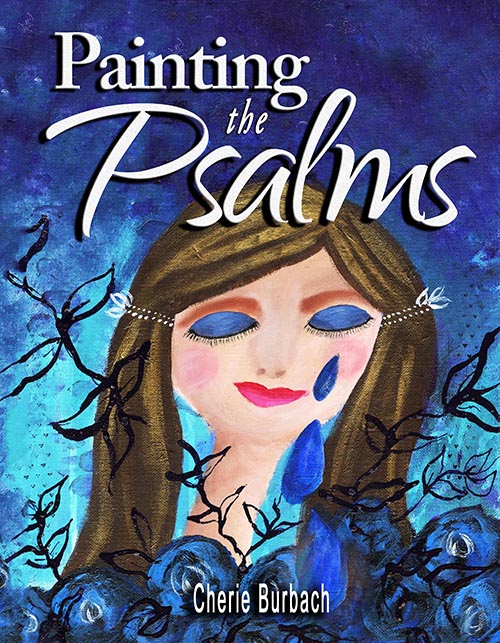 For more inspiration from the Psalms, considering taking one of my Painting the Psalms ecourses or pick up my book, Painting the Psalms. My ecourses are individual mixed media projects you can do in the privacy of your own home, at your own speed. Each project is different in terms of technique, composition, and supplies, but they all are inspired by the Psalms in some way.
My book Painting the Psalms is half art book, half devotional. It contains over 100 paintings, all inspired by the Psalms.