Did I ever mention that the number 13 is actually something I feel is lucky for me?
I lived in a house once that had 13 as the address. I met my husband on the 13th. I got married on the 13th. When Friday the 13th comes around (hello today!) I actually get kind of excited. So I do not have triskaidekaphobia (which is the fear of the the number 13), nor do I have paraskevidekatriaphobia (which is the fear of Friday the 13th).
I don't think it is a particularly unlucky day in and of itself, but I did find this article interesting on why people do.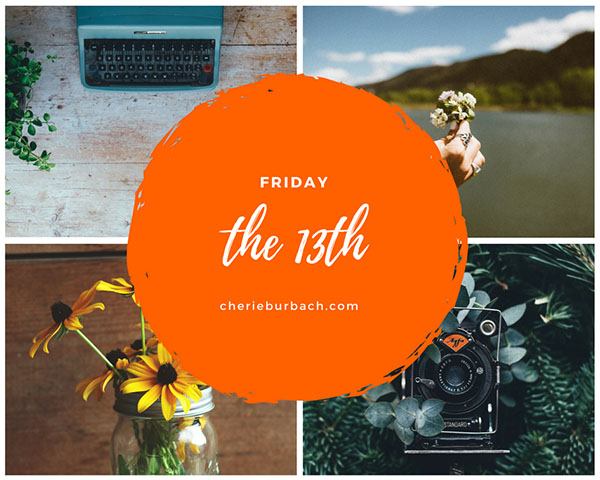 Ways to Celebrate Friday the 13th
While I don't have a fear of Friday the 13th, I don't necessarily do anything special to commemorate the day, either. But that doesn't mean you shouldn't ring in the day! I mean, hey, why should New Year's get all the glory? Right? Here are some ideas on how to celebrate.
Call up a friend and ask if you can pick up a few items for them (like maybe, thirteen of them) from the grocery store on your way home from work.
Write an "I'm grateful you're my friend" note on thirteen different friend's walls.
Bake a batch of thirteen cookies and drop them off at a friend's house.
Write a note to a friend and include thirteen things you love about them.
Make your favorite person a baker's dozen of their favorite cupcakes. (And place them on a homemade cupcake stand! Just saying.)
Make 13 glass mushrooms for your garden.
Fridays are great days for coffee dates. Meet a friend or even your spouse at the coffee shop and tell them how lucky you are to have them in your life.
Invite friends over for a Friday the 13th movie marathon.
Learn more about feng shui together, by taking a class or just hitting up the information available at your local bookstore. Feng shui is believed to help you attract more luck in your life.
Have a Friday the 13th theme party, complete with black cupcakes, spooky decorations, and punch.
Change up the traditional thoughts about Friday the 13th and do something you feel is positive and lucky. (Like buying a piece of original art! Just saying.)
Make a list of things you could do to improve your life, like how to be more positive or ways to build your self-esteem. (And yes, try to list 13 of them just for fun.)
Buy a friend lunch and ask them what they feel has been the luckiest moment of their life.