I was adopted and grew up an only child. It was a lonely life, not so much because of the only child thing but because of the alcoholic household thing. I always had cousins, and some of them are like sisters to me.  And I always had friends, who I loved as sisters also.
But then, when I was about 30, I found out I had a sister who was also given up for adoption. When I was about 40 I got to meet her. And she had a daughter. And then suddenly… I was an auntie!
By the time I had met the sister who shared my DNA, I already had so many great women in my life, from the sweet woman that lived next door to me as a kid to the numerous cousins and friends and acquaintances I had met along the way. I saw that God had continued to put people in my life to help me, to be my sister in Christ, to be someone who I would care about and who would care about me.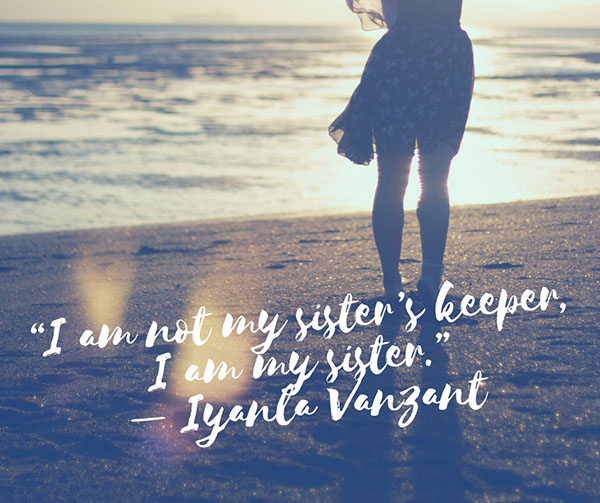 Iyanla Vanzant has a really great quote, which is "I am not my sister's keeper, I am my sister."
I love that quote. So often we look at our sisters and think, "I'm glad I'm not her," or "look what she's doing" instead of realizing that we have more in common than we think. Before we mock someone else, we need to look at ourselves. Mostly, instead of judgement, we need to step into our sister's world and see things from her view.
I cherish the people who have done that for me. I keep them close, still.
So it's no wonder I would paint a picture about sisterhood. Despite growing up as an only child, I always cherished my sisters, in any form they came in.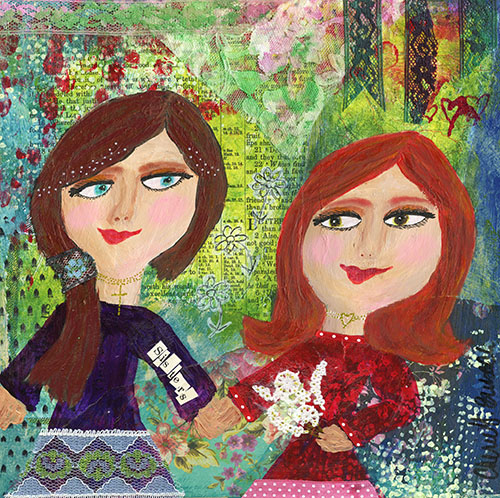 Sisters (available in the print shop)
This original sold instantly by someone with two daughters, two sisters, who are at a place in their life when they are growing up and getting distance as they do their own things… but of course, they will never grow apart.
He sent me a picture of this painting hanging on his wall.
I love love love when I get to see this! And I love the way he has this picture right next to the word "family."
Sisters are always family, whether they share your DNA or not.
I filmed this one as I painted it. It took hours and hours to do but through the magic of video you can see it come together in just under a minute.