October always seems to sneak up on me, just as I'm getting used to the change in temps and the feeling of autumn, here comes October quietly tiptoeing into our lives again, reminding us that the things that are really important are those we do for other people.
Here are some kindness ideas perfect for the month of October. These don't cost too much or take too much time, but they are simply ways to stay connected with people and give them some positive energy.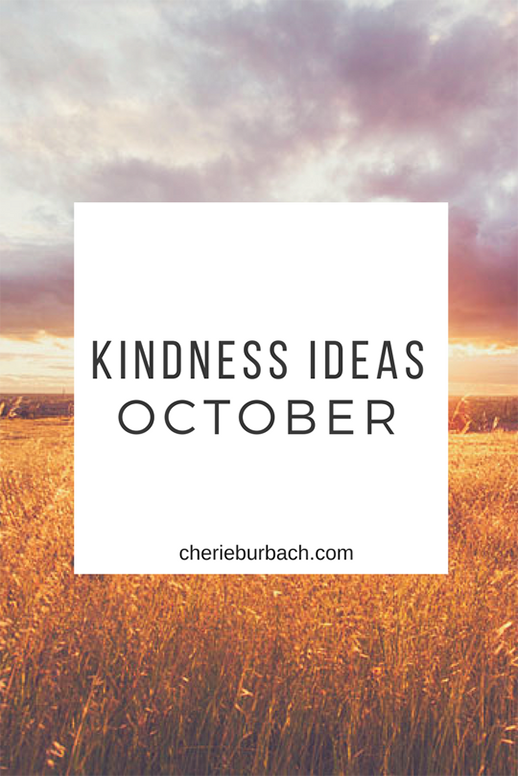 Rescue a Dog
Did you know that October is Adopt a Shelter Dog Month? The American Humane Association says that an estimated 3-4 million animals a year are waiting for adoption. Getting a rescue dog means that you might save that dog's life, but as many pet owners can attest, very often the dog ends up saving yours by providing acceptance and companionship.
Stand Up Against Bullies
October is also Bullying Prevention Month, which puts a focus on the signs, prevention, and handling of bullying. It's a problem in schools and can even linger into adulthood. It affects the way we view ourselves and impacts the friendships we have. Pacer's National Bullying Prevention Center has some good tips on how to get involved to put a stop to bullying and ways to show your support.
Gather Up Your Friends for a Fun and Safe Halloween Party
Halloween has quickly become a popular holiday in this country and people love to decorate and get into the spirit. I think it has to do with the cooler temps and getting excited for a string of holiday get togethers. It's a good time to have whatever type of Halloween party would help round up your friends and give them a fun, safe, way to celebrate. Invite the kids. Play games. Wear costumes. Get some new friends together so they can all get to know each other.
Give a Compliment to a Stranger
You'd be surprised at how much a simple compliment can lift someone's mood. Make sure your compliments are always sincere, because a fake one can actually make someone feel worse. But as you go about your way this month, look for opportunities to offer a genuine compliment. While it's always nice to be complimented on something superficial like your outfit or looks, the more lasting sentiments go deeper than that. Some ideas:
"I like the way you just handled that rude customer."
"The way you responded just now really made my day."
"Your laugh is great. Have a nice day."
Donate Jackets and Warm Clothes
Got some jackets and sweaters around that don't fit or that you aren't using? Donate them to people in need. The cooler months will be here soon and even in the warmest of climates things can get chilly at night.
Better yet, call up your friends and offer to pick up their donations for them. You'll be doing a kindness for them and for the person who needs that coat, sweater, or blanket.