There are times when a verse you've read many times is, at once, illuminated. Suddenly the words, which have been there in front of you all along are highlighted, causing you to pause and maybe even giving you a shiver about how grand God's love truly is. That's what happened a few years ago when I discovered that the Greek word for masterpiece was "poema."
Of course, poetry has been a big influencer in my life. Almost randomly, I had a teacher tell me I had a poetic way of writing when I was eight, and without further instruction or anyone showing me how to write poems or read poems to me I found poetry to be a lifeline in an otherwise very dark and lonely childhood. Writing poetry as a kid gave me the same sense of peace I have now when I write a poem. I felt that I understood the world better and found a constructive way to express the way I felt.
These days, my poems are filled with more joy than pain, but poetry remains a way for me to communicate in what at times feels like the only way I really know how. There are times when a poem will say what conversation cannot, especially for those deep, dark hurts that you can't even speak aloud, let alone describe with pen and paper.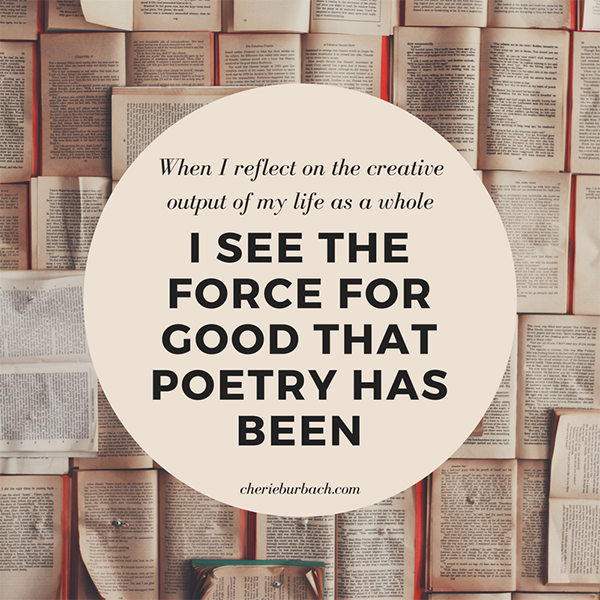 Poetry, for me, is a gift. It has helped me become a professional writer and lately I've seen how much it has influenced my art, as well. When I reflect on the creative output of my life as a whole, I see the force for good that poetry has been, from the time I was a scared little girl hiding away in my room to now, a middle aged woman trying to inspire those who are in that hopeless place I found my way out of long ago.
A couple years ago, I heard someone describe the meaning behind Ephesians 2:10 and they used the word poema. I had never heard this word before, but instantly I was intrigued. It meant poem in Greek, and as I settled in to this revelation, I saw what this verse really meant in way I hadn't before. We were God's workmanship, his poem.
Even now, grasping this reality makes me pause. How could we, people who did such bad things to each other, be his poem? How could we possibly be his workmanship?
But of course, we were not meant to do bad things. We were created for God's purpose, to do good things, and each of our missteps could be made beautiful by his loving hand and the plan he has for our lives. Hearing the true explanation of that verse buoyed me. I felt a renewed sense of lightness and that my life, these years which have not always been good or positive, had a purpose because I was God's poem. Even now, this realization is hard to grasp, like trying to hold on to the light of the sun or wrap your arms around a cloud.
I've carried this realization with me ever since and, as is often the case with God's word, saw the meaning of it come together in a surprising way just recently.
A few months ago I delivered some prints to a gallery in Stoughton. Becky and Ed, owners of Diakonos Design, were kind and warm and as we talked about life and faith I fell in love with their gallery of art and jewelry and left feeling like I had met two new friends. They purchased a couple originals, one of them was my "Cherished Blessings."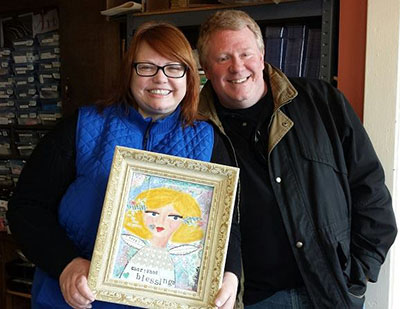 At the time, they talked about their affinity for Ephesians 2:10. Coincidence? Not in God's world. I knew somehow this was a sign that we were meant to connect with them for some reason. Either they had something to learn from us or we had something to learn from them. Or both. God works exactly like that.
During our first visit they asked if I had any art about their favorite verse, and I didn't. Sometimes I do art on a verse I love and sometimes the verse is so important to me that it takes me a while. I need time to think (introvert alert!) and they said if I ever did a painting on this verse they would be interested in it. I knew at some point I would do a painting centered around Eph. 2:10, but I put it at the back of my mind and kept working on my usual things. Art fair season hit. I created some art for other buyers. I kept thinking about this verse but images were fuzzy around it.
I let time pass and one day I was in my studio and realized I had a long canvas I hadn't painted on yet. This is rare for me. I usually paint and paint over and paint over again… but this one was totally clean. Blank. Begging to be worked on. I started with acrylics and played and drew designs with texture tools and sketched out my favorite word in ink.
I started to see a girl come to life in my mind, one with a content smirk that showed the world she couldn't be rattled with negativity and hatred. She could deal with whatever life handed her, because she had the confidence of knowing she was God's poem. No matter what anyone said or did to her, the word poema and all it represented would be her shield.
I took my oil sticks and did the beginnings of her face.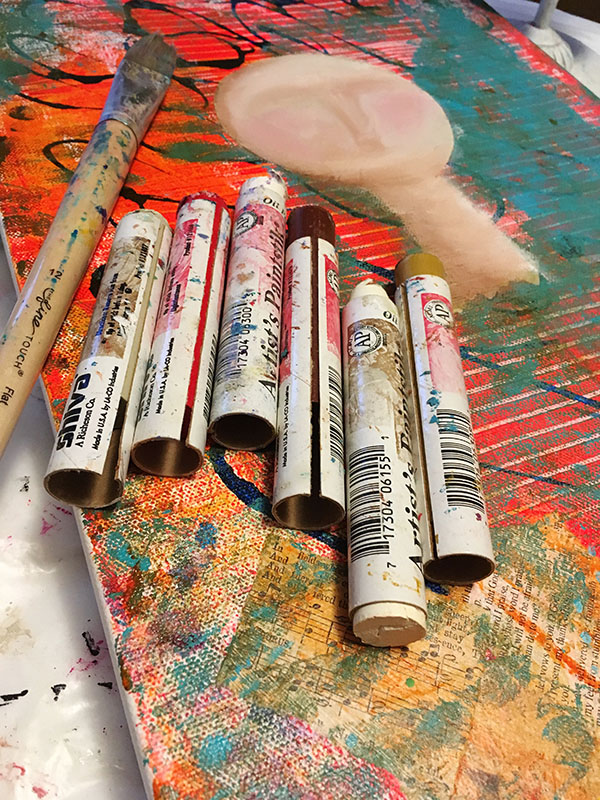 I continued with acrylics. I knew I wanted a pretty top and a long flowing skirt.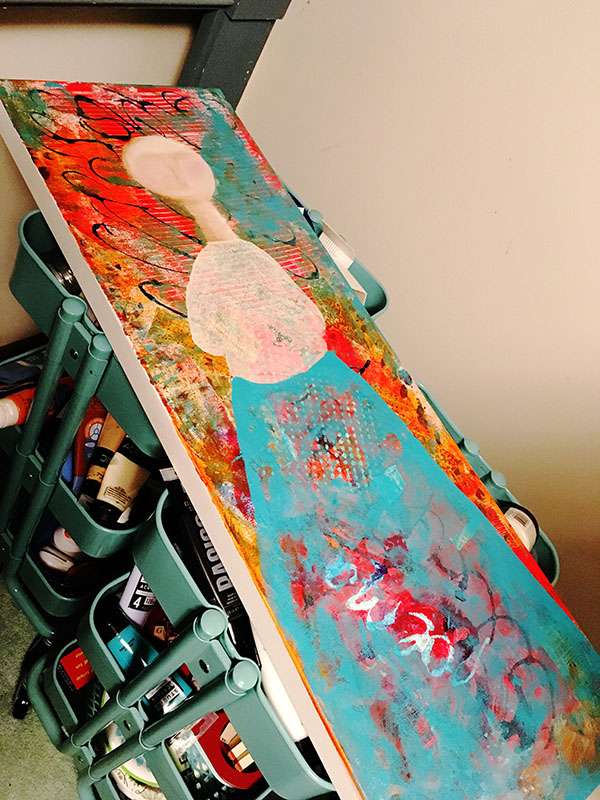 The acrylics were the base, with more oil sticks and oil pastels on top.
I let it all dry while I contemplated the final elements I would place on top of the painting. I stood her upright in my studio to dry as I thought about things, knowing I wanted to add some final paper and maps and lace to various parts. I had two really odd scraps of lace I couldn't get rid of, and as soon as I finished this girl I knew they would make good "earrings" for her. I thought about how I wanted to stamp the words from Ephesians 2:10 above her head, and worked it all out in my mind while everything dried.
My painting girl sat patiently in my studio, even making an appearance in one of my Painting the Psalms videos.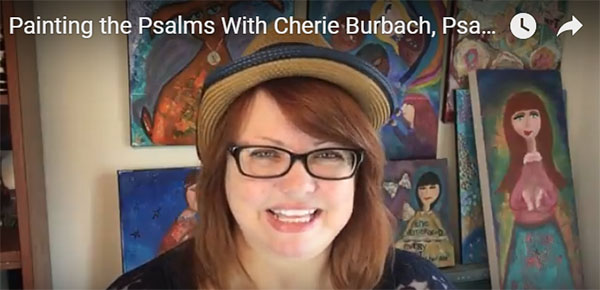 Then came the time to pack her up and deliver her to the new owners. There was a bit of sadness in saying goodbye. Does that sound silly and dramatic? You have to realize that I spend hours and hours with certain paintings and sometimes even dream about them. I ponder their meaning and especially with a verse like this, I think about what creating them means for my life. So it's natural to feel excitement and also a tinge of bittersweet reflection as I hand them off.
Even though I had sent the image of this painting to Becky and Ed, I still held my breath as they opened it and saw it in person. I always do when finishing a painting I do for someone. I want them to love it as much as I did creating it.
I posted this picture on Facebook and Becky commented:
"Thanks for delivering this lovely lady to our store. It's a delight to have such a wonderful original that depicts our Diakonos Designs store verse: Eph 2:10, For we are God's handiwork, created in Christ Jesus to do good works, which God prepared in advance for us to do. Bless You!"
And that could be the end of this sweet story. It's a good ending, after all. But of course, God isn't done yet. This little story that seems complete to us is just the beginning for him. As it was, I left Diakonos Design emotionally moved in way I could not expect.
You see, Becky is a talented jewelry artist, and of course, I had to look around her gallery. (I just had to.) I found a necklace I liked and as I paid for it we talked about how I didn't know I had a sister until late because we were given up for adoption. I talked about the darkness in my childhood and how I didn't think back then that God even liked me. I thought if he did he'd make the pain go away, bring light to the lonely, frightening place that I existed in. I was mad at God as a kid, thinking that the endless darkness I could not see beyond was his way of punishing me. Why didn't he love me enough to pull me away from all that? Now, I told Becky, I see the work he has done always in my life. All those dark places are not gone, but they are instead part of a greater purpose.  He has created a beautiful life for me, one where I am loved.
She said simply, "And that is why you do the kind of art you do."
I had thought she was talking about the message I try to convey. I want my paintings to be filled with hope and positive words that encourage. But she went on. "The way you use things in your art. The tiny pieces of different items most people would throw away, but you use them in order to create something beautiful from them."
And right there, I got tears in my eyes. I had never thought about it like that before. 
I knew I was drawn to mixed media because it was an imperfect method, one that showed beauty despite a "messy" look, and yet I had never quite put it together the way she had. But instantly when she said it, I felt like another piece of this life puzzle fell into place. God had given me artistic gifts that I was meant to use exactly as I was now using them. When I started this method of painting it was puzzling to even me how I wanted so badly to use scraps of things in my art. There would be a doily from a restaurant stained with coffee, and I'd snatch it up and put it in my purse so I could place it somehow in a painting. A small scrap of lace that was of no use to anyone would be something I held on to. A grocery list that my husband would sign "love ya" on would get held on to and incorporated later on canvas.
I could not throw certain things away because I wanted people to see the beauty in them. The value in them. Just like I had wanted to be loved and valued. While my early years were ugly, God had a purpose for them, and they were now part of a beautiful life.
Instantly as she said it, I welled up, hating that I was standing there in essentially a business meeting with tears in my eyes. But of course, with God no meeting is ever really about what you think it is. His purpose changes it all in the most amazing way.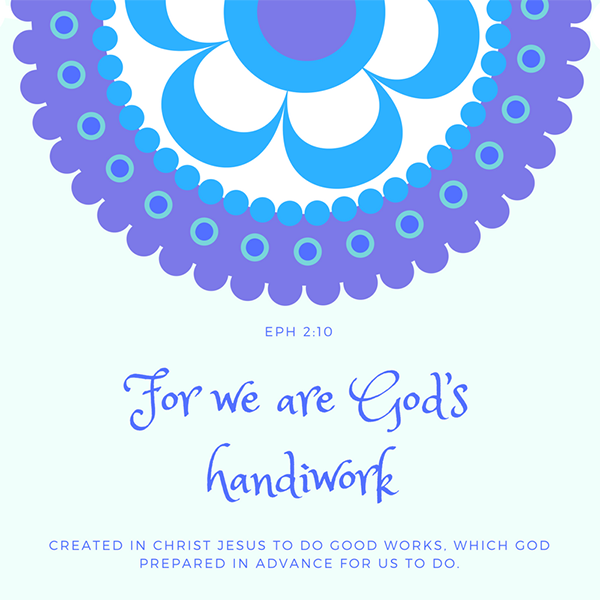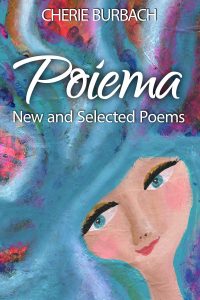 For more inspiring words about being God's poem, check out my book, Poiema.