Start the year off right with these ideas for random acts of kindness. I've included these ideas because they are perfectly suited for the month of January. I hope you will allow them to inspire you with action or to create your own act of kindness. Blessings for the new year!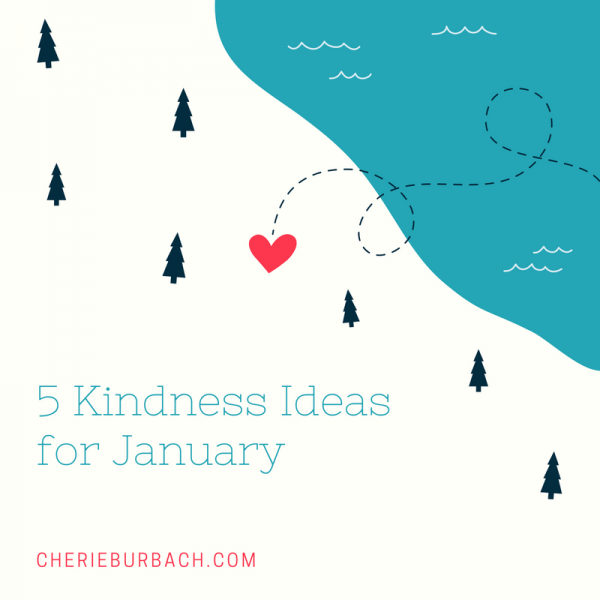 Become a Mentor
Last January my husband and I decided that we would make a change to our personal volunteering schedule and sign up to do something on a regular basis. Until then, we volunteered here and there for church or whatever, which usually involved me baking something and him moving chairs. LOL! Those things are helpful, too, but we wanted to do more, so we signed up to be mentors with Big Brothers/Big Sisters. It's been about a year now and we are very happy with this decision. Our "little" is a great kid and we get as much out of our time together as he does.
Being a mentor can help a younger person mature and give them direction where they might otherwise struggle.  And since January is National Mentoring Month, there's no better time to get started.
Donate Blood
Donating blood is an act of kindness that people often forget about, but it can literally save a life. January is National Volunteer to Donor Blood Month so look up the local donation center in your area and see what you can do to help. Things like giving blood, volunteering, and donating money are all good things to do. Trust that your donation will do good even if you don't know where it ends up going.
Write a Letter… to Anyone
I often recommend writing a letter to a friend because it's a good way to nurture your relationship, but letters make an impact no matter who you send them to. Since Universal Letter Writing Week is January 8-14th, it's a good reminder that penning a card by hand can create a keepsake. People tend to keep cards and pull them out when they feel a bit down, so think about some positive words you can put down on paper and make someone's day.
Help a Friend With Their New Years Goals
Kindness can be as simple as this: supporting a friend's choice to change for the better. If a friend says they want to make a positive change in their life this year, help them accomplish this. Don't suggest a goal for them, which can be very rude, but instead support them if they say they want to do something different.
Take a Cue From Winnie the Pooh
I love the wisdom in the Winnie the Pooh books. Winnie the Pooh Day is officially January 18th, which helps honor one of the most beloved children's book characters ever.  I especially love the wisdom on relationships shared in the Winnie the Pooh books. Post a few Winnie the Pooh quotes on a friend's wall or write them into a card this month. Let these positive words set the tone for your relationship.