This weekend I did a craft show, and my mom sat with me and we talked and had lunch and all the things you do during those types of events, and I came home and was tired. It wasn't until later when I checked my email to find the message that would bring me to a place of shock and sadness. I found out my friend and fellow writer Sandie Bricker had passed away. Once again I asked, how could this be?
If you tool around this site long enough, you'll find comments from Sandie. Like many of my writer friends, she is someone I felt a kinship with even though we had never met in person. We were introduced through our mutual friend Debby and over the years we wrote and emailed and got to know each other. After she had passed I went through my old messages and found one a few months ago where she had said there was just something about me that she felt drawn to, and I felt the same.
I often joked that if we met we would probably get in lots of "trouble" together, in a good way, because I loved her sense of humor so much.
If you're unfamiliar with who Sandie Bricker is, check out her YouTube page and website. I've long admired her for posting YouTube videos for her books and just as a way to connect with people. Now that she has passed, I have watched them again, with sadness and also with joy.
I would encourage you to check out her books! I adore her writing, and we are blessed that her funny, charming, lovely words are still with us.
[easyazon_image align="right" height="110″ identifier="1683700074″ locale="US" nw="y" src="https://cherieburbach.com/wp-content/uploads/2016/11/61bLangXaYL.SL110.jpg" tag="wwwthediffere-20″ width="73″]Her latest book is [easyazon_link identifier="1683700074″ locale="US" nw="y" tag="wwwthediffere-20″]Sleigh Bells Ring: Four Contemporary Romance Novellas[/easyazon_link] and she talks a little bit about why this book means so much to her at her YouTube channel.
I've enjoyed every book of hers that I had read, but perhaps my favorite was the "baker series," starting with [easyazon_link identifier="B01ES91S1I" locale="US" nw="y" tag="wwwthediffere-20″]Always the Baker, Never the Bride [/easyazon_link]. The entire series is wonderful, and there is a personal connection to the main character with Sandie, so I think you'll see her personality in that book. Of course, she puts a piece of her humor and outlook in every book, but I especially loved this one and was thrilled to see the beautiful cover they had created for it.
[easyazon_image align="center" height="500″ identifier="B01ES91S1I" locale="US" nw="y" src="https://cherieburbach.com/wp-content/uploads/2016/11/51iCILVuSL.jpg" tag="wwwthediffere-20″ width="339″]
Covers help sell books, ya'll!
Last year when I released my nonfiction friendship book, she was releasing her novel [easyazon_link identifier="B012QBBYFA" locale="US" nw="y" tag="wwwthediffere-20″]Moments of Truth[/easyazon_link] and we decided to do a joint promotion.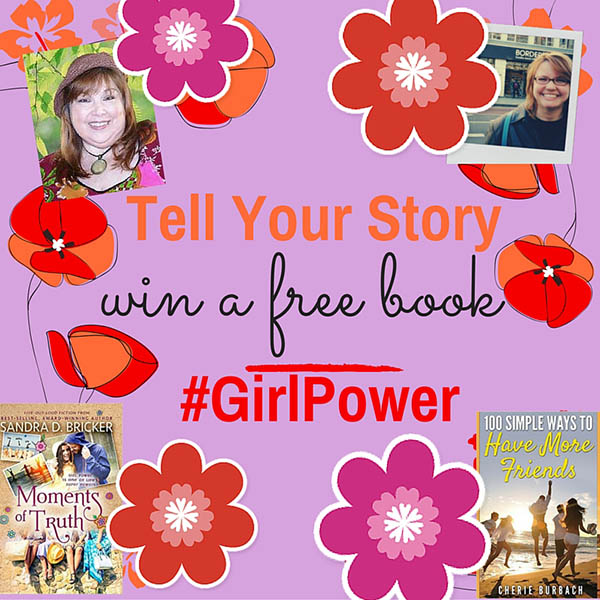 It was fun to work with her on this and I hope our teaming up helped us each reach new people. I really enjoyed Moments of Truth and felt it was one of her best books yet. And that was the thing, she was always striving to find new stories and she worked on her writing as if she was a newbie and not someone with a huge fan following who had made a living as a full-time writer for years.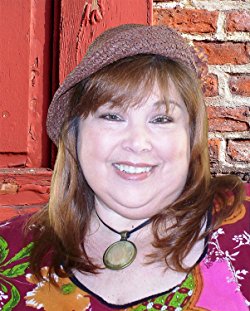 And here we are today, still wondering how our feisty, silly, lovable, wonderful Sandie could be gone…. much too soon. I grieve for the loss and yet Sandie had a heart for Jesus like no one else, so I'm also reminded of the verse from 1 Corinthians 15:55:
"Where, O death, is your victory? Where, O death, is your sting?"
How can I truly grieve when she is in the exact place she always wanted to be, right by her Savior. I can picture her cracking Jesus up with jokes. I can picture her with open eyes of wonder at all that heaven holds.
Sandie always brought things back to God, back to what was really important. When I wrote about going to the ACFW Conference for the first time, I mentioned how many other times I had tried to get there, but we had setback after setback that prevented me from spending the money. She commented:
Cherie, this was a charming read! Any of us who have been doing it for a while can really relate to your first-time flood of emotions. I also want to point out to you that, whenever the obstacles (like raccoons and falling trees!) pile up in front of you to keep you from something … it's a good bet that God has a plan for you that will lead you in that direction eventually. ???? Hang in and keep at it! Welcome to the club.
God has a plan. She always reminded us of that. Always encouraged us with that.
Her very last post on FB was about waiting to see how God was going to turn things around for her as she had been battling many health issues, and to hear of her death makes me realize that perhaps God's answer was to end her suffering and bring her to her ultimate home, to be with him forever.
I take solace in the fact that she loved Jesus and can share her outlook and sense of humor with him in heaven, but I am saddened that her positive light is no longer a part of this earth. RIP, dear Sandie. Thank you for your words and positive attitude and friendship.