Most of the people I know are extroverted. While I appreciate all my friends and family and acquaintances, there are times when I also feel overwhelmed conversationally. If you were to have a conversation with me, I would sit before you and listen. My phone would not be out. I generally don't interrupt, which you might take as me not interested in the conversation (which would be wrong) or me not having anything to add (which would also be wrong). When you paused, I would let you finish (depending on what you were saying and how much you needed to vent) or I would interject my thoughts. We, ideally, would go back and forth.
This is conversation.
Except… it isn't for most of the people I know. In order to talk to them, I have to get outside my comfort zone and be more proactive in conversation. It makes me feel like I'm being put on the defensive, answering questions quickly like someone is interrogating me rather than listening…  my voice becomes shrill, I have to talk faster (because when I'm saying something my friend is probably interrupting as I speak!), I can't remember what I've said and not said, and I repeat myself a lot… and in the end I come home… exhausted.
If I happen to be in a conversation where someone is asking questions and then immediately, as soon as I start answering, asking another question, it makes me feel like I'm not important enough for them to pause for a millisecond and actively listen to what I'm saying.
And this hurts. Conversation is important for me. Words are my love language. That's why careful, genuine words mean so much to me and careless jabs hurt so deeply.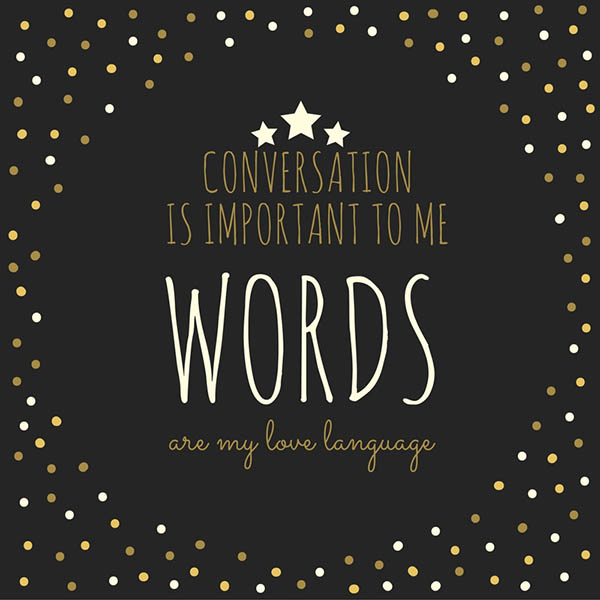 Plus, I'm an introvert, which doesn't mean I'm shy or socially awkward, but it does mean that I'm better one on one. Groups make it hard for me to communicate. The corporate world was not a fun place for me, especially when I worked in the extroverted world of marketing. Still, my time in marketing helped me adapt. I'm better than I was.
And I'll say this… the people who say they "can't believe" that I'm an introvert because when I'm with them I'm "so extroverted" are probably the ones that force me to get outside my comfort zone the most. The ones who understand me see a different side…the real side of my personality. It's not unusual for me to come home from get togethers with friends so tired that I need to take a nap. These are introverted problems, to be sure. Not every introvert feels this way, but plenty do.
And that comfort zone… it can be limiting. There are times when we need to get beyond it but also times when it shows us who cares enough to just shaddup enough to listen.
The worst part is that trying to share parts of my life or add to the conversation in this manner makes me feel like I haven't been heard. Like my friend is only interested in talking about themselves.
One of the basic needs we all have is to simply be heard. We want friends to listen fully in order to understand our feelings and opinions. In order to do this, friends should pause to let you speak and also they take in the nonverbal clues you're giving them as well.
People are rarely good at listening. This is true even of our best friends at times. We live in a busy world, and the ability to put it all aside and focus on someone else is lacking in our society as a whole.
The problem is, friendship dies when one of the friends doesn't feel validated. If you have a friend who constantly talks over you, here are some tips on how to handle it.
Tell Them: "You're Talking Over Me" or "Please Hear What I Am Saying"
We have to educate people in how to treat us. Perhaps a friend doesn't realize that talking over someone else is a bad thing. Maybe they grew up in a family where everyone interrupted each other and they think this is normal behavior. Perhaps they feel talking over someone shows enthusiasm, or maybe they really do believe they know better and don't want to hear what you're saying.
If this person has many long-time friends or one close best friend, chances are they have developed a habit of interrupting. Interrupting gets more frequent and forgiven because they know their friendship won't be damaged by it.
But even with long-term friends, there are times when one person just needs to remain silent and give their full attention to the other friend. If your friend's constant interrupting is hurting your friendship (even if they don't mean to harm the relationship), you have to let them know. If you continue to say nothing and instead get silently frustrated when they blab over you, you're giving them the message that this is okay. So it's up to you to let them know it isn't.
First, start small with the obvious. Some things to say to stop their interruptions:
"You're talking over me"
"Please listen to what I am trying to say"
"Please hear what I am telling you"
Say one of these phrases calmly to give your friend a chance to take a step back and realize that the way they are aren't responding isn't acceptable to you. It gives a clear halt to the conversation that lets them know you need to be heard.
Keep Your Cool With Someone Who Interrupts
People that interrupt you all time have their own problems, but that doesn't mean you need to point them out. Chances are that a friend who talks over you is insecure, afraid that their own opinions will be challenged. Attacking them verbally in retaliation isn't helpful to the current problem or your friendship as a whole.
Don't:
Point out how many times you've sat and listened to them. (Chances are you've listened to them far more than they've listened to you, but they won't see it that way.)
Use the "always" phrase to describe their behavior. ("You always interrupt!")
Talk about the things they mention all the time and you're sick of hearing. (Someone that interrupts a lot probably talks more about their problems than other friends.)
How to Maintain Dignity With an Interrupter
Interrupters aren't just rude, they also get loud. The louder you might try to talk to be heard, the louder they'll respond. This means you'll both be raising your voices to each other and neither one of you will be listening.
Instead, back down. Remain silent, remove yourself from the situation (walk away from them or politely hang up the phone), and regroup. A person who repeatedly interrupts either isn't aware of their behavior or doesn't know how to really be a friend. This is especially true if they complain or vent to you but yet interrupt when you need center stage.
Spend some time away from that friend and limit conversations with them. Perhaps there are just certain subjects you find you can't talk about, so you can see your friend and avoid those topics.
Perhaps you find that they weren't the good friend you thought they were. Where you needed someone to give support they could only hear their own voice. In this case, move on from them and seek out other, kinder friends who understand what give and take in a friendship is all about.
Most of all, don't get angry with this person. Forgive them and understand that not every friend you meet will be able to respond the way you wish they would.
Instead, seek out the kindred souls who will get you and allow you to converse in the way you need to.