One of my favorite authors, Jennifer Weiner, was in town recently and I had the good fortune of attending her book signing. She's a favorite of mine for many reasons. First, she's a good writer. I mean, that's why we gravitate to writers in the first place, right? But also, she's likeable. You wouldn't think this would be such an important thing but the older I get the more I don't want to read books by people that don't appreciate their readers or think people are unqualified to give reviews or just seem arrogant about the fact that they write.
But Weiner is not only a strong, smart, and funny writer, she is a crusader, in my opinion. She states her displeasure when female writers are not being treated fairly, she calls out people who are being ridiculous (like writers who complain about bad reviews), and she seems to appreciate her fans.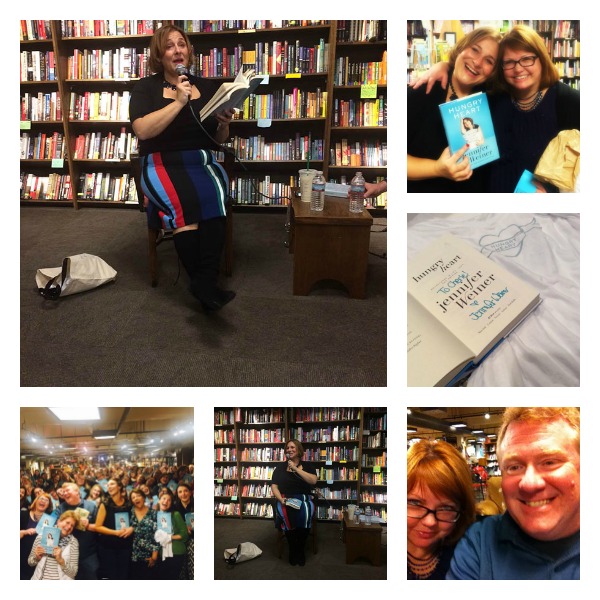 All of those things mean that attending an author event is fun and rewarding.
She was funny, dished on pop culture, talked seriously about why she is vocal about the disparity in coverage between women's popular fiction and other types of books, and she is honest.
And totally aside, but do you see that cute necklace she had on? She said it came from J. Crew (I couldn't stop myself from commenting on it) and so now I'll be digging through that site to find it. Thank you, Jen. (Jen and I are on first name basis now. In my head, at least.)
She was very gracious with her fans, too. When someone asked a question, she tossed them a tee shirt that she had brought. I got one, too, even though I didn't ask a question. I simply said "amen" loud and clear when she made a point about the difference in NY Times coverage between female and male writers, and before I knew it I had a tee shirt. I didn't realize I had even said it out loud, but some words belong out in the open and not just sitting in your head, so I was glad I said it.
She signed items happily and posed for pictures with fans.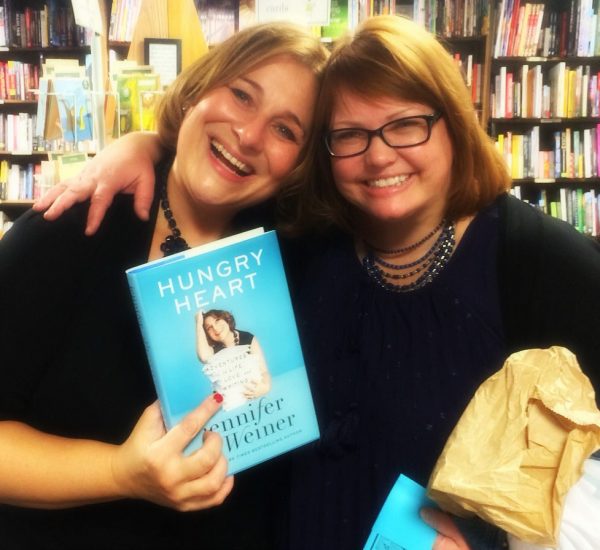 (Note to self, when posing with a favorite author, put down your bags.)
I am still trying to figure out my phone, and my middle aged eyes are constantly sliding my glasses on and off so I can focus. Oh…. to get old! My husby thought it was very funny.
God bless him for going to this with me. He enjoyed it (he likes fun, smart women… obviously) but it looked like there was only one other guy there. But then again, that can be a good thing when you're a guy.
Know what else he did? Gave me his the gift card he had to the bookstore so I could pick up the latest Mary Oliver book. (Because…. Mary. Oliver. !)
Yeah, I know… I'm lucky. Thank you, honey!
I'm saving this book for the weekend when I have some time to totally savor it. You know how that is? Right, fellow book nerds?
And if you get a chance to see Jennifer Weiner while she's on tour, go! And buy her books. 🙂