Sigh. Packers lost yesterday. And it was a rotten game. You know I do my part to try and coax a Packer win, which means I make soup that I think will bring them luck. (It's fan logic, it doesn't have to make sense.)
So yesterday I made corn and zucchini soup because it's green and gold (get it?) but it didn't seem to help the Packers win. It was delicious, tho! (So there's that.)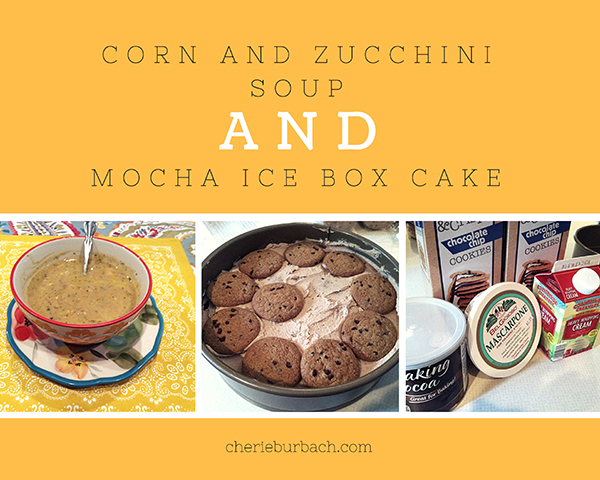 Corn and Zucchini Soup
3 teaspoons minced garlic
2 onions, diced
2 carrots, peeled and diced
4 stalks celery, diced
1/2 teaspoon dried thyme
1/4 teaspoon dried basil
1/4 teaspoon dried rosemary
1/4 cup all-purpose flour
4 cups vegetable broth
1 cup skim milk
1 bay leaf
3 medium zucchini, chopped (I took off most of the skin)
1 3/4 cups corn kernels (I used frozen)
3/4 teaspoon Kosher salt
1/2 teaspoon pepper
Directions:
Heat olive oil in a large Dutch oven over medium heat.  Add garlic, onion, carrots and celery. Cook until tender, about 5 minutes. Stir in thyme, basil and rosemary and stir for about 3 minutes.
Stir in flour until lightly browned, about 1 minute. Add vegetable broth, milk, bay leaf, zucchini and corn. Bring to a boil; reduce heat and simmer until zucchini is tender, about 10 minutes. Take half of pot and add to a blender. (Be careful because it's really hot.) Blend and put the mixture back into the pot.
Season with salt and pepper and heat through. Putting the ingredients in the blender will help thicken the soup without adding cream, so adjust it to your taste. We like a chunkier soup but if you like something smoother, put more into the blender.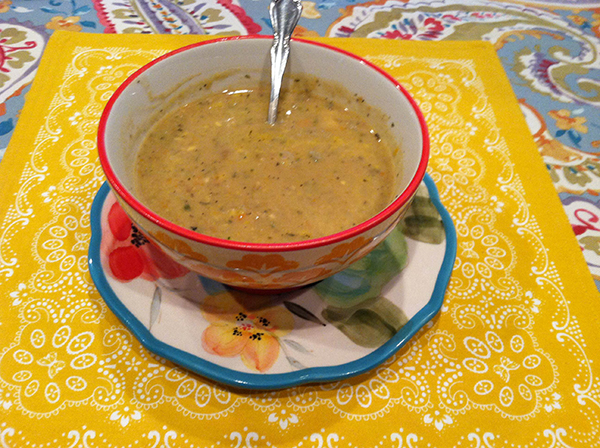 I know, it's not a very good picture. I was off my game. So were the Packers. I served this with some bread, and if you do that you'll for sure have lots left over for lunches.
But to help my husby get over the Packer loss I also made him an ice box cake. I started with an Ina recipe and tweaked it just a bit. Ice box cakes in general are ridiculously easy to make so this one wasn't exactly hard. Still, I was glad I had something that could ease our Packers sorrows just a bit.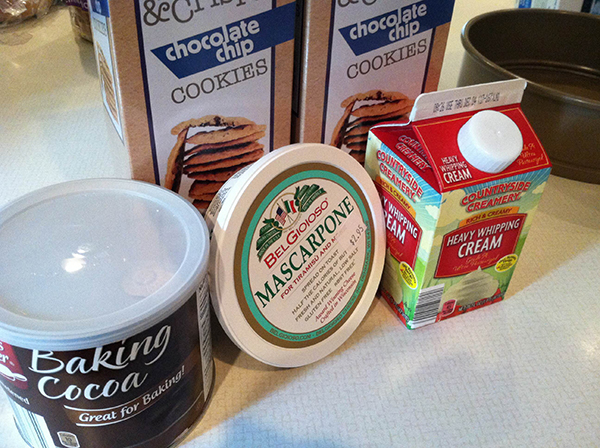 The ingredients are simple and few. The original recipe called for Kahlua (which I skipped) and espresso powder (which I also skipped) and shaved chocolate on top, which I didn't do (because shaved chocolate for an ice box cake? Who am I? Ina Garten?) and since I wasn't adding Kahlua I added hazelnut coffee which gave it a slight mocha-y taste. Which we really liked.
Mocha(ish) Ice Box Cake
Ingredients:
2 cups heavy cream
12 ounces Italian mascarpone cheese
1/2 cup sugar
2 tablespoons unsweetened cocoa powder
1/4 cup brewed coffee
1 teaspoon vanilla extract
3 (8-ounce) packages chocolate chip cookies (I used Thin and Crispy ones from Aldi)
Add everything but the cookies into the mixer and mix on low (and even then, be careful for flying cream) until it is incorporated enough where you can mix it higher and whip it into a frenzy. Then, take it out and begin to layer the cake. Use a spring form pan (8 inches is good) and line the bottom with cookies. (Break some to fill in the pieces.) Then do a layer of cream mixture. Then cookies. Etc. Trade off until you've got about four or five layers.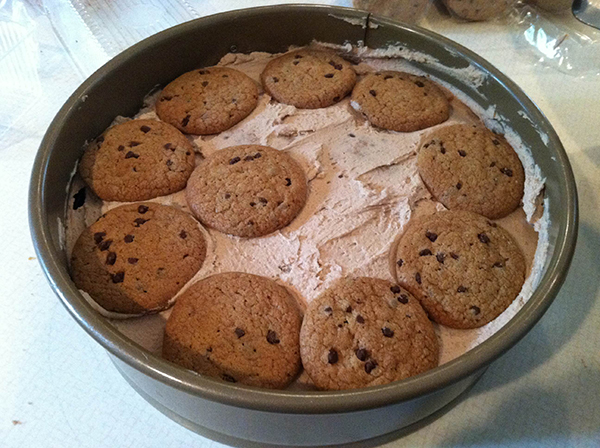 End with the cream mixture on top. I put a cookie in the middle on top and some chips for display, but you can leave it plain, too. Then refrigerate. I stuck it in there 8 hours but overnight would be good, too.
The trick is making sure all the cookie layers and all the cream layers are the same amount. I forgot to take a picture of the finished cake but this is what it looked like (minus the chocolate shavings on top):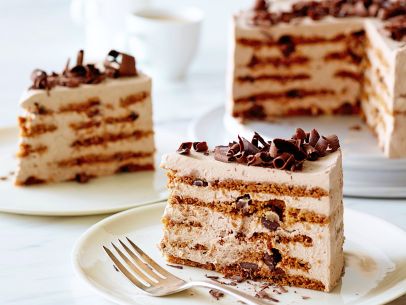 This is a really good recipe to do for company because you can make it ahead, or if your family is sad because their favorite football team just lost.