This original painting is sold, but the print for it is here.

Recently I learned that seeing a cardinal in your yard was a symbol that represented a loved one visiting you from heaven. I heard this after painting a red bird that was inspired by the cardinals in my own yard. And then I learned what the cardinal has come to represent, and it really touched me. I believe that when a loved one passes away, the love we have stays. We feel that love just as strongly as if that person was still here.
I've long been fascinated by cardinals. They are bold, their colors stands out against the winter snow, and they instantly attract attention. I think if God was going to give us a sign through nature that our loved ones are near, a cardinal seems like the perfect solution.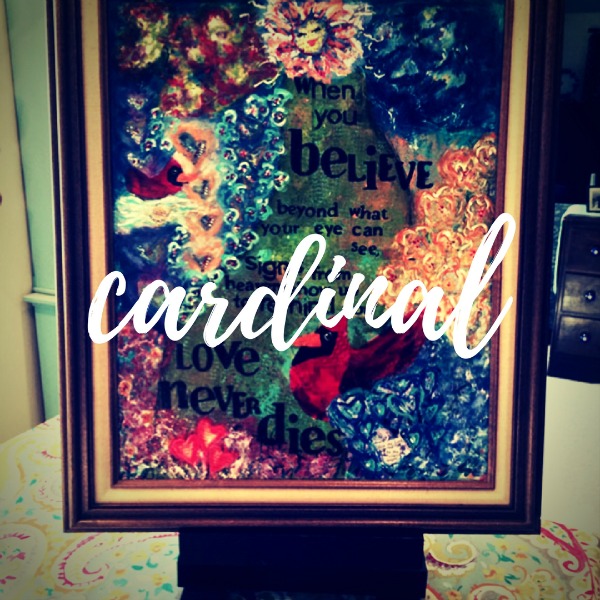 The only things in this life that are lasting are those we can't hold with our physical arms, only with our hearts and souls. Love, friendship, belief, faith… these are things that you can't see with your naked eye but yet you know are there.
I have felt the presence of loved ones. Not like a ghost, but just a comforting, reassuring feeling that I am loved. I wrote a poem about one of these experiences in my book, Angel Toughness. Shortly after my grandma passed I saw her in a dream that was so real it felt like she was actually there in person, and I believe her spirit was saying goodbye. I think of my other relatives and loved ones, too, and I feel their love still. It might sound weird to you, but I believe this connection we have between this life and heaven is so close that if we really understood what it meant to have everlasting life we would never be afraid of anything.
So when a friend came to me with a request for an original painting that would help commemorate the life of someone he loved, I could not say no. He had a specific idea in mind, something that would celebrate his loved one's life and also honor a verse she gave him that reminded him that when you pass away, your body leaves but your love stays behind. The verse was "When you believe beyond what your eye can see, signs from heaven show up to remind you love never dies."
When I do a specific painting for someone, I remind them that even if they have an idea of what they want, it has to be my take on it. I can only paint what I see in my mind, and in my style of art. We agreed on this, and then I started asking questions about the woman he loved. I had never met her, so that made doing a picture like this a little difficult. And also, I've been friends with this man a long time and I desperately did not want to disappoint him.
So I thought about it… prayed about it… and then sketched out an idea. I sent it to him to get his opinion.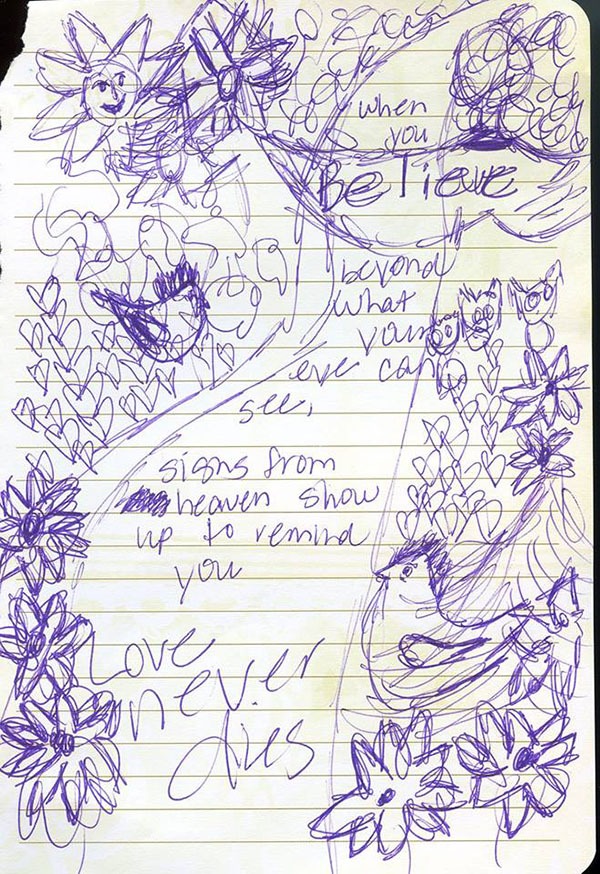 I wanted to highlight "Believe" and "Love never dies" because that is the true meaning behind this sentiment. My friend loved the sketch and got my vision for this picture. So then I got to painting. And praying. It's funny how often I do those two things together. But I knew that this painting represented something he held dear and really the only way he could find the kind of meaning he needed was if God was involved. So I asked God to come into this situation, guide the way I moved my brush and allowed the painting to take on the intention of honoring our loved ones.
I always do a lot of layers, but I kept adding them to this one, to the point that I finally had to step back and give it some space before I declared it "done."
It's funny, I just now noticed that the red bird picture I did before, the one that started this whole fascination on what cardinals represent, is in the background here.
I gave this painting to my friend and he loved it, and I was so happy he did. It is now in its new home.