I'm featured in the September/October issue of Alive Now, which is centered on the theme of discipleship. I love this theme. It's something I've come to understand way differently than I used to, and I'm so thrilled my poem, "Mystery Path" is highlighted in this issue.
I wrote this poem "Mystery Path," at a time when I first started realizing the challenges I had in life had actually drawn me closer to God and allowed my understanding of his love and protection to expand.
Along with publishing my poem, they also interviewed me for the magazine. Here's an excerpt, with some of my thoughts on discipleship.
Who is your role model for being a disciple?
I'm drawn to King David for many reasons. I like that he poured out his heart to God, and even in the darkest times knew God was there for him. I like that he was a warrior but also expressed his emotions freely through the Psalms, so we see the struggle he had with sin and sadness. He recognized his mistakes, experienced depression, and yet continued to praise God.
I also look to the original 12 quite often. I can see them worrying about where Jesus is while they sit in that boat even though he is right there! I can so relate to that image. I see Thomas' disappointment when he was originally left out of seeing Jesus after the resurrection. And yet, despite his doubts he went on to preach the gospel far and wide.
I like that we can see many years of stories where God used ordinary people despite their mistakes and faults. It gives me comfort that even when I mess up God can use my life to reach someone else.
What cheers you up?
Poetry soothes my soul, both writing it and reading it. So when I need cheering up I grab a notebook or reach for something by Mary Oliver or dig into the Psalms. My soul also finds joy in painting, almost to the point where it is like prayer time for me. I think about God's word and use it often in my paintings, and the whole process of being creative in that way helps re-connect me to God and centers me. It never fails to leave me in a good mood.
Is there anyone you trust with your life?
I trust my husband, who loves Jesus and is my best friend and partner.
What is at the top of your reading list right now?
The top of my recommended list would be Philip Yancey's [easyazon_link identifier="0310328888″ locale="US" nw="y" tag="wwwthediffere-20″]Prayer [/easyazon_link]and Tosca Lee's [easyazon_link identifier="1433668807″ locale="US" nw="y" tag="wwwthediffere-20″]Demon[/easyazon_link].
The book I just started now is [easyazon_link identifier="0544276000″ locale="US" nw="y" tag="wwwthediffere-20″]Everybody Behaves Badly[/easyazon_link], which is a behind the scenes telling of Hemingway's [easyazon_link identifier="0743297334″ locale="US" nw="y" tag="wwwthediffere-20″]The Sun Also Rises[/easyazon_link]. I had started the book, then realized I'd never read The Sun Also Rises so I read that and picked up the other book again. I often think of my father when I think of Hemingway so perhaps that's why I've been drawn to this book. My father was someone that tried to fill his life with so many things (cars and boats and alcohol) and never felt joy or contentment. Like Hemingway, he took his own life.
If you could have personally witnessed any event in history, what would it have been?
It's tough to narrow that down! I would have loved to been one of the women Jesus revealed himself to after the resurrection. Just the joy they felt as they realized it was him!
But I would have also liked to have been there when Noah first stepped off the ark. After all that time, to finally step on dry land again and receive the Lord's promise and see the rainbow… what a hopeful event!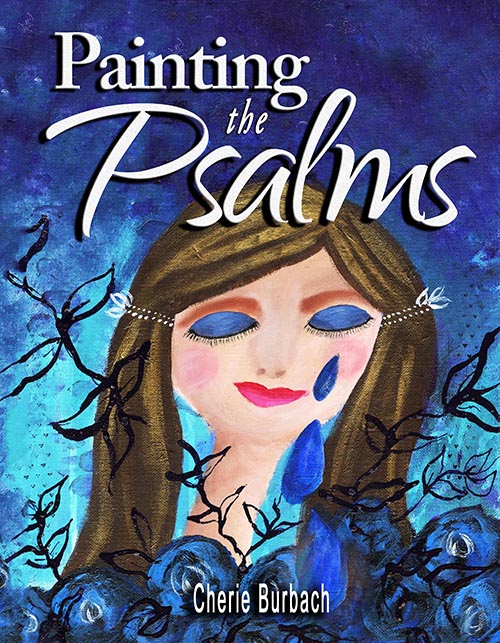 For more inspiration from the Psalms, considering taking one of my Painting the Psalms ecourses or pick up my book, Painting the Psalms. My ecourses are individual mixed media projects you can do in the privacy of your own home, at your own speed. Each project is different in terms of technique, composition, and supplies, but they all are inspired by the Psalms in some way.
My book Painting the Psalms is half art book, half devotional. It contains over 100 paintings, all inspired by the Psalms.