This was the first year I did the Holy Hill craft fair, and what an amazing day it was! First of all, the setting is just so beautiful. The church has a wonderful history and you can't help but be inspired when you're there enjoying the blessing of a sunny day. And let me tell you, we were watching the forecast the entire week leading up to it and praying for good weather. Initially it said rain but thank God (truly!), it was clear and warm and a really gorgeous Fall day.
This event starts off with a prayer, which spoke right to my soul. Craft fair days are stressful to me. You get up early. You stress (or at least, I tend to stress) about what to bring and if it will be all be worth your time, and starting with a prayer helped calm me and put it all in perspective.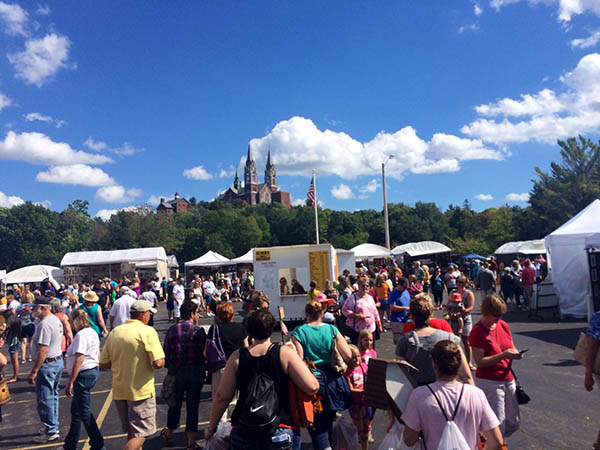 It's always a challenge for craft fair days to decide what to bring. Which pictures would people most like to purchase? I can't bring them all, but I try and grab a variety.
Gen likes to add her opinion, too. 🙂
My process for choosing what to bring is not too different from my process in creating the art. I think about it, pray about it, but don't pay too much attention after that. And guess what? That works! Because if I focused on it too much I don't think the details of my art would be the same. Very often words and phrases pop out from my art that I didn't realize were there, and these are the very details that someone will notice.
For instance, I just happened to notice that the smallest blue bird in this picture has the word "heaven" on it.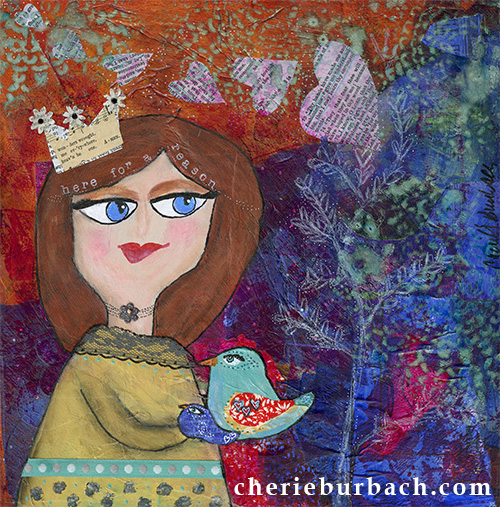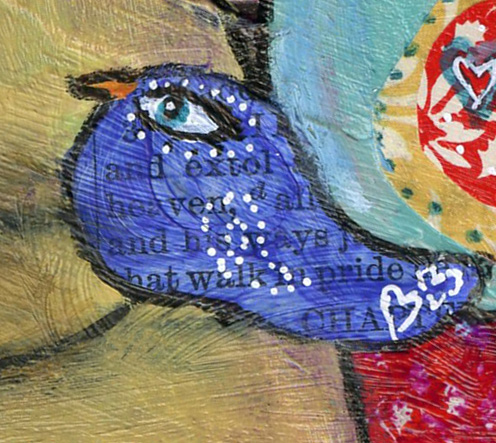 (Print available in the shop.)
Coincidence?
I think these details come through because they're meant to, and in the end I really don't have much to do with it. This weekend in the booth, lots of people bought pictures and showed me certain words or details that stood out to them. Some liked the particular color of hair of the girls I paint, some liked the overall colors in the picture, and of course, many gravitate to the verses.
We had a nice, steady crowd in our booth, which made the day just fly.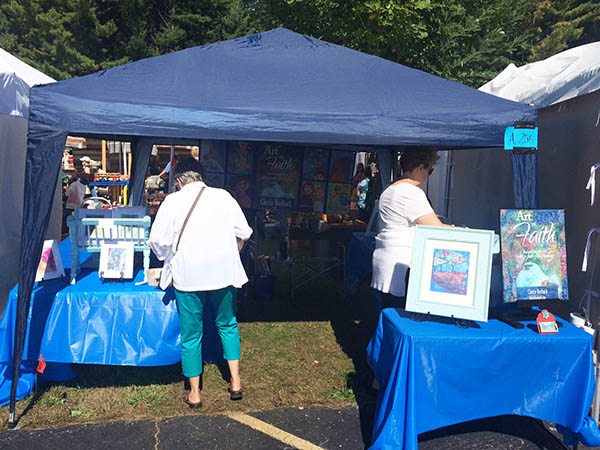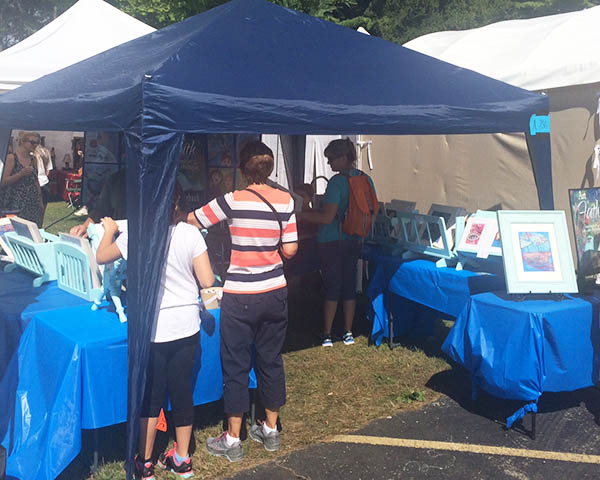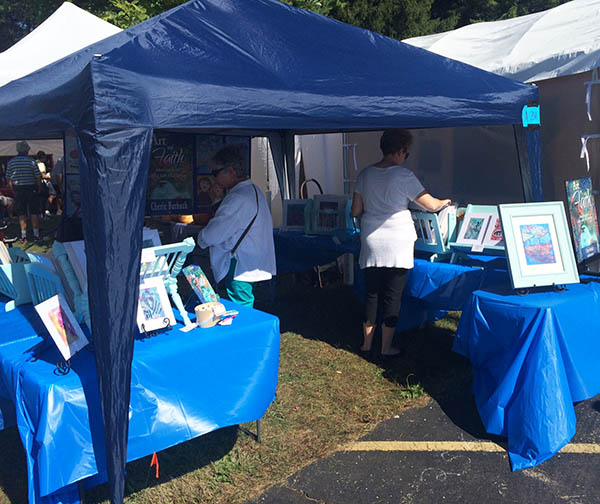 I had a couple repeat customers, too! I was so thrilled to see that. People who had bought things from me in the past came back and looked for me. Those are the kind of special moments that make it all worthwhile.
And the people who tell you their stories! I am truly blessed by that.
Met a woman who shared an amazing faith story with me. She's taking off in an RV to minister to people and has no plan except to go where God tells her. She bought two prints to take along on her journey. One of them was "The Prize of the Heavenly Call," which is about leaving behind doubt and regret and moving forward toward your calling.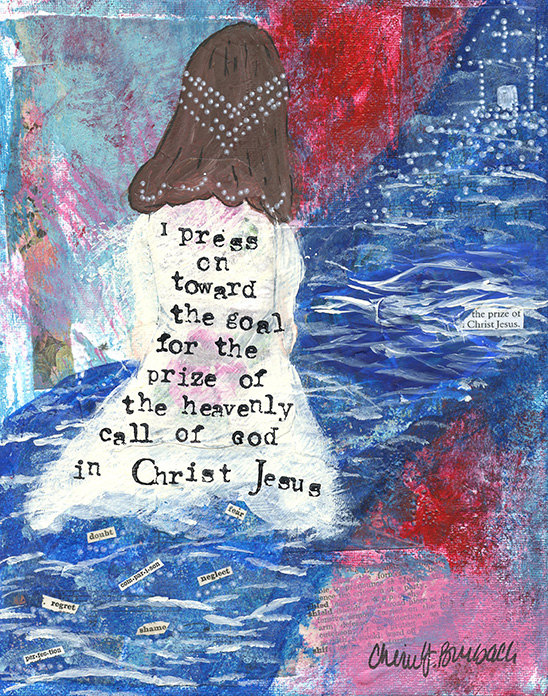 (Print available in the shop.)
This print was popular, and I couldn't figure out why until someone pointed out the verse I had on there.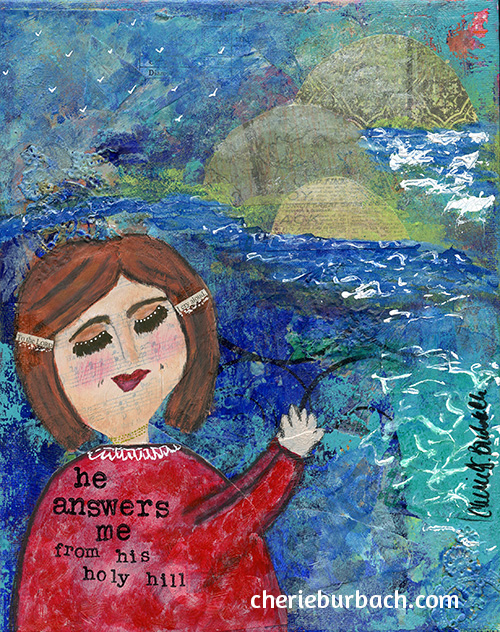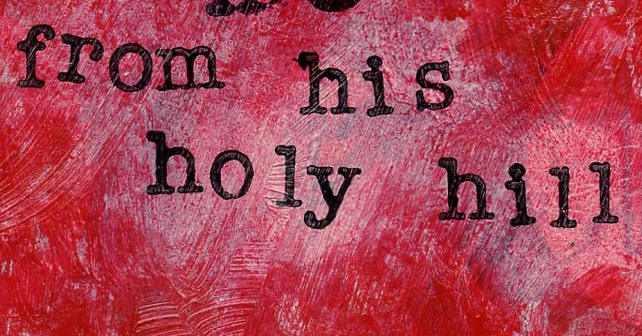 And then, finally, I went… oh…
from his holy hill
Holy Hill!
You could say "Duh, Cherie" (I often do) but sometimes craft fair days like this are overwhelming to me so little details like this might slip.
Lots of people bought "Be Still" in a card and a print, which I loved because it's one of my favorites.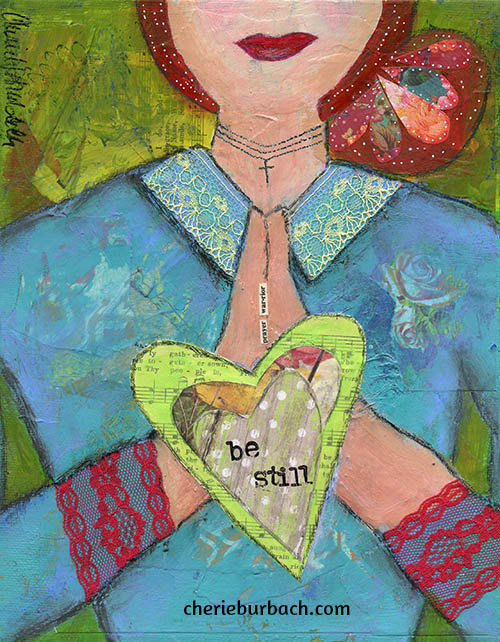 Each story that people tell me, each time they pick up a print and tell me why they like that verse or those colors, all of it is just a blessing. I know, I've said that a lot, but I can't stress it enough. This is how God blessed me this weekend. Very often I get down on myself about things and this is how He reminds me that I'm a part of the whole plan, the whole kingdom, and I need to trust him (my word this year) and let the rest go.
After the event I got to snuggle in with this little poochie pie and relax.
Which isn't a bad way to end the day at all!