I was so excited to see that my art is now available at online stores like Sears and Walmart. My "Yes, You" series is also available at Wayfair on these gorgeous wall plagues.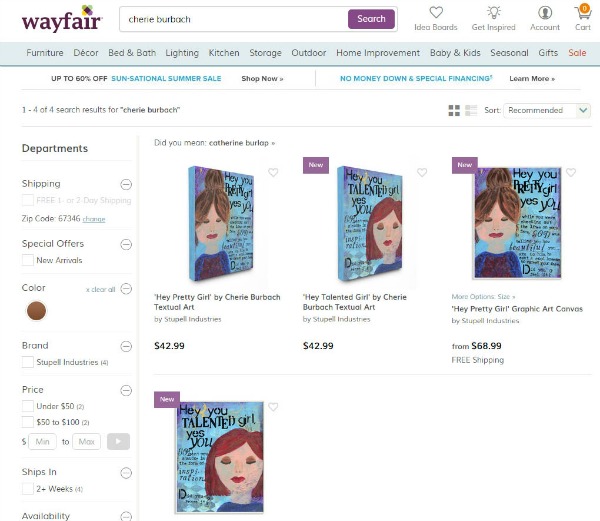 This print series is based on my poem "Yes, You," which is one of my favorites. It's about doing a stop check with your life, seeing that you are beautiful and valued because you are a child of God. Too often women think they need to do more or be more in order to find value. We still judge women on things like being a mother or being married… and these things are not what God uses to assign value to us. We are worthy simply because we are here and we have a purpose.
Now… how do we remind ourselves of this? This poem was my way of doing that. I published this in my book Yes, You.
Yes, You
Hey you
pretty girl,
yes you…
… the one who doesn't feel so pretty,
and long past being called a girl.
While you were checking out
the lines on your face,
God was telling you how beautiful
you are to Him.
He sent a cool breeze to caress your face.
Did you feel it?
Hey you
silly girl,
yes you…
… the one who has been fretting
over those ten pounds you gained.
God is telling you to go outside
and enjoy the sunshine He provided.
He sent a bluebird to chirp outside your window.
Did you hear it?
Hey you
talented girl,
yes you…
… the one who gave up your dream
all those years ago.
God is reminding you that
He gave you all those creative gifts
before you were even born.
He sent you a nudge in the form of inspiration.
Did you sense it?
Hey you
graceful girl,
yes you…
… the one who wastes her time on
everything she doesn't have.
God sent His son for you,
to remind you of all the good that awaits you.
Or did you forget?
[easyazon_image align="right" height="160″ identifier="B009XBQMBS" locale="US" nw="y" src="https://cherieburbach.com/wp-content/uploads/2016/07/512Qs6SAi7L.SL160.jpg" tag="wwwthediffere-20″ width="96″]© Cherie Burbach,  "Yes, You" [easyazon_link identifier="B009XBQMBS" locale="US" nw="y" tag="wwwthediffere-20″]Yes, You[/easyazon_link], 2011