It's been a week since Prince died, and in the past few days I've been thinking a lot about artistry. There are people who are musicians, people who write, those who paint, but an artist, a true artist, is really something different. I think this is one reason I'm one of the many people who have been so sad that Prince is gone. And not just him. David Bowie… Steve Jobs… they were people who brought a new level of artistry into our culture. They cannot be replaced, even in a society where everyone is replaceable.
In reading this article on Vulture about the making of the New Girl episode that Prince guest-starred on, I was struck by his attention to detail and humor. He wanted things to be "right," as he saw them, but he wasn't overbearing. He just had a different vision, one that the writer of this article appreciated.
What makes a true artist?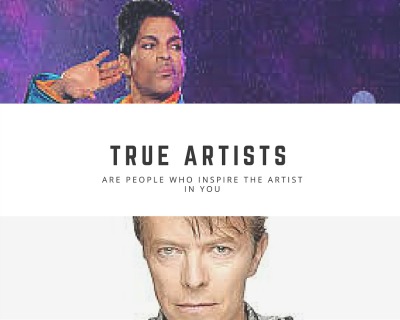 I think there are people who try so hard to be weird or worse, "cool," that they come off very unoriginal. If someone has to tell you that they are weird or cool or different, they are probably none of those things. True artists do their thing and while they aren't immune from criticism, they handle it differently. It doesn't stop them.
And the criticism… is it just me or is there a lot of fear around people like this? I hear fearful comments around their hair or clothes. Their hair or clothes, people! And while we keep hearing that words aren't powerful, I hear a lot of fear around lyrics, too. And music? It becomes a tool people assign to evil.
There are rumors and misunderstandings around artists, even, apparently in death. It's not just about their art but about their personality, their body, their beliefs. This isn't about fame, either. This is about them thinking and creating on a different level than us, with different views and attitudes. Fame calls up a different response in us.
We have a hard time defining a true artist because they shock and surprise us. Their originality makes them ageless, and for that reason it's hard to picture them eating or going grocery shopping. That's why when we see Prince or David Bowie out somewhere doing something "normal," it almost seems too much. We can't picture them sleeping or showering and certainly not dying. And yet when they do, their art remains, and keeps a piece of them with us, if only for as long as people are willing to keep their art alive. And that is the interesting part, because while God determines their life we determine how long their art will inspire us. Or then again, I guess in the end God is really the one determining that, too.
I like the thought of God being in charge and us not really knowing but still being a part of it all. And this is perhaps why we value the contribution of artists so much, because we celebrate their work but we can also create our own art. It might not be the same. It might not have the same impact on society. But God inspires it just as I believe he does with every true artist.