I get asked a lot about what my process is with art, and for a long time I've wanted to do a time lapsed video that showed the building of the different layers. The only problem? I know nothing about video! But this is a time where you can't know everything because the world's technology is advancing so fast. Still, you have to learn. I decided to test it out and give it a try.
My hubs was a big help in this area. He helped me get a tripod and selfie stick, and then rigged this set up so I could do the video.
When I posted this on social media I got some funny comments about the weights at the bottom. Hey, you gotta do what works, right? So once that was in place, I started painting. We realized right away that I couldn't paint in my little studio like I normally did because it was too small and the tripod wouldn't fit. Besides that, the light wasn't as good for video. So instead I dragged everything out and put it on the dining room table.
I learned a lot about the process and halfway through the first painting, I stopped the video. I realized it wasn't a good one to do for this purpose because the elements I had in the picture were way too small to be viewed. They were great for a print, not so good for a video. So I started another one and decided to do one central image and that worked better.
After filming came editing. How to do it simply and inexpensively? I found a reasonable program and watched several videos online that showed how to do different things and I took notes and studied and then did my first rough cut. I had about 14 hours of video that I had to trim down. The first step was speeding it up, but it needed more than that. I cut and edited scenes, added some transitions to make it flow easier, and then cut it down to 4 minutes. Still too long for social media! I watched it a couple times and knew the parts that could get cut out again. I trimmed it down to 2 minutes.
I really like this picture. It reminds me of spring and joyful colors and gives me a happy feeling. I hope it does with you, too.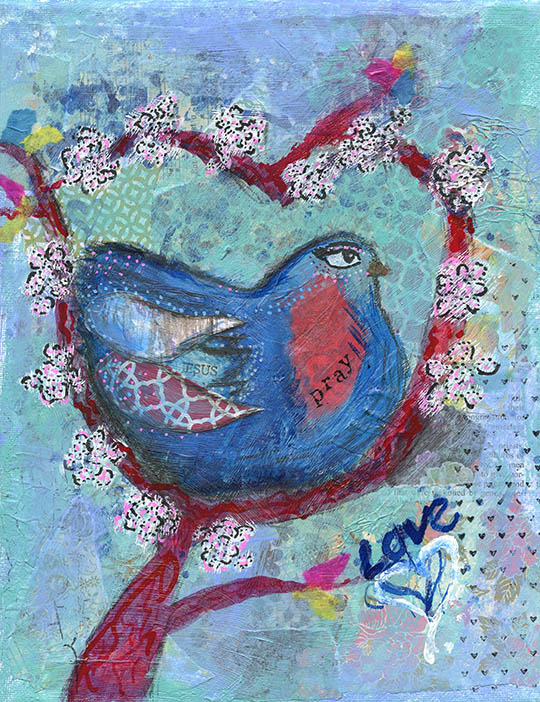 You can get the signed, matted print of this picture in my online shop.