I am so very excited about the release of my latest book, Art and Faith. It's been a goal of mine (a dream really!) to do an art-related book. I've been wanting to do something more visual that tells readers more about my faith.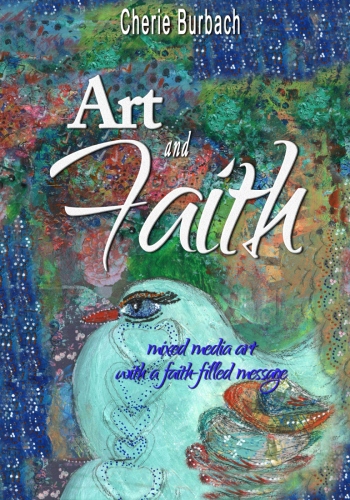 The book is illustrated with my original paintings and has a blurb about the verse that inspired the picture. I also included some info on my faith story and about our collective "creative gifts" which, if you come here enough you see I talk about quite often.
I really hope you will read and review this book. I also hope it blesses you and inspires you. Here's the description:
In Art and Faith, Cherie Burbach shares original mixed-media paintings that contain a positive, faith-filled message. There are times when a Bible verse you've read many times suddenly becomes clearer to you with a meaning and message you haven't realized before. Many of the paintings in Art and Faith are inspired by a particular verse that stood out for a variety of reasons. Celebrate your faith with this collection of verses and art that represent hope and encourage belief.
It's available on Amazon in paperback, and is 7×10 so you can see the details on each of the paintings. I'm very happy with the way the colors came out and also the cover. Thanks to everyone who supported me and please let me know what you think! Bless you guys for buying my books and art and allowing me to do what I love.
[easyazon_cta align="left" identifier="0997227400″ key="wide-orange" locale="US" nw="y" tag="wwwthediffere-20″]
What People Are Saying About Art and Faith
"Though Art and Faith is a paperback book, the production quality is exceptional. The colors are rich and vibrant. Open the book to any page of the body and your eye will be delighted with at least one of Cherie's mixed media pieces. There are also lots of close-ups that highlight some of the lovely details in Cherie's mixed media art." ~ Eileen, The Artful Crafter

"As much as I love Cherie's words about her faith, I am in awe of the artwork in this book. Page after page is filled with beautiful and inspiring mixed media. The colors pop from the pages. From her lovely bird paintings to the beautiful flowers, Cherie blends textures and words together to make a gorgeous array of artwork." ~ Penny Frost McGinnis
Amazon Reviews:
The art work is wonderful, the colors are just beautiful, but even more than that, Cherie's writing and words of
encouragement are so heart warming. Her thoughts on how God has helped her come from an abusive childhood,
to a happy life as an adult are truly inspiring . I've enjoyed reading and sharing many of your books with friends.

 

Cherie Burbach's art is new to me, but it resonates deep within. Maybe because she offers a faith-filled message in her use of the scriptures. Maybe because of her amazing multi-media technique or even her color palette that I like so well. Simply put—she captures my favorite things: words, art and faith. This book, in which Cherie shares her personal journey, will lift you up. I highly recommend.
Everything about this artistic book is inspiring, with the creative & delightful artwork, the uplifting & touching stories and beautiful & meaningful Bible verses. 'Art & Faith' makes for an exquiste gift as I receive my copy as a gift and want to give it as a gift to others. In its gorgeously designed pages I found much insight, comfort and beauty, that touched my soul!!
[easyazon_cta align="left" identifier="0997227400″ key="wide-orange" locale="US" nw="y" tag="wwwthediffere-20″]