Years ago, I adopted a word for the year. I think this was about 2009 or so and I believe the word I chose was "joy." The memories are fuzzy, but I think that was it. I then quickly decided choosing a word was stupid. But I've changed my mind on that. As usual, the writers over at Putting on the New have inspired me to think differently. They are choosing a word that helps them connect in a deeper way with their faith and understanding God. So I decided to go with it, and adopt a word and see what that might mean for me this year.
Choosing a word was not easy. I worried I might not find one that fit. That attitude about sums it up, doesn't it? You shouldn't worry about anything but trust God in everything. And as I was telling a friend about the challenges I've had this year I made some comment about how God was certainly teaching me over and over again to trust Him.
Whoa… and there's my word. I felt it. Trust. I need to do this more. I have become angry with God during times that were awful because I didn't trust enough. I didn't see the big picture because I couldn't see it, sometimes only God can. I went through disappointments and poor treatment from people and then I'd be angry at God for not protecting me. I misunderstood much and couldn't trust for more than a second.
How can this be with someone who has loved the Lord from the time she was a toddler? How can this be from someone who was blessed to have the Lord in her heart from before she could even understand what that meant? I let Him in, but like any relationship I have had to learn how to be in it successfully. Lucky for me (and all of us!) God is patient. He has showed me how to be and slowly but surely I have worked out some of the cobwebs that used to hold me back.
But a lack of trust? That's been a hard one to reverse. There are many reasons for it, of course, and those who know more about me can understand why. But I have been slowly but steadily learning, and I'm ready to tackle this one head on.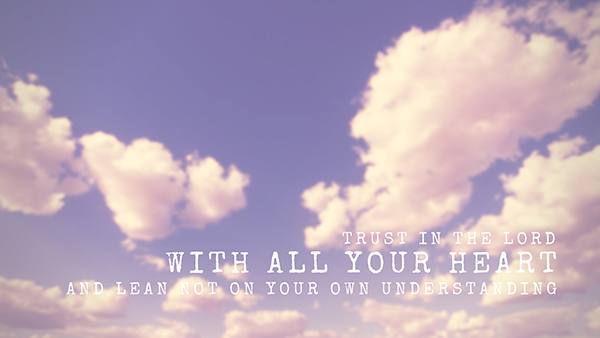 One of my "go to" phrases is this one from Proverbs:
Trust in the LORD with all your heart and lean not on your own understanding
Proverbs 3:5
I love everything this passage says, from the "trust" at the very front of it to the reminder that we cannot rely on ourselves alone at the end of it. We must give it over to God. We must trust in His plan, even when we don't have a clue as to what that plan is.
God knows right where to move me to get me to trust. Health issues and career disappointments are two big ways. I get trapped in questions of "why is this happening?" to "where is God in all of this?" to "why me?" None of these questions should be part of my vocabulary, and I'm ready to banish them. In learning to trust, especially during hard times, I have come to understand my own unique path.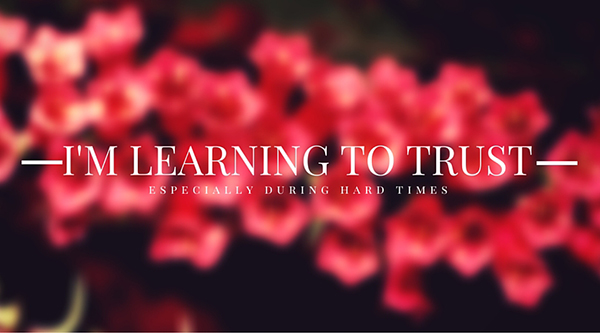 It's too stupid to wish for things to have been different. I long ago understood that my life (being born unwanted and given away, being adopted and growing up with an alcoholic, spending years of struggle, years of trying to get acceptance) had happened as it did and that's that. I would have to learn to be balanced and have a healthy self-esteem but God would pull me through it. He did.
If I learned anything from my alcoholic father at all, it was that struggles are never "done." My dad thought every negative thing that happened was some major crisis. If he would have got out of his self-centeredness long enough to look at how life really is, he'd see that his life was great. And I mean, great. I have had a much harder time with health and income and support and yet I know my life is great compared with some other people. He used to tell me to wait until I'd become an adult and then I'd know how awful his life was, and now that I'm an adult I see just how full of it he was. I see how he lied to himself and everyone else.
God uses everyone to help us all grow. He used my dad to show me a life I never want, which is filled with petty desires and treating people poorly and then whining and whining about the outcomes. My dad really was a guy that made one poor choice after another and then blamed the universe and everyone else when he was unhappy. The sad part is his patterns were our family patterns. Can you see why it's taken me so long to completely trust God?
To give you an idea of how hard trust can be for me, as soon as I made the decision to adopt this word I was immediately plagued by worry. haha! Isn't that great? I have several issues that are going on right now that are beyond my control, and my mind immediately went to "oh no! now things might get worse." You bet they might. And that's the point. God has been nudging me toward trust for many years and here I am, with arms open and a desire for Him to make me over. I trust in Him.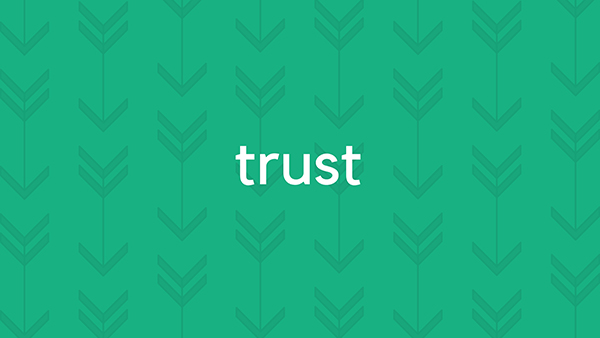 Are you doing a Word of the Year practice? Doing art projects centered on your word in some way can help you incorporate the meaning of this word more fully into your life. Consider taking my ecourse, Word of the Year Mixed Media Painting.