Today, I am grateful for many things. There are the general things, like just another day to be alive and enjoy God's blessings, and the more specific ones, like kind acts that take place during the day and moments when you realize the good in the world. It's important (for me, at least) to make sure I acknowledge those smaller things. Sometimes the big, difficult issues in life can overwhelm you. Remembering the many, many small things we enjoy but don't even pay attention to helps me see the blessings even in the dark times.
I've always struggled a bit in following this verse:
give thanks in all circumstances; for this is God's will for you in Christ Jesus.
1 Thessalonians 5:18
In all things. Think about that. Yeah, if you're like me, there are times when you wonder where God is, let alone thank him for the storm. But that's the thing about faith and really growing into it, eventually, you realize that God is at work in all things, and most of the time you're not going to be able to see the big picture. That's a good thing. Let God do his work. He's better at it.
So today, while we are buried after a major snowfall and feeling a little frustrated (a host of things always happen when it snows) I am also thankful for the people who plow, who care, who shovel, who forecast…. all of it. I am grateful to my husband who does so much to take care of us.
As the snow was coming down, it reminded me of a poem I wrote a long time ago and published in my first poetry book, The Difference Now.  The line about the snow coming down and making everything new again, everything white like a blank canvas… it reminded me of another time when I was stranded at home and just tried to make the best of it. That's when I wrote this poem.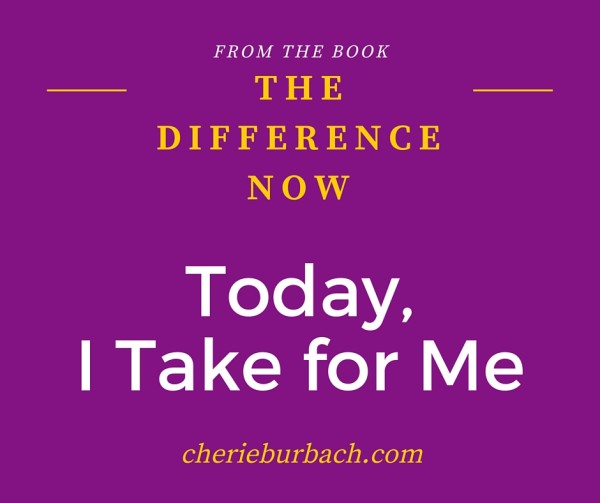 Today, I Take for Me
Today
I will look in the mirror
for the little girl I left behind,
and I will ask her to show me
how to giggle, again.
Today
I will talk to God,
and I will not ask Him
for a better job, a better house,
a better life….
Today
I will thank Him.
Sincerely thank Him
for giving me this interesting life,
filled with surprises
and the ability to laugh.
Today
I will let the phone ring
because those who are my friends
will understand,
and those who aren't,
well…
Today
I take for me.
Today
I will let Cather calm my mind,
and Shakespeare ease my soul,
and Hamilton, Kingsolver and Buck
awe me with their talent.
Today
I will acknowledge my own talent.
Today
I will watch the snow
fall down outside
and see how it gives the world
a fresh start
making things clean again
with its fresh blanket of white.
Today
I will curl up in my favorite chair,
and hug my curves and smile,
and realize my best asset
is my uniqueness.
Today
I take for me.