Many years ago, I was going through old poems that I'd finally kept and stumbled upon "She Will Be the Woman That Walks With Grace." Up until the time I was about thirty, I destroyed everything I wrote. I had hundreds of poems by then and a couple novels that I wrote and promptly ripped up. But after my dad died, I started keeping things. By the time I was in my mid-30s, I had a big collection of poems and wanted to publish them.
At the same time, I was going to college for the first time ever and dating a man that would become my husband. And working full time. And getting sick. But that's a different story. Point is, I had a lot on my plate.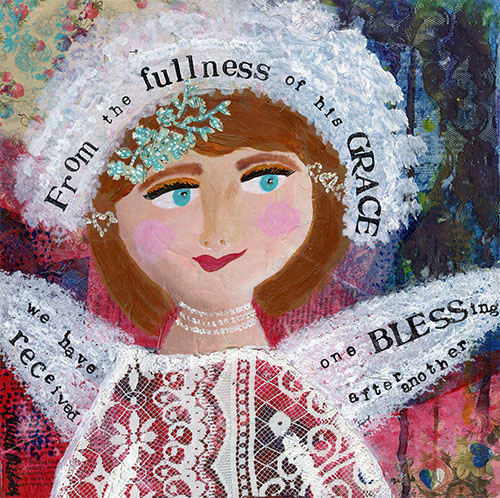 From the Fullness of His Grace
One of the assignments in my class was to read a poem. Any poem. Didn't have to be one we had written, so I had planned to read a Maya Angelou poem (naturally). But my soon-to-be-husby said I should read one of my own. I think his exact words were, "Why are you not reading your own work?"
I had never read my poems aloud at all back then. I had barely showed them to people. But he liked my work and that gave me confidence. I chose this poem to read, and when I finished, the class was quiet. I was a little emotional and getting the words out was difficult. Something happened when I read that poem. Up until then, the class would hear the person's poem and clap politely and move on to the next person. When I read mine, the class was quiet. I was afraid that perhaps they hated my poem, when in fact it was the opposite. They were moved. After the silence, there was clapping and when the teacher asked me the name of the poet I told her it was me and there was even more clapping. People came up to me afterwards and told me how much they loved certain lines or what they thought.
I wrote this poem at a time when I was sick of the way my life had been going. I needed a change, and knew that the change needed to start with me.
Tomorrow, She Walks With Grace
Tomorrow…
I will be a new woman.
I will smile like a girl with thin thighs.
I will close my eyes and breathe deeply
exhaling bad thoughts from all the days before.
I will remain silent
listening to God
greeting Him with a welcoming mind.
Tomorrow…
I will get up early.
I will be thankful for my ability to rise again.
Like a warrior.
Facing a new day.
Strong.
Ready.
Tomorrow…
I will laugh like a child
and wonder why adults don't play more.
Tomorrow…
I will move my muscles.
Drink cleansing water.
Eat good food.
Not drive so fast.
Not be so angry.
Tomorrow…
I will not think about the mistakes
I made on any day before.
I will walk with wisdom
and know I have earned it.
Tomorrow…
I will not hear the snickering,
the laughter of those who claim to be friends.
I will move further down that road of understanding,
climbing to the highest perch,
so I can look out on all God offers.
Tomorrow…
A new woman will emerge
from this tired cocoon.
She will no longer wish that same desire.
She will understand her fate.
Solitary in nature,
with angels for companions.
Tomorrow…
She will be the woman
that walks with grace.
© Cherie Burbach, "Tomorrow, She Walks With Grace" The Difference Now, 2004