For the last couple of weeks I've been putting the final touches on my latest poetry book, Angel Toughness. I am so excited about this book.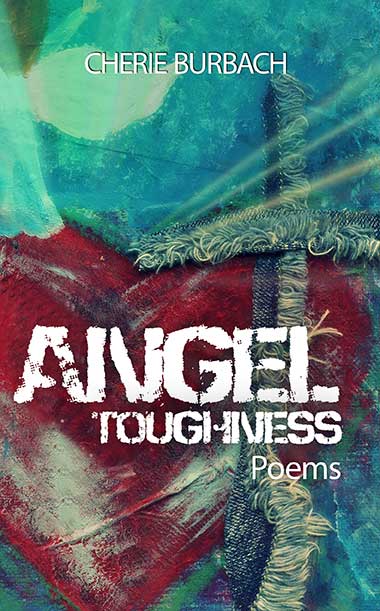 Every poetry book I write has a theme of sorts, a concept that pulls it all together. Angel Toughness is named after a poem I wrote that talks about the way I wanted to live my life. I want to take all these wonderful lessons I've received and use them to help others who have experienced similar things. Every time I think that people get it, I come in contact with someone who shows me that there is work left to do.
"Angels are tough.

The kind of tough

I want to be."
The poems in this book reflect where I am now in my life, and I see how far I've come from things even 10 or 15 years ago. I share older poems here on the blog sometimes and I'm amazed at how foreign they are to me. As I was editing this book I felt such gratefulness to God for bringing me through some dark times. I feel these poems reflect a lightness, but also a reaffirming of boundaries.
I've broken these poems out by three sections: Blessed Embrace, Renewed Boundaries, and Beautiful Life. Each one of these sections influences the other. You can't have a beautiful life without the embrace of God or boundaries that help you feel safe. And when you finally set healthy boundaries in your life, it's because you have the the embrace of the Lord and the beautiful life that you seek to protect from negativity and toxicity.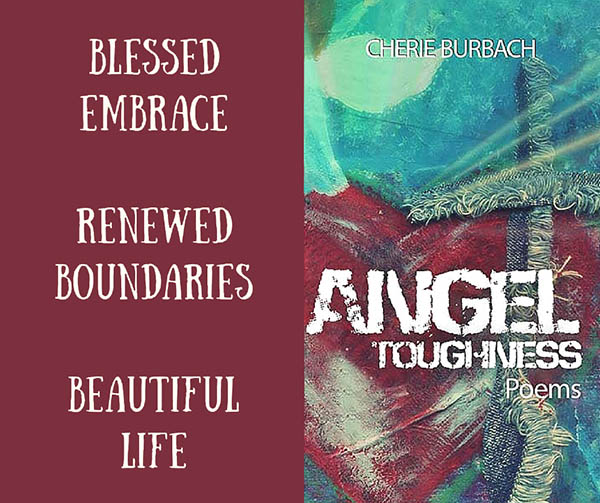 When I edited the "Renewed Boundaries" section, I was reminded that a healthy emotional life doesn't mean that you won't come in contact with negative or mean-spirited people. Sometimes it takes time to see what someone is really like. I have a tenancy to laugh off snarky comments for a long time thinking "They can't be serious." But it's one thing to have a grumpy friend or acquaintance in your life and another to have someone mean-spirited pecking away at your spirit constantly. Having healthy, "renewed" boundaries means you will recognize them as someone who is only there to sap, steal, or destroy your positive energy and as a result you'll move on. Just move on. Without drama.
Of course I had to include a section called "Blessed Embrace." I first talked about "The Embrace" in my book Father's Eyes, and many people sent me notes to say how much they related to that. The embrace is something I celebrate daily and am truly grateful for. More and more of my poetry reflects this as the years have gone on. God has shown me just how much He holds me, more than I ever thought possible.
And then, a "Beautiful Life." This is the section that talks about reaping the benefits of "the work," like forgiveness and self-reflection. It is recognizing the grace of simple moments which are a daily blessing.
When I first started publishing books over ten years ago, I didn't realize I would be starting a tradition. But every poetry book has had my artwork on the cover, and this one is no exception. You'll recognize my painting "I Lift Up My Soul" (it's in my Etsy store!) in the background of the Angel Toughness cover. I designed this cover to reflect the beauty of being strong.
I hope you'll enjoy this book! It's out now on Kindle and paperback.
Here's a review from Reader's Favorite:
"There is a unique approach for naming each poem while developing the content of the poem to match the title. Although the book cover appears to have an image of a cross, a heart, and a dove, the design and color combination do not reflect the warmth one gets from the interior of the book. Intriguing is the number of paragraphs per poem, i.e. some were very short while others were very long; some had an equal number of lines per paragraph while others had an odd number of lines per paragraph throughout the poems.

Angel Toughness by Cherie Burbach has a thank you message at the end of the book which appears to be a sincere confession of the author's innermost thoughts about literary writing and why she chose poems as her genre of choice. The author's quote, "Angels are tough. The kind of tough I want to be," located at the beginning of the book summarizes the essence of all the inspirational poems, thus correlating the name of the book with the content. A good book for poetry lovers."
More Reviews:
The poems in this book take you through many of life's journeys and the author has a writing style that is perfectly relatable. Many of these reflected exact feelings I had. They remind you that you are not alone and to open your heart. Thank you for the inspiration. ~Sarah Elle, Amazon