I get asked a lot about my process when it comes to creating art. I think we all like tips on being creative and it's interesting to see how different artists do things. One question I was asked recently was whether I carry a sketchbook around. I carry a journal always and actually have them all over my house. I use them for ideas on everything, from poetry to art to story ideas.
I don't always sketch out picture ideas first. Mostly I just like getting started on a canvas and watching the painting come to life as I work on it. The times I'm sitting at night or away somewhere and want to capture ideas for a picture I'll sketch them out in a journal.
Here are some ideas I've done recently and then the finished picture.
Sometimes I start with an image I'm kicking around in my mind and sometimes words inspire me. For this one, I loved this passage from the Psalms 16:11: "You have made known to me the path of life; You will fill me with joy in Your presence." I pictured a walkway, with huge flowers that welcomed you along as you celebrated the grace of God.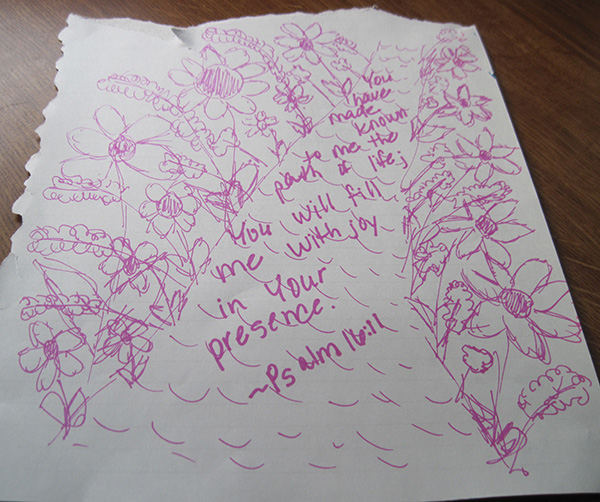 With this one I pictured this scene first and the words came later. I saw the big globe, the birds sitting across it on a branch, and thought of it all as the symbol for new life. The words "you give life to every thing" from Nehemiah 9:6 came to mind, and I added those. The angel at the top was something I added later, and then decided not to add to this picture but the one that follows below.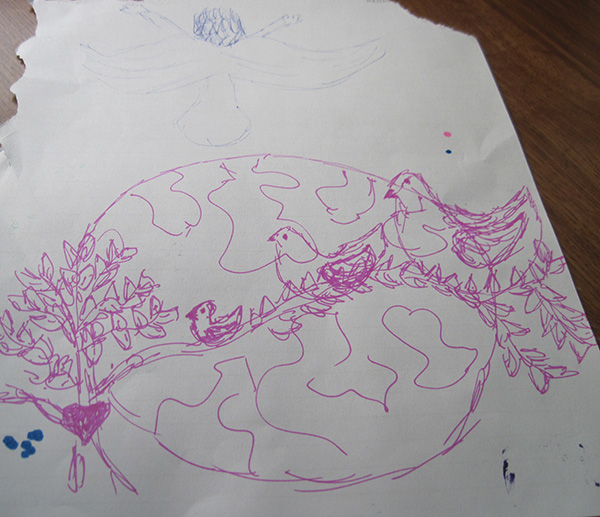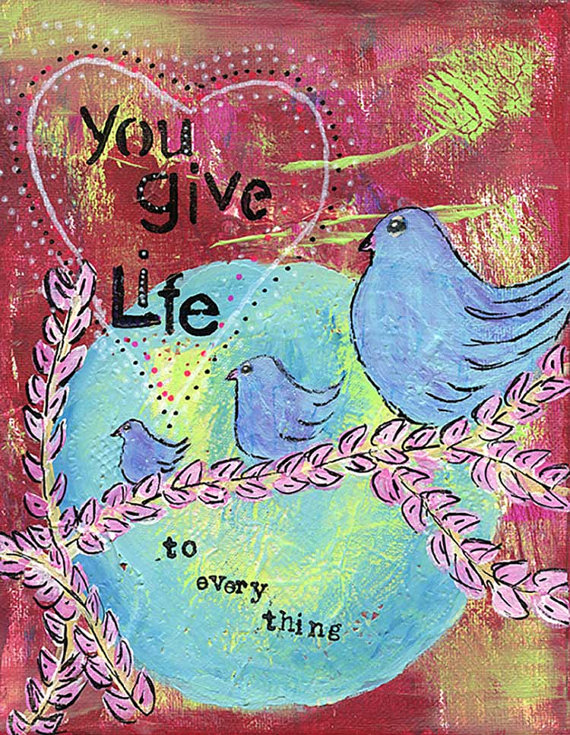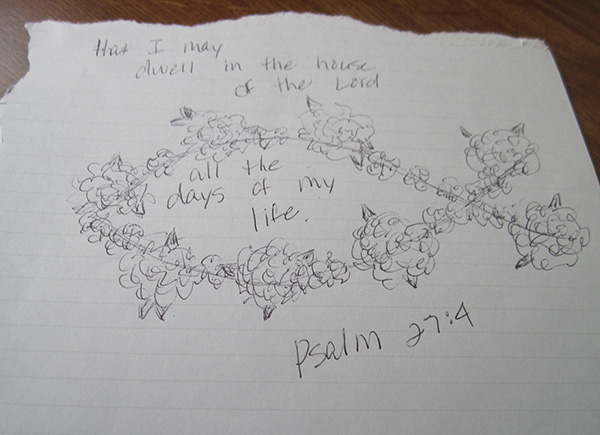 For this picture I thought of a Ichthys, a very dainty one with big flowers and surrounded by soft colors.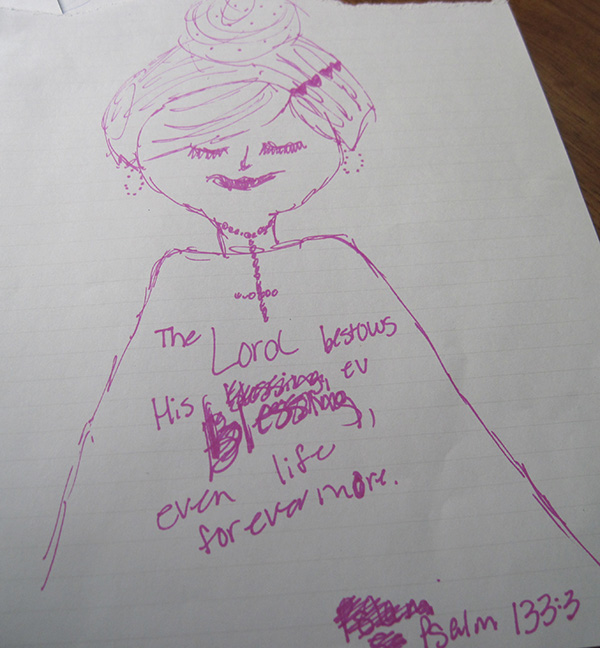 I enjoy drawing girls, strong women, whose intelligence shines through on the canvas. I liked her hair, the barrette she had in her head, and her smile of contentment.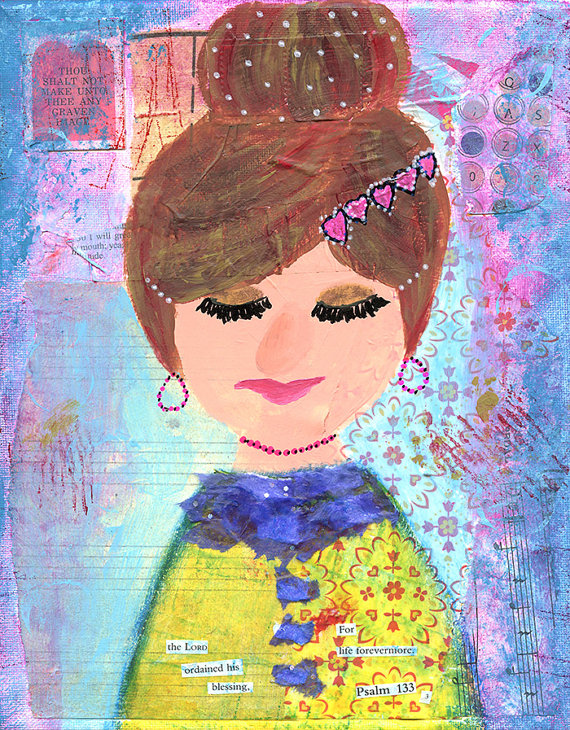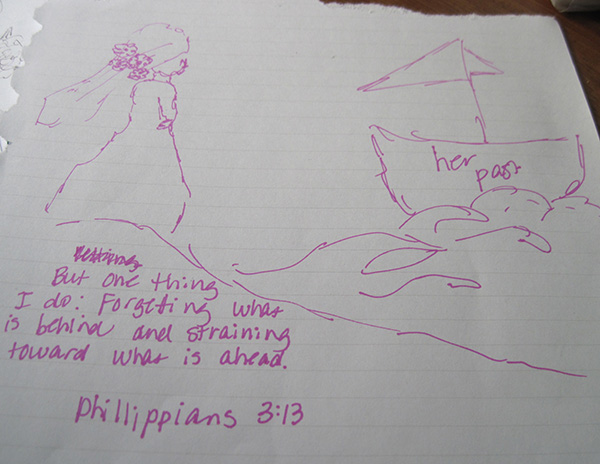 This passage from Philippians is one I go back to a lot. It's almost like the story of my life, letting go of the past and straining ahead to the future. I go forward without always knowing where I'm going. I've learned to trust. In this picture, I envisioned a woman sending her past off on a boat, watching as the chilly waters took it away from her.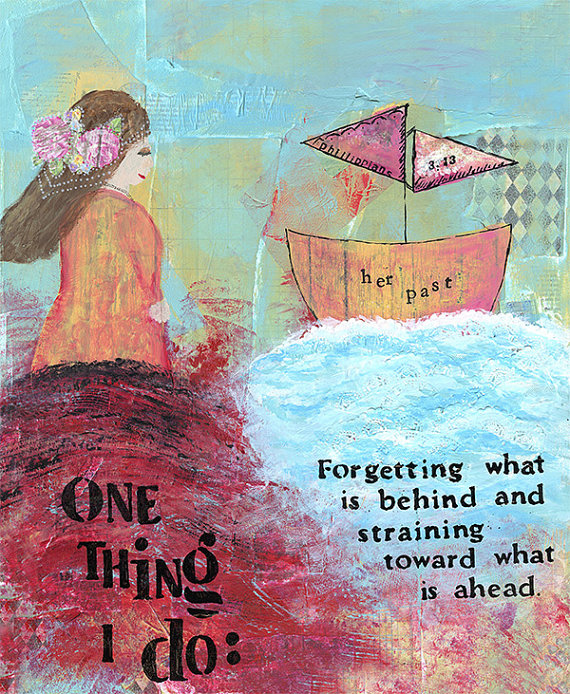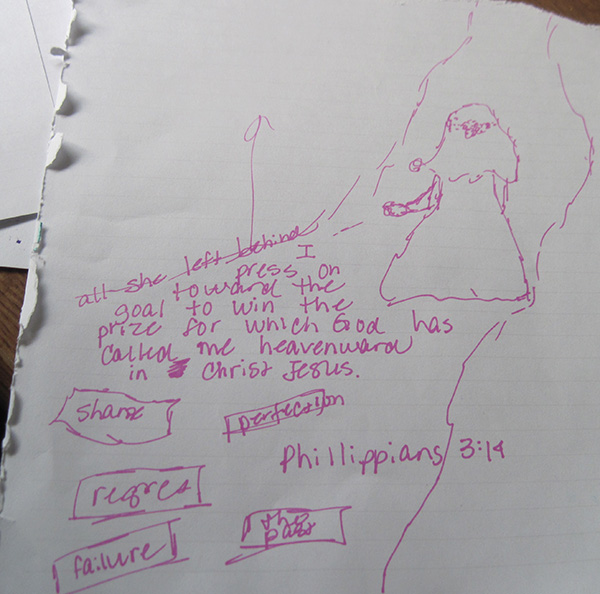 This is another picture about pressing on… moving forward… and leaving behind all the destructive forces in your life, like regret, failure, shame, and perfection. Also from Philippians.