Spring has been trying to arrive, but I think she's been a bit lazy. Probably vacationing in a warm place and isn't in too much of a hurry to come up to the Midwest right now. She's been taunting us, allowing her buddy Winter to have at it around these parts. This is a picture I took yesterday.
Snow! You can see I still have my Eiffel Tower out there, defiantly telling Little Ms. Spring that we'll have a bright spot in our yard regardless if she's there to help us or not.
Spring puts me a mood to reflect on things. There is something about the process of longing for warmth and sun that can make you feel the same about your life. What have I done so far this year? Or where am I so far in this Spring of my life?
A few years ago I was sitting in my office, looking out the window and wondering where the warmth was. It was a particularly rough time, one that aged me and shoved me down emotionally.
Life gives us these events sometimes. We breeze through happiness without a single reflection. We smile our way through warmth and good memories and lay our heads down at night contentedly. But there are also times in our life when we wonder where the warmth is from people we love, from friends we rallied behind, or a career we've poured our hearts into. We may even wonder where the warmth from our God is, when the sun is hiding does that mean the son has turned his back, too?
We feel these cold moments, literally and figuratively, throughout our life. We may wonder if we'll get stuck in the cold, harsh version of events forever, but it won't be that way. I know that. I wrote this poem (found in my New and Selected Poems) at a time when I was tired, devastated, and hurting. I felt like wrapping myself in a blanket and staying in that spot, looking out my window, for good, just waiting until Spring could come and warm my heart.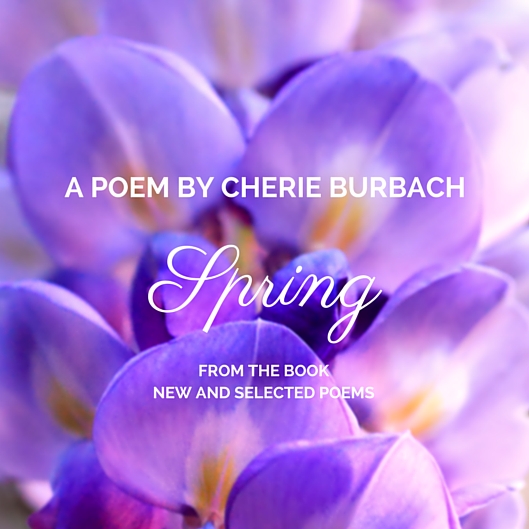 Spring
Spring,
did you hear my call?
I stood out on my back porch and whistled,
like a mother calling her children home to dinner.
My breath left a trail on the cold winter air as I blew.
Spring,
did you see me shiver?
I wore coat upon sweater upon shirt,
mittens to warm my hands
but nothing can warm me like you.
Spring,
did you feel my longing?
I ached for the end of my struggle,
for a sign that what I've waited so long for
would finally come true.
Spring,
reward my patience.
Aid the thaw of my hardened heart,
and as you melt the snow,
let it wash over the sadness I've hid this long winter.
Spring,
offer the robin's song as my refrain
to replace the fear of what I've lost.
Let the sun show me that
years are just numbers
and not the measure of my life.