I like pretty much all salads but this one is good because even the guys seem to like it. Do all men not love salad? Mine doesn't seem to, but he does like this one. I served it on New Year's Day when we did our "reading of the gratitude notes thing." We also had (virgin) Bloody Mary's. Believe it or not it was a good combo.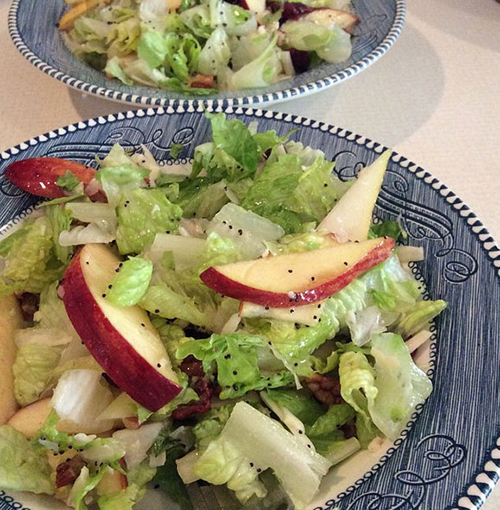 Dressing:
1/4 c. sugar
1/4 c. lemon juice
2 t. onion flakes
1 t. Dijon mustard
1/2 t. salt
2/3 c. vegetable oil
1 T. poppy seeds
Salad:
1 head Romain, cut into bite-sized pieces (I usually get a bag at Aldi and use that)
4 oz. shredded Cheddar or Swiss Cheese
1 c. pecans
1/2 dried cranberries
1 apple, thinly sliced
1 pear, thinly sliced
I've served this salad during holidays, with a light sandwich, or as the appetizer for dinner parties. It's good in winter or summer. You can also change things up with this salad, too. Use orange instead of lemon, or different kinds of apples, pears, or nuts.