I love the combination of oatmeal and dried cranberries in this recipe.
Several months ago I listed dried cranberries in the "stuff I love" category, and then the next time I saw my friend she gave me some! Is that funny or what? So recently when I went over for a visit, I had to show her how much I appreciate dried cranberries by putting a few in cookies. I also added dried blueberries as well. The hubs loves them and if you sprinkle some in they add a lot of flavor. A little goes a long way, which is good because dried blueberries are kind of expensive.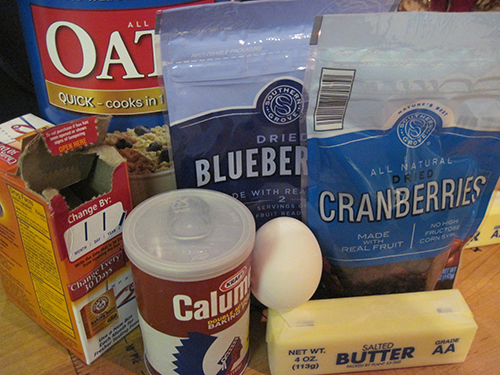 For the most part, I get all the ingredients at Aldi.
Here's the recipe:
2 c. flour
1 c. quick cooking oats
1 t. baking powder
1 t. baking soda
1 t. Kosher salt
2 1/4 sticks unsalted butter
1 c. brown sugar
1/2 sugar
1 egg
1 egg yolk
1 T. vanilla
3/4 c. semisweet chocolate chips
3/4 c. dried cranberries
3/4 c. dried blueberries
Preheat to 325. In one bowl, cream the butter and sugars. In another, mix the dry ingredients and put aside. Add the egg, yolk, and vanilla to the creamed mixture, then the add the dry gradually. Add the chips and dried berries last.
Then, spoon out onto baking sheets (best if you have a silpat) and cook for 15 minutes.