You know how I've been groovin' on the words of John these days. I never used to enjoy John because he was so cerebral and poetic. Ironic, isn't it? My apologies to him because now I can't get enough. I'm obsessed with the way he phrases his testimony, how his words float so effortlessly from the page and finally land on your soul. I've been focusing on John 3:16, of course, but also the rest of the book.
I get on a kick with verses or sections of the Bible sometimes, you know? I don't think that's by accident. I believe that God meant for these words to come through to us when we needed to hear them, and that's why sometimes a passage you've read dozens of times will suddenly stand out to you as if it's totally new.
And I've been thinking a lot about peace.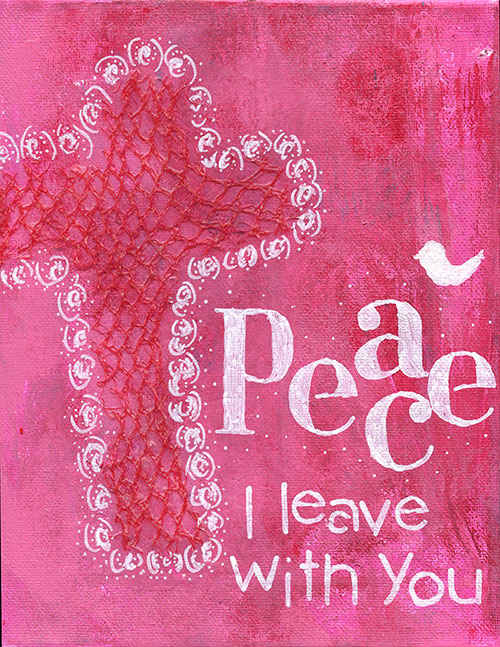 (Available as a signed, matted print here.)
Isn't this what we all strive for? In our world? In our relationships? I don't know about you, but when things aren't right with certain people in my life, it feels like a constant weight on my shoulders. You can ask God to take it from you, and He will, but the wish of things being better, of people being able to understand each other more and able to show kindness and love will still be there in the back of your mind. A wish that you never quite cross off your list.
I've got those relationships in my life. Don't you? How you just desperately want to get along with these people who you love but they do things that make it difficult. They lie. They manipulate. And you just want to say, why are you doing this? I just want to love you. I want to be loved by you. Accepted. I just want you to spend time with me and understand my heart. I want peace with you.
Yes, peace.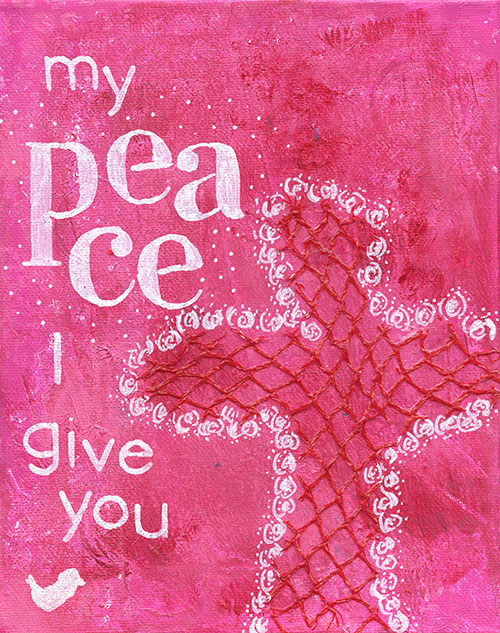 (Available as a signed, matted print here.)
So maybe that's why these words from John spoke so clearly to my soul recently:
"Peace I leave with you; my peace I give you. I do not give to you as the world gives.
Do not let your hearts be troubled and do not be afraid."
The context of these words are when Jesus is leaving and the disciples are upset. What will they do without him? And Jesus says not to worry. He's leaving earth but they won't be alone. That peace that he gave them, that he gives all of us, is what has kept me going my entire life. The peace that was found even in the worst circumstances. It isn't giddy laughter, silly happiness… it's deeper than that. No matter what has happened or who has done what to you, you can have that peace with Jesus.
When I think about the peace I want to have with others, I know that sometimes peace means that we can't be around people. Not here on earth, at least. I look forward to the day when we can, where our hearts will be melted by God's love and we can stand together with a love for each other that is so strong it cannot be moved by pettiness or conflict or politics or anything else.